Tom Sandoval Wiki: Age, Gay & Boyfriend Rumors | Partner Ariana Madix Has Answers

American reality star Tom Sandoval revealed that he had high hopes for his relationship with fellow Vanderpump Rules star Ariana Madix. Their wedding, on the other hand, would be disaster personified.
The 35-year-old St. Louis native rise to fame has been nothing short of meteoric; having cast as one of the leads in Bravo reality show Vanderpump Rules. He has also showcased his musical talents on his hit reality TV show.
To enlighten our readers with Tom, we have here assembled some exciting wikis.
1. Tom Sandoval's Wiki-Like Bio: Ethnicity & Acting Aspirations
Tom was born on 7 July 1983 in St. Luis, Missouri to a mother, Terri Green, and a father, Anthony Sandoval. Because of his mother's caucasian bloodline and father's Latin roots, he recognizes himself as belonging to mixed ethnicity. He also has a brother named, Brian Sandoval.
In addition to acting, he plays guitar for the band Pierce the Arrow.
Before making his debut as one of the lead cast in Vanderpump Rules, the St. Luis native starred in several movies including the 2008 flick Playing With Fire, the 2010 movie Puppet Master: Axis of Evil and the 2012 movie 23 Minutes to Sunrise.
Read Also: Alleged Gay Abbi Jacobson Dating Limit Exceeds "Boyfriend" - Weight Loss Shocks All
2. Tom's Impressive Net Worth; Becomes Mainstay Of Vanderpump Rule
The 35-year-old reality TV star had an early childhood of making it big in Hollywood as either an actor or model. So far, his dreams of reaching the superstar status haven't come to fruition just yet.
However, he has made a name for himself as a reality star, starring in Bravo's Vanderpump Rules -- a show chronicling the lives of waitresses and bartenders working at a restaurant called  SUV, which is owned by Lisa Vanderpump.
Promotion Time: Vanderpump Rules very own Tom Sandoval makes an appearance on Watch What Happens Live with Andy Cohen to promote his show and talk hypothetical wedding (Published on 23 April 2018)
His modeling gigs combined with appearances in the show has helped him amass $400 thousand in Net Worth. 
At the time when Vanderpump Rules first made it to the TV screen of many homes in 2013, Tom portrayed the role of an unfaithful lover. However, the seasons that preceded the first showed his then-girlfriend Kristen Doute cheating on him.
Controversies are synonymous with reality TV stars, albeit scripted. One instance of the so-called scripted controversy occurred when Tom talked about his co-star Jax Taylor experimenting with recreational drugs.
3. Tom Sandoval Bromance With "Boyfriend'' Tom Schwartz Fuels Gay Allegations
Besides making enemies and disgruntled ex-lovers in the show, the St. Luis native has also made the most of his bromance with fellow co-star and partner-in-crime, Tom Schwartz.
Their friendship doesn't limit to the confines of the camera lenses as the "boyfriends" are seen partying and spending more time, outside of their day job as reality TV stars.
This shared love for partying outside their workplace has only added fuel to rumors of a possible gay romance between the partners-in-crime.
Speaking on the allegation in 2017 interview with Daily Dash podcast, Tom said: People say that about everyone. They say that about Ryan Seacrest, they say it about me, that says it about [Schwartz]. People like to speculate all kinds of different things.
Who can better clear the smoke in the air than Tom's girlfriend on the show, Ariana Madix?
Similar: Proudest Gay Man Tim Cook's Furtive Partner; Mystery Revealed?
4. Tom Sandoval and Ariana Madix Wedding Could Prove Disastrous
Shortly after breaking up with Kristen Doute in the show, he began seeing Ariana Madix. Ariana wasn't originally in the cast of the show but later added, after Tom showed up in the second season with her by his side. And the couple has been together ever since. Vanderpump Rules is currently in its sixth season.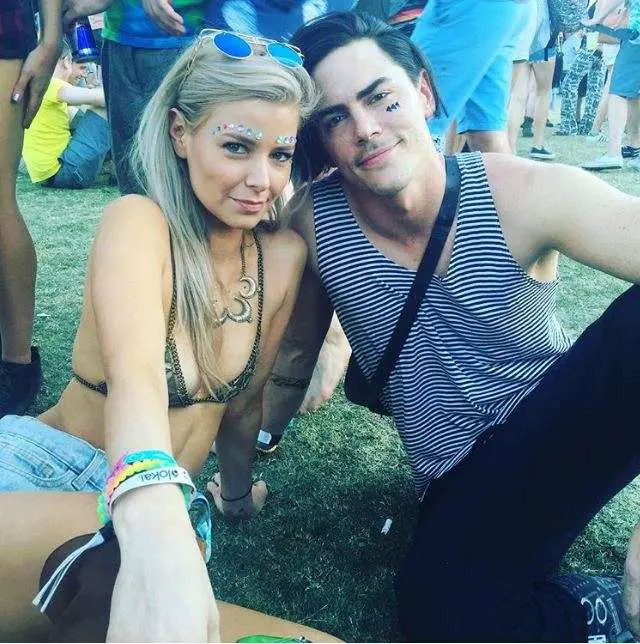 Festive Moment: Tom and Ariana attend the 2016 Coachella Music Festival, a tradition they have maintained ever since they began dating each other (Photo: Ariana Madix's Instagram) 
More often than not, their longevity is often met with praise and questions about the wedding. In May 2018, The Daily Dish did the same and dished out Tom with questions of an impending marriage with the girlfriend, Ariana. And to which, Tom replied:
I just know that if I started planning a wedding, it would consume my whole life for, like, two years. I'd want like the 'November Rain' situation. I'd want my train to be just as long as Ariana's, so it's almost like I'd rather not even bother. It's like, I love snowboarding and people are like, 'You should try surfing.' And I'm like, 'I could see myself getting too obsessed with it, so I'm not going to start.
The wedding Tom describes screams disaster through and through.