Tal Fishman Inspired His Girlfriend Maddie Dean to Get Into YouTube
Tal Fishman and Maddie Dean celebrated their second anniversary in April 2021!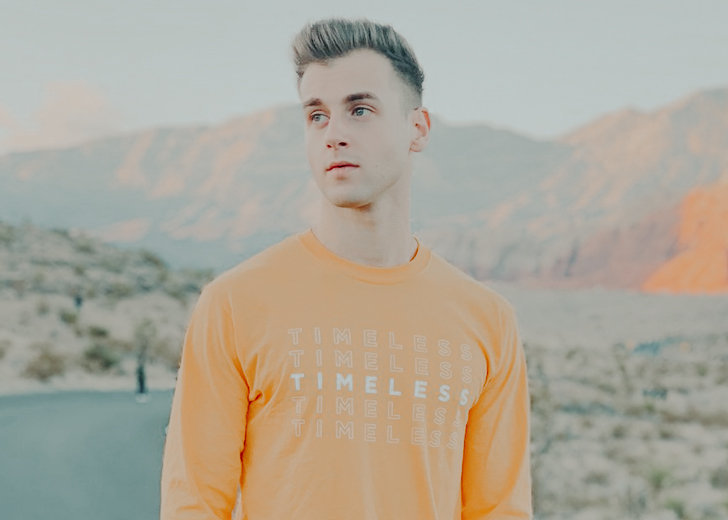 Popular YouTuber and creator of the YouTube channel 'Reaction Time,' Tal Fishman is in a relationship with Madeline Dean, who is also a YouTuber, fashion model, and social media personality.
The couple is regularly seen together on their public platforms, where they work together and complement each other.
Who Is Fishman's Girlfriend Maddie Dean?
Madeline Dean, shortly Maddie Dean, is a 20-year-old fashion model and a popular YouTuber. She currently has a little over 200 thousand followers on Instagram.
Her social media platforms such as YouTube and Instagram have been growing rapidly since she started dating Fishman. On YouTube, she mostly posts vlogs, pranks, and reaction videos like her boyfriend.
The model stands at the height of 5 feet 9 inches and has blonde hair. Her eyes color is blue/green.
Fishman and His Girlfriend Have Been Together for Two Years
April 15, 2021, marked the second anniversary of Fishman and his girlfriend Dean. The YouTuber took to his Instagram on the very day to cherish the occasion.
He stated that he was lucky to be with her, making him a better person. He also thanked her for being his everything while saying, "I love you."
Fishman had posted his first picture with Dean on Instagram on October 5, 2019.
"On top of the world with this amazing human," he wrote in the caption.
Dean Claims That Fishman Influenced Her to Start YouTube 
The fact that Dean's relationship is as old as her YouTube channel is no coincidence.
She has explicitly claimed in her channel description itself that her boyfriend "forced" her to start the channel.
Her description reads, "Hi everyone! My name is Maddie and my boyfriend forced me to start this channel." "Although, I have really grown to love it and making videos is now one of my biggest hobbies. Thank you for stopping by."
In Fishman's first video with Dean, on June 10, 2020, she even stated that she used to be camera shy before YouTube but making videos had helped her become more confident.
She is quite grateful for his encouragement during the early days, which has helped her become a famous and independent woman today.
Dean's Social Media Channels Has Benefited From Her Boyfriend's Fame
The gorgeous YouTuber has nearly 500 thousand subscribers within one and a half years of launching her YouTube channel. 
Her exponential rise to fame is no coincidence either — her boyfriend's fame has played a significant role in promoting her channel.
She has also been featured in many of his YouTube reaction videos, and even most of her videos on her channel are about her boyfriend. Hence, the couple has similar audiences, who love to watch them happily together.
The Couple's Activities Go Beyond YouTube
The power couple's partnership is not just limited to YouTube. They make a lot of TikTok videos together and are popular there, too.
Tal Fishman has over 2 million followers, whereas Dean has over 550 thousand followers on TikTok. 
Apart from that, Dean is also a part of TalentX, a group of young influencers helping clients connect with potential partners. It was Fishman who co-founded this company.