How Much Is Simon Keys Net Worth? Get All Details From Wife To Family
Simon Keys is a professional snake catcher who is prominently known for...turning his passion into a profession he opened a.....he is in a relationship with his Nat Geo co-star...he was previously married to his wife....besides a snake catcher he also earns a salary as a.....he boasts a net worth of...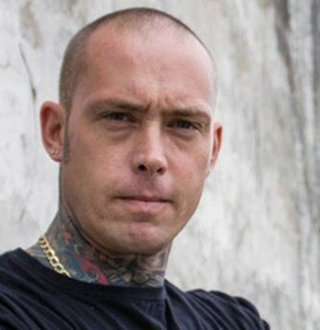 Fascinated by a creature who everyone would turn their heads away from -- Simon Keys is a professional snake catcher. He is famous as the snake-wrangling star of Nat Geo's Snake City - a factual series that follows his adventures catching & relocating snakes in South Africa.
He also runs a snake sanctuary with over 80 double-locked snakes in Dunstable, Bedfordshire. And in South Africa, he runs a snake rescue service.
Besides his unique hobby and job, he works a diver and tattoo artist.
Simon Keys' Fascination With Snakes Began From Young Age
Simon Paul Keys is a British native from Hertfordshire whose date of birth is 15 July 1974. From a young age, he was passionate about reptiles and was involved in catching newts and lizard. This fascination over the years of his life led him to have a huge collection of reptiles.
Find Out: Coyote Peterson Wiki: Behind Adventure, Who Is Wife Of Wilderness Star?
The passionate snake lover by the age of 30 ran one of the largest exotic snake businesses in England from taipans and vipers to rattlesnakes, kraits, and mambas. Soon with the expert knowledge on snake-handling and reptile behavior, he turned his passion into a job of saving snakes -- he opened a snake rescue service at South Africa.
He removes world's dangerous snakes from the city and puts them back at their habitat. Not only that he also educates the inhabitants and help them understand the nature of this feared creature.
Simon Keys' Wife Shares The Same Passion Towards Reptiles As He Does
When it comes to the serpent savior's love life, he met someone who shares the same passion and purpose in life as him - SAVING SNAKES. He met his wife Siouxsie who is a herpetologist in 2013 and since then the couple has been hissing their way through life together alongside their reptilian family of snakes.
Simon met his wife through the UK's venomous snake community when he began working in a reptile store which Siouxsie managed. The couple loves what they do and his wife even joked about their hobby turned profession stating:
When most couples have meals out and go to the cinema during their honeymoon period, we were out catching deadly snakes together - which is quite the norm for us.
The heavily tattooed couple together has several venomous snakes at their sanctuary including three Western Diamondback Rattlesnakes, Malayan Viper. In 2014, they even starred in Nat Geo's TV shows Snake In The City together.
Discover: 'Expedition Unknown' Josh Gates Married To Wife, Easiest Decision He Says

Snake Lover And Heavily Tattooed Couple: Simon Keys poses alongside his wife and co-star in Nat Geo's tv show Snake In The City (Photo: Simon Key's Instagram| 3 August 2017)
Both he and his wife are divorced; Simon ended up in divorce with his first wife Nadine who appeared in the first season of the Nat Geo TV show but soon exited. While Siouxsie was once married to Mark Amey (zoologist) with whom she shared a suburban home with more than 100 exotic creatures.
Simon and Siouxsie's are an absolute couple goals for all the thrill seekers just not for the light-hearted people out there!
What is Simon Keys Net Worth & Salary?
Spending almost all his life breeding and collecting snakes he turned this passion into a profession.
See more: Todd Hoffman The Richest "Gold Rush" Personality? Net Worth & Salary Hint 'Yes'
He charges the equivalent of £15 per call-out to save snakes despite not being able to make much of a salary from it. And in order to make the ends meet, he makes fortune as a tattoo artist and diver which adds up to his net worth (undisclosed) as well.