Roxana Saberi Bio: From Ethnicity, Career At Al Jazeera To Dating Status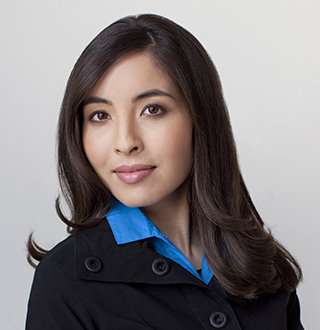 Roxana Saberi is an American news journalist who currently serves as a correspondent for CBS News. As a journalist has to go through many highs and lows, Roxana also went her share of difficulties.
The journalist also had to go through a very rough phase when she was in prison under the accusations of espionage during her journalism work, which changed her life completely.
Roxana Saberi's Journey as Prisoner: Roxana shares her experience of being a prisoner in 2009 at the 'University of Mary' (Video: Published on Jun 1, 2015)
The New Jersey-born is a freelance journalist by profession. She is also popular to the public for winning the Miss North Dakota pageant with her gorgeous looks and charismatic personality.
Let us know what exactly happened back then and where is she now by following our article!
Here Is Roxana Saberi's Bio(Age)
The TV personality, Roxana Saberi was born on 26 April 1977 in Belleville, New Jersey to an Iranian father Reza Saberi and Japanese mother Akiko Saberi. She belongs to the mixed ethnicity as her father and mother belong to two different ethnicities and countries. When she was just six months, her parents moved to Fargo, North Dakota.
As for education, Roxana first graduated from Fargo North High School in the year of 1994 followed by her graduation from Concordia College in the field of Communication and French, three years later.
Also Read: Kelly Rizzo Bio: Married, Bob Saget As Husband- Age, Job, Net Worth
Still thirsty for knowledge, she got two more masters degrees from Northwestern University and reputed the University of Cambridge in broadcast journalism and international relations respectively.
the exceptionally talented Roxana gained triple master degrees from three different universities. Also, she participated in the Miss North Dakota beauty pageant in 1997, which she won. Later, she went to another pageant show, Miss America and became the final top ten contestants.
Roxana Saberi's Dating Affairs
Regarding her personal life, the lady is not much open and has not revealed much to the media. But during her imprisonment in Iran, she had continuous support of a man called Bahman Ghobadi, who is a film director.
According to BBC News article, Bahman has written an emotional love letter in an attempt to have Roxana freed. But still, it is not clear if he was her boyfriend or just a friend.
Interesting: Howie Long's Wife Diane Addonizio Wiki: Age, Married, Pictures, Height
Also, Roxana, in one of her interviews, mentioned that when she was arrested, officers prohibited her from telling her parents and boyfriend of her whereabouts. It is clear that she was dating someone at the time but whether it was Bahman or someone else it's still unclear.
As of now, Roxana is not married and doesn't have a husband that we know. And, the question of her getting engaged is still a mystery. The lady must be now focused on her career and might also be in a secret relationship. It's all an enigmatic until she open about her love life to the public.
Roxana Saberi Got Worldwide Support After Her Arrest In 2009
Roxana began her journalism career as a reporter for the NBC affiliate KVLY-TV in September 2000 in her hometown. In 2003, Roxana moved to Iran where she worked as a freelance journalist for the BBC, Fox News and National Public Radio.
On 31 January 2009, her career turned a different point after she was arrested for the infiltrated surveillance charges and even got imprisoned in Iran's Evin prison on a false charge of spying for the CIA.
You May Like: Nancy Alspaugh Wiki: Matt Lauer's Ex-Wife & Now A Widow; New Husband At Age 63?
While Roxana was in prison, she received worldwide support and sympathy. An open letter was sent by a group of international news organization including big-name signatories like Vivian Schiller, President of NPR, David Westin, President of Wall Street Journal, Robert Thomson, editor-in-chief of Wall Street Journal and many others.
The letter was a plea to be able to permit access to Roxana which showed a great concern for her well being inside the prison.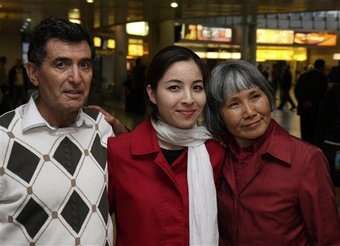 Roxana Saberi With Parents: Roxana with her mom and dad after her release from prison in May 2009. (Photo: Pinterest)
She went on a hunger strike for two weeks while she was in jail. On 11 May 2009, Roxana was released from prison after the appeals court suspended her eight-year jail sentence.
Roxana Saberi Life After Imprisonment
Following her release, she returned to the United States and wrote a book about her experiences in Iran, 'Between Two Worlds: My Life and Captivity in Iran' which was released by HarperCollins on 30 March 2010.
In 2013 she made a comeback in journalism when Al Jazeera America hired Roxana as a correspondent and senior producer. There she reported on breaking news, enterprise and investigation stories.
Interesting: Mary Padian Wiki: Married, Husband, Boyfriend & More Untold Personal Life Details
Roxana has earned numerous awards during her career, including Medill Medal of Courage, NCCAQ Award of Valor and the Ilaria Alpi Freedom of the Press Award. As of now, she serves as the correspondent of CBS News based in London, and her reports feature across all CBS News broadcast and platforms.
---