Kelly Rizzo Full Bio Who Married Comedian Bob Saget, Her Age, Job, And Net Worth
While traveling and exploring the world, food blogger Kelly Rizzo stumbled upon a love that she could not escape...The two hit it off quite fast, and her boyfriend was definitely not expecting that to happen...They soon got engaged in November 2017 when the two were watching...It wasn't long before Kelly's bio changed from engaged to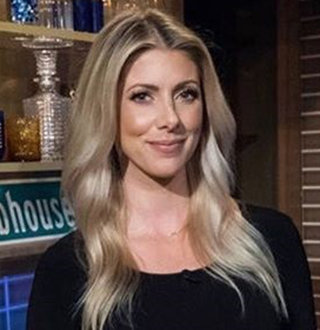 While traveling and exploring the world, food blogger Kelly Rizzo stumbled upon a love that she could not forgo. Knowing that she fully embraced her courtship with actor Bob Saget that brought many's attention to her. So who is the gorgeous traveler that shook the heart of the famous actor?  
Kelly Rizzo took the shine of spotlights when she was introduced to the world as comedian Bob Saget's wife. She's also known by many travel enthusiasts for her blog and web series, Eat Travel Rock.
Age of Traveling: Kelly Rizzo chats and drinks Bellinis with David from David's Been Here about travel and her blog Eat, Travel, Rock (Published on 16 July 2017)
You May Also Like: Roxy Sowlaty Bio: Engaged Romantically With Boyfriend, Parents & Facts
It was in 2017 when Kelly was named 'Travel Queen' by the Michigan Avenue Magazine of Modern Luxury.
Kelly Rizzo's Bio Unveils Job That Makes Her Happy 
Born in 1979, Kelly Rizzo blows out her birthday candles every 19th of May. She was raised in Chicago, Illinois and embraces Sicilian roots being half Italian.
According to her bio, Kelly's very first job started out as an estate agent, and she worked in the field for 15 long years that led her to found Dream Town Realty alongside her mother, Sharon Rizzo, and father, Santo Rizzo who has been a successful real estate agent for more than 39 years.
Kelly, aged 39, eventually left the real estate industry and took a swerve in her career as she started her own travel and food web series and blog, Eat Travel Rock. She hosts the on-demand entertainment series as she goes behind the scenes with rock stars, master chefs, and many other industry heavyweights while traveling.
The travel and lifestyle expert has been featured everywhere from national talk shows on VH1 and ABC to regional broadcasts like WCIU The Jam and Fox Good Day Chicago.
And while not in front of the camera, Kelly entertains a mic chat, Rocking Right Now on a radio segment on Chicago's top Alt Rock station, 101 WKQX-FM. Sharpening her passion in whatever she does, Kelly has got a shared estimated net worth of $100 million with her husband, Bob Saget.
Kelly Rizzo Felt Connected With Future Husband Bob Saget Despite Age-Gap 
It was in 2015 that Kelly met her comedian husband, Bob Saget, age 62 through mutual friends. The two hit it off quite fast, and Bob was definitely not expecting that to happen. 
Because as a man who had split with his wife, Sherri Kramer after 15 years of married life with three grown daughters, Bob hadn't thought of finding love again.
I didn't think I'd have a relationship again. I was kind of in that 'just work, make people happy and take care of your kids until their 90' mindset.

- Bob Saget
But nobody decides when they fall in love. You can see a fine example of these two lovebirds. Despite their age difference of more than 23 years, they fell in love and decided to accompany the other forever.
They soon got engaged in November 2017 when the two were watching Stranger Things, and Bob presented the ring he had been hiding for four days.
Kelly And Bob Saget Married At Shutters
It wasn't long before Kelly's bio changed from engaged to married.
About a year after being presented the ring, the loved-up duo got married on 28 October 2018 and Kelly's husband Bob Saget was quick to let the world know. Well, not precisely quick as he only shared the news after two days of their wedding but that doesn't matter.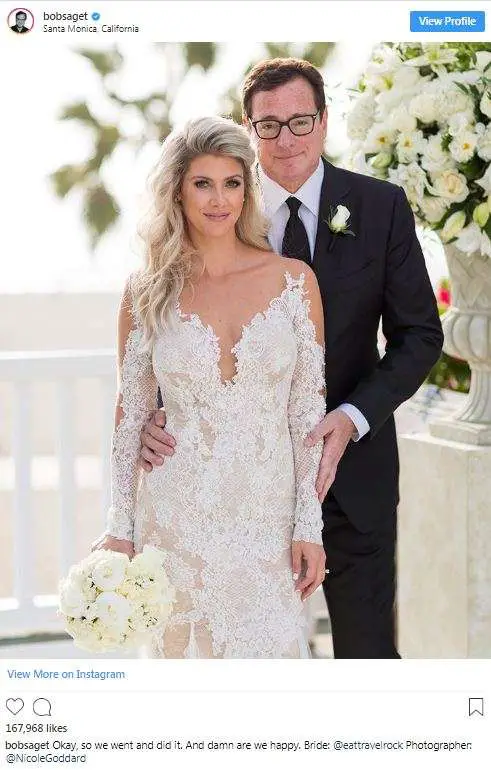 We Are Married: Kelly and her husband smile for a picture on their wedding attire as a newly married couple (Photo: Bob Saget's Instagram | 30 October 2018)
Kelly and her husband tied the knot at Shutters On The Beach in Santa Monica, California and by God, Kelly looked gorgeous in her white-lace Pronovias gown while Bob embraced a classic suit.
You Don't Want To Miss: What Is Steve Janowitz's Age? Bio Ranging From Job To Wedding With Joy Behar
Their age difference has done little to sour their relationship, rather Kelly and her husband are more than happy with their married life. And if you're wondering if they'll be growing their family, you might want to put those thoughts on hold for now.
Because Kelly knows Bob has experienced fatherhood and she just wants to enjoy and travel around like she always does.
Oh! but she does want to get a four-legged baby, so the two won't be alone for much longer!