How Much Is Fox News Correspondent Peter Doocy's Net Worth and Salary?
Peter Doocy is the White House correspondent for Fox News.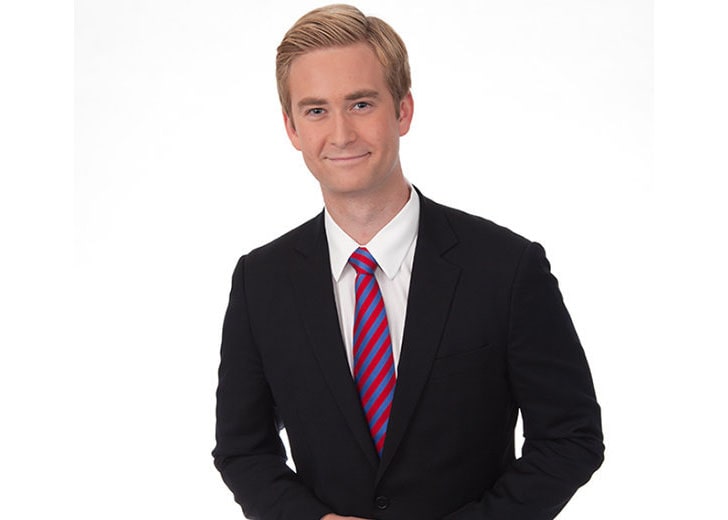 Peter Doocy is a Washington-based correspondent for Fox News Channel. Having joined the network in 2009, he has been with Fox News for over ten years.
During this decade-long period, he has covered multiple significant stories. Some of his major reports include former U.S. vice president Dick Cheney's heart transplant surgery, the Boston Marathon bombing, the exclusive interview with Robert O'Neill, and the documentary of Navy SEAL who killed Osama Bin Laden.
Doocy Learned an Invaluable Lesson From Father
Doocy is the son of the famous reporter Steve Doocy. Born on July 21, 1987, to Steve and Kathy, he attended Villanova University.
During his college, he contributed to The Palestra as a Pennsylvania sports arena reporter. He completed his studies and received his B.A. in political science in 2009. Thereon, he joined the Fox News channel in New York City.
Doocy's father, Steve, who was hosting Fox & Friends on the network since its start in 1998, helped him learn a lot about his job. As befitting of a son who followed a similar career path, Doocy was assigned as Steve's substitute on Fox & Friends in 2015.
He timely filled in for his father's absence on the show as well.
In an interview with People in 2019, Doocy shared how he received the best advice on the very first day of his work with his father. He mentioned his father taught him to roll up his shirt's sleeves to make people assume you are busy. 
Related: Fox's Peter Doocy Happily Married To Hillary Vaughn — Into His Personal Life and Net Worth
His Sisters Have also Appeared on 'Fox & Friends'
In the interview with People, Steve spoke about how he felt about having a family invested in news. He added it was a matter of pride that their common interest brought them closer as a family. 
The proud father also fondly shared that the family of five regularly stayed in touch through a group chat.
Doocy's sisters Mary and Sally have both appeared on episodes of Fox & Friends occasionally, with Sally appearing on one particular episode to comment on her mom and dad's cooking.
Peter Doocy's Salary and Net Worth
The actual figure of Doocy's net worth is not revealed yet. How much he makes from his job at Fox News is also not public knowledge. Having said that, he probably earns around $300K as Glassdoor reports that an average salary of a White House correspondent is $390,332 per year.
Doocy's father, on the other hand, has a net worth of $11 million and earns an annual salary of $4 million, according to Celebrity Net Worth.