Know Neil Morrissey Wiki: Brother's Death, Married Life, Wife & Girlfriend
The year 1997 was not the best year for actor Neil Morrissey. He had to lose one of the closest members of his family and the pain he felt after the demise was extremely painful and sad. Comedian and singer, Neil Anthony Morrissey is best known for his role in Men Behaving Badly as Tony. Apart from that, he is also noticed for his characters in Waterloo Road as Eddie Lawson, Line of Duty as Nigel Morton, and Boon as Rocky.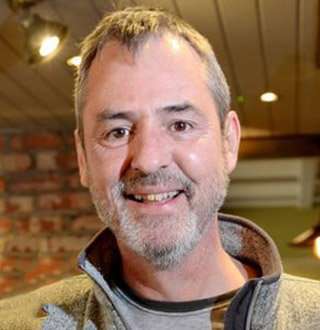 English comedian and singer Neil Anthony Morrissey is best known for his role in the British sitcom, Men Behaving Badly, as record stall owner Tony.
In addition, the Stafford native is also noticed as deputy head Eddie Lawson in the British television drama, Waterloo Road, retired detective constable Nigel Morton in the British police procedural drama Line of Duty, and biker Rocky in the British television drama Boon.
The owner of Neil Morrissey Blonde Ale, a bar and brewery brand, has also worked as a voice-over artist for many cartoon characters such as Bob, Lofty, Skip, Famer Pickles, and Mr. Fothergill (Bob the Builder).
In this article, we cover in-depth about Neil Morrissey's career (tv shows and movies), brother's death, divorce, dating rumors, and past girlfriend.
We have also briefly covered his net worth. 
Is Neil Morrissey still dating Emma Kallick?
It seems like Kallick and Morrissey are no longer together.
In May 2023, Morrissey and his Line of Duty co-star Adrian Dunbar were seen enjoying a happy night out.
Both of them were drunk when they were spotted with two women as they planned to leave the Oark Theatre's 10th-anniversary party in Finsbury Park. 
During his exit, Morrissey gave Melanie Bond, the Co-founder and Creative Director, a friendly kiss.   
Although the event didn't point that the had been dating Bond, the fact that he enjoyed the boozy party alone without a partner added to his unlikely quietness about his relationship with Emma since 2021 hints that they separated.  
How was Neil Morrissey's relationship with His Long-term girlfriend Emma 
"Emma is a lawyer and is very organized, and I can be a bit scatty, so we counter-balance each other well. I just love her to bits," he shared to Dailymail in 2008.
 "We've talked about marriage, but I haven't proposed and it's not on the agenda right now. Having children together is also a possibility, but there's nothing definite either," he added about the possibility of marriage and children with his then-girlfriend Emma Kallick. 
To the magazine, he also revealed that he had been a family person who would prefer to have quality time with his girlfriend rather than go out and party. 
He added that he would rather invite friends to his home for dinner instead of going out at "Soho House till 4 am."
However, in 2016, Morrissey was against the idea of marriage despite being committed to Kallick.
To The Guardian in 2016, he boasted about how his partner kept him grounded. He said,
[Killick] keeps my feet on the ground. I've always got big ideas: 'We're going to take the roof off and build a viewing platform!' And she's like, 'Neil, we're not doing that.' She's a lot of fun and very organised and she accepts all my madness and quirks and hangovers from childhood that may manifest themselves, like not opening letters because it might be bad news.
To My London News in 2021, Neil said that he was helping his partner Kallick, who was suffering from back pain, with household activities such as cleaning, ironing and cooking.
'Womanizer' Neil Morrissey's Girlfriend After Series of Affairs
His love life has had its ups and downs despite his insistence that his upbringing had had no effect on his relationship.
"I don't have any commitment problems. I've had a few girlfriends, like most people. So I'm no different from anyone else," he told.
He married actress Amanda Noar in 1987, right after they met on the sets of Boon. They even had a son named Sam together.
But only after four years of marriage in 1991, the couple had a divorce and decided to take their separate ways. But even after separation, they've remained good friends to date.
 Later he got engaged to actress Elizabeth Carling whom he met in 1989, but they also could not last long.
His other dating headlines include the relationship with My Summer With Des co-star Rachel Weisz in 1998. While dating the couple lived together in Neil's flat in Crouch End, London. The news about their break-up was opened when Rachel moved out of his flat.
Discover: Andy Favreau Age 34 Wiki: Flaunts Wife To-Be, She's A TV Shows Star
After this in 2000, he was photographed in the Somerset countryside with Amanda Holden whom he met on the set of the BBC show Happy Birthday Shakespear. She was married while the two were dating and the news of their affair caused Amanda's marital life to sour.
Ending the brief fling with Holden, he then moved on to a new relationship with Georgina Hurford-Jones who works in the television industry in 2002. The relationship too was short-lived as well. 
Out of all, his most popular love affair was with his six weeks girlfriend Amanda Holden, judge of Britain's Got Talent. 
The affair scandal was so intense back then that it resulted in the divorce of Holen and comedian Les Dennis in 2003.  They had been married since 1995.
In an interview with Good Housekeeping in 2013, Holden said that people had been mischaracterizing Morrissey because of their affair. She said, 
Neil rightly or wrongly got loads of stick. I feel like it was my fault - I was the one who was married. I want to change the general perception of him, as he was very caring and very loving and very worried about me because I lost so much weight. He used to cook for me and look after me and babysit the dogs.
Later, Neil got into a relationship with lawyer Emma Killick. He was usually delighted with their relationship in his interviews.
 They had met in 2004 and by 2008, they were sharing a house with their dog Tiggy in London.
How old is Neil Morrissey?
Neil was born on 4 July 1962 (age: 60) in Stafford, Staffordshire. His parents Lary & May were Irish and psychiatric nurses. He has three siblings out of whom one is no more. He was born the third of four sons.
In one of his interviews, he revealed that his siblings were "slightly feral compared to other kids." He and his two years older brother Stephen would usually be mistaken as twins. 
According to reports, he spent his early days at Penkhull Children's Home under the care of Margaret Cartlidge. He completed his high school at Thistley Hough High School. 
He then studied A levels from the City of Stoke at Tenth Sixth Form College. Later he pursued his higher studies at the Guildhall School of Music and Drama.
As a child, Neil and his brothers had a tough time. With parents always busy with their work, the brothers had learned to take care of themselves at a very young age.
Neil was closest to his older sibling, Stephen. The brothers had a strong bond which made them inseparable.
After being caught stealing some sweets and stationery, nobody would have imagined both the brothers would be separated from their families and would be kept in foster homes for many years.
See more: Roger Mudd On Death Of Wife: Family, Net Worth, Health & More
But who would have imagined that both the brothers would be separated forever?
How Did Neil Morrissey's Older Brother Die?
In the year 1997, Neil lost his brother Stephan to death, and the pain he felt after the demise was extremely painful and sad.
The death of his brother once again brought him the memories of his childhood and made him realize that he had lost one of the closest members of his family.
His older brother, Stephen, who had a history of alcohol and drug abuse, was found dead in his apartment in Wolverhampton at the age of 37.
Although some sources claimed that he may have died of a drug overdose and poverty, Neil did not comment anything about it in front of the public eyes.
 As an adult, the brothers did not meet often, but the death of Stephen left a scar inside his heart.
At age 10, Neil had to visit a court with his brother Stephan after being caught stealing sweets and stationery from a local shop. 
But it wasn't Stephan's first visit to the authorities. According to Neil, it was the first time experience for him. 
The court verdicts separated the two brothers after an issue of a care order. They only met after 10 years and their distant relationship never improved.   
In an interview with MailOnline in 2011, he said:
We never really knew how or why he died. It was horribly, horribly sad.
The death had shocked and confused him. But as of now, he describes himself to be in the right place. He is happy and secure in every aspect of his life and lives in London with his partner, Emma.
Neil Morrissey's Movies and Television Series
After being offered the lead role at The Theatre Chipping Norton's 1982 pantomime, his career has been unstoppable since then.
In 1984, he played the role of Able Seaman in The Bounty. The same year, he also made an appearance in the police drama Juliet Bravo.
His career took greater heights after appearing in the ITV drama series Boon (1987 to 1995). His series Men Behaving Badly became one of the most popular sitcoms of the 1990s.
Find out about: Tobias Menzies Girlfriend Another Man's Wife? Personal Life Insight On 'Outlander' Actor
He then starred in the Comedy Premiere The Chest in 1997. Later he starred in various shows, series, and films like Shakespeare's Birthday (1999), Up 'n' Under, Paradise Heights (2002), Carrie and Barry (2004-2005), Guys and Dolls (2006), and many more.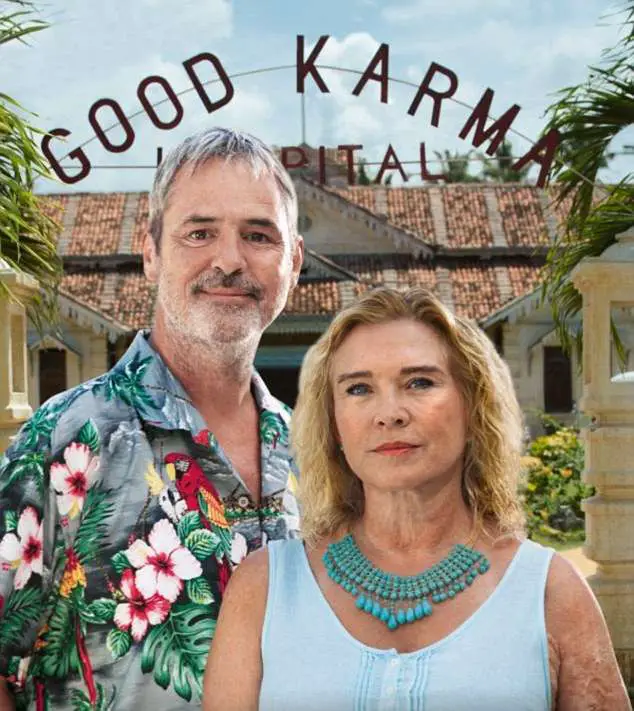 TV SHOW: Neil Morrissey and Amanda Redman star as Greg and Lydia in the steamy new medical drama The Good Karma Hospital which premiered in the year 2017 (Photo:dailtmail.co.uk)On 1
In April 2006, a BBC Three spoof program documented the real life of Neil Morrissey and revealed some secrets of his personal life in the show Neil Morrissey's Secret.
Over the years he has been active in the field of acting portraying different roles in different areas.
Some of them are Keith in the comedy-drama film A Gert Lush Christmas (2015) and Greg in ITV's The Good Karma Hospital (2017) and Colin Keeler in the British television series, The Trail of Christine Keeler.
In 2018, he appeared in two television series, as Frank Barton in the British anthology television series,  Moving On, and as Peter Carr in the British crime television series, Unforgotten.
His appearance as Peter Carr, a father-of-two who returned to Norfolk after many unsuccessful years working in Hong Kong, in the tv show was pretty popular among its viewers.
In 2021, he portrayed Fran Stevenson in the British television series, The Syndicate, and Christopher Reasley in the British crime drama television series, The Long Call.
Now, he is looking forward to his upcoming Channel 5's thriller The Hoard.
He has an estimated net worth of £5M that he primarily earned through his acting and ownership of a series of pubs.
 At one point, he had lost everything and was near to bankruptcy. But now things are looking rosy for the actor.
Also, in 2023, Morrissey and his Line of Duty co-star and friend of over four decades Adrian Dunbar went on to the show DNA Journey, which features on ITV X and ITV1 at 9 p.m. Tuesday, to check out their respective Irish heritage. 
The friends went on to the show primarily to check out  Morrissey's heritage and find out more about his family history since he had spent most of his young age in children's homes from age 10 due to his parent's financial struggles.
During the show, Morrissey not only discovers that one of his ancestors was into gambling and later also finds out that he was 99% Irish in comparison to his friends Adrian 73%, according to a DNA test. 
And till the show's ending, fans get to see him connect with his ancestors, the Loughlins, and with his other relative Marilyn—who impresses him with some Irish folklore.
He also gets humbled when meeting his cousin Joy and his family. Joy's parents (Loughlin's mother and Brennan's father) had eloped to England after getting married because of the conflict between the two families. He was born thereafter.