Are Michelle Phan And Dominique Capraro Married Now?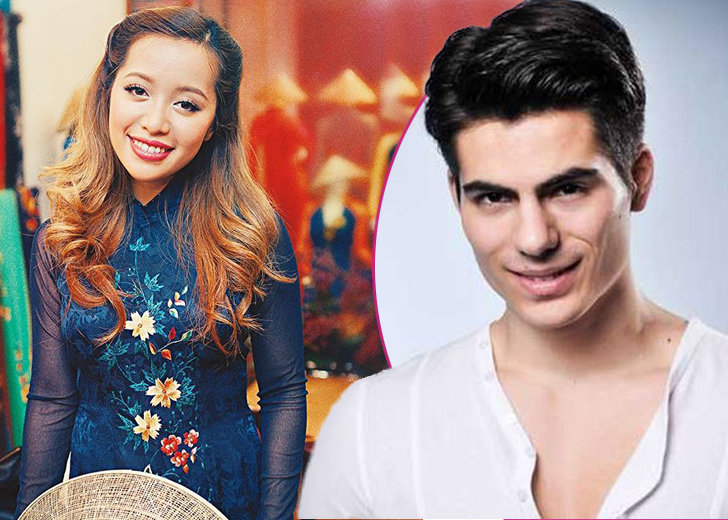 A few years earlier, YouTuber Michelle Phan and her boyfriend Dominique Capraro looked inseparable.
The couple was open about their relationship and even appeared together in videos — sharing intimate moments, answering personal questions, and filming a short romantic movie — all of which are uploaded on Phan's tremendously popular Youtube Channel. 
However, the renowned beauty vlogger Phan disappeared abruptly in 2015, leaving her Youtube, Instagram, and Twitter handle dormant.
Since her hiatus, there have been no further updates about her relationship with the Swiss model Dominique. She has also stopped talking about her personal life, presumably to keep it out of public attention.
But does this mean that they are separated? Or are they just keeping their relationship as it should be — private?
Michelle Phan Started Dating Dominique Capraro in 2010
Michelle Phan and Dominique Capraro first met each other at a café in Paris. Their first meeting was nothing short of a serendipitous encounter, as Phan herself revealed in her Valentines' Day video in 2014.
At the time, Phan was exploring Paris on a beautiful summer day after work. Being her first time there, she wanted to try a "real Parisian cafe."
She went inside one of them and found herself lost for words upon glancing at the menu. Everything was written in French, and she could neither make heads nor tail of what she was going to order. However, in the nick of time, Capraro came to her aid, and the rest was, in retrospect, history. 
Capraro helped her order food, and the two got to talking. They stayed at the cafe for a few hours and exchanged numbers and email to keep in touch as she was scheduled for a flight back to the US the next day.
Phan missed him throughout her flight back home, and that was the point when their long-distance relationship started. In the video description, Phan wrote that they were apart for two years while being in a long-distance relationship after their initial encounter.
Later they reunited in Paris and had their first kiss under the Eiffel tower. Although the two didn't get married right away, they didn't shy away from publicly demonstrating affection towards each other.
Since then, they filmed each other in makeup videos and Q&As together and generally looked as a happy couple with incredible chemistry. Some of Phan's most viewed contents are the ones featuring Capraro. However, all that came to a grinding halt after she went off the internet in 2015.
Are Michelle Phan And Dominique Capraro Still Together?
There aren't any concrete answers to the question. Nevertheless, we can take hints from her recent activities to determine whether their relationship is still alive. 
Ever since the YouTube sensation disappeared from the public eye and stopped uploading videos, Capraro has been absent from all of her content. The last time he appeared on Phan's channel was on January 23, 2015, in a Q&A video titled "MishDom Q&A."
During her absence, the makeup artist took a break from everything and traveled to different parts of the world to cope with depression. She even posted a farewell video on June 1, 2017, announcing that she would return to the platform only when she gets new and inspiring ideas to share with her viewers.
She returned on June 1, 2019, exactly two years after her farewell video, and relaunched her channel. But not everything was going to be the way it was when she left.
One of the things the social media star stopped doing was the Q&A videos with her boyfriend. This raised many eyebrows and left a good deal of her followers wondering if the duo were still together.
But, Phan has been incredibly tight-lipped since reinventing her channel. As reported by Dailymail, Back in 2017, the makeup star did say that she neither has a husband nor any kids. But nobody knows if there have been any changes on that front, either.
The 'Personal Life' section of her Wikipedia page sort of confirms our suspicion about Phan preferring to keep her relationship with Capraro private.
However, the article that Wikipedia cites as the source for this statement leads to a page consisting of her interview with Nylon magazine. The source also does not seem to contain any such details, which is why we suggest taking this bit of information with a grain of salt.
Another indication that she could still be with him is because she has not deleted the Q&A videos she did with him previously. Also, both of them still follow each other on Instagram.
However, these are just mere speculations, and it's hard to conclude they are merely keeping their relationship private or moved on. As of 2021 any information regarding Michelle Phan's boyfriend is unavailable.
According to celebsnetworth Michelle Phan's net worth is estimated to be $50 million. And we hope that her personal life is as spectaclar as her professional one.