Are Michelle Phan And Dominique Capraro Married Or Dating?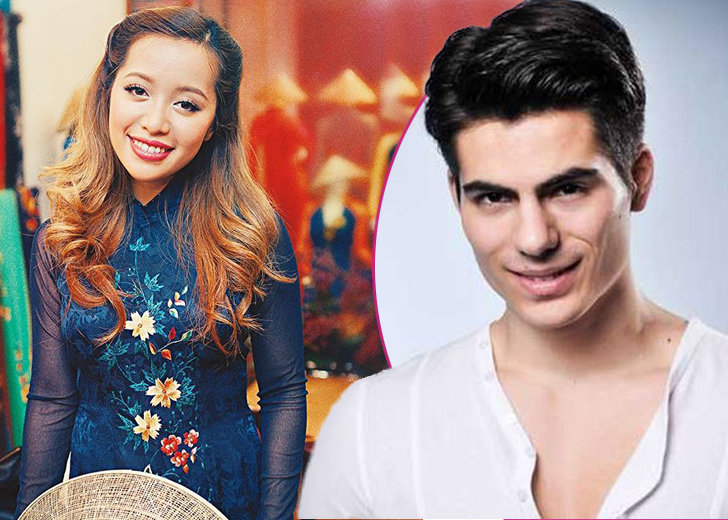 A few years earlier, YouTuber, fashion blogger, and entrepreneur  Michelle Phan and her boyfriend Dominique Capraro, former Mister Switzerland, looked inseparable.
The couple was open about their relationship and even appeared together in videos — sharing intimate moments, answering personal questions, and filming a short romantic movie — all of which are uploaded on Phan's tremendously popular Youtube Channel. 
However, the renowned beauty vlogger Phan disappeared abruptly in 2015, leaving her Youtube, Instagram, and Twitter handles dormant.
Since her hiatus, there have been no further updates about her relationship with the Swiss model Dominique. She has also stopped talking about her personal life, presumably to keep it out of public attention.
But does this mean that they are separated? Or are they just keeping their relationship as it should be — private?
Michelle Phan started dating Dominique Capraro in 2010
Michelle Phan and 6 feet 2 inches tall Dominique Capraro first met each other at a café in Paris. Their first meeting was nothing short of a serendipitous encounter, as Phan herself revealed in her Valentine's Day video in 2014.
At the time, Phan was exploring Paris on a beautiful summer day after work. Being her first time there, she wanted to try a "real Parisian cafe."
She went inside one of them and found herself lost for words upon glancing at the menu. Everything was written in French, and she could neither make heads nor tails of what she would order. However, in the nick of time, Capraro came to her aid, and the rest was, in retrospect, history. 
Capraro helped her order food, and the two got to talking. They stayed at the cafe for a few hours and exchanged numbers and email to keep in touch as she was scheduled for a flight back to the US the next day.
Phan missed him throughout her flight back home, which was when their long-distance relationship started. In the video description, Phan wrote that they were apart for two years while being in a long-distance relationship after their initial encounter.
Later they reunited in Paris and had their first kiss under the Eiffel tower. Although the two didn't get married immediately, they didn't shy away from publicly demonstrating affection toward each other.
Since then, they filmed each other in makeup videos and Q&As together and generally looked like a happy couple with incredible chemistry. Some of Phan's most viewed content are the ones featuring Capraro. However, all that came to a grinding halt after she went off the internet in 2015.
Are Michelle Phan And Dominique Capraro dating or married?
There aren't any concrete answers to the question. Nevertheless, we can take hints from their last social media activities together to determine whether their relationship is still alive. 
Ever since the YouTube sensation disappeared from the public eye and stopped uploading videos, Capraro has been absent from all of her content. The last time he appeared on Phan's channel was on January 23, 2015, in a Q&A video titled "MishDom Q&A."
During her absence, the makeup artist took a break from everything and traveled to different parts of the world to cope with depression. She even posted a farewell video on June 1, 2017, announcing that she would return to the platform only when she gets new and inspiring ideas to share with her viewers.
She returned on June 1, 2019, exactly two years after her farewell video, and relaunched her channel. But not everything was going to be the way it was when she left.
One of the things the social media star stopped doing was the Q&A videos with her boyfriend. This raised many eyebrows and left many of her followers wondering if the duo were still together.
But Phan has been incredibly tight-lipped since reinventing her channel. As reported by Dailymail, Back in 2017, the makeup star did say that she neither has a husband nor any kids. But nobody knows if there have been any changes on that front, either.
And all these visible changes in the pair's relationship dynamics have led to divided opinions on their bonding and dating status.
One Reddit fan wrote, "Prettty sure they're still together, last glimpse of him was at Promise Phan's gender reveal party video."
Promise is Michelle's sister-in-law. The gender reveal party of Promise's son Cairo took place in March 2021. 
However, even if Capararo was present at the event, some fans believe the pair are no longer together. Some even said they got married but separated because things didn't work out. However, there has been no news of them getting engaged, let alone being married. Only rumors existed when Michelle took a break from social media in 2015 that they might have married because of Capararo's positive outlook toward marriage.
However, Michelle later cleared up that she said she was not married and had no kids. She explained that she took the break to enjoy her life and "freedom." 
"I read in a discussion somewhere that Michelle and Dom got married but then complication ensued and they separated or something and Michelle started dating some asian DJ. I looked him up in her following back then and did see she following him," another fan wrote.
Add to that, some of Michele's recent years' posts have been about her new life and transformed self. She has founded new ventures in Thematic,  EM Cosmetics, and Summer School to keep her hands. She is also co-founder of the subscription-based beauty brand Ipsy, which was once valued by Forbes at $500 million. She left the firm in 2017.
According to Celebriynetworth, her estimated net worth is $50 million as of writing. Born on April 11, 1987, in Boston, Massachusetts, she has 8.74 million subscribers on her Youtube channel, which she started in 2007 and began expanding with fashion, lifestyle, and beauty content. Likewise, her Instagram has 1.9 million followers, and Twitter has 829 thousand followers. She was also listed in 2015's Forbes 30 Under 30.
"The power of reinventing yourself can inspire a new story arc in your life. Remember, you're the main character in your story. Be the change you wish to see in this world," she captioned an Instagram post in August 2022. 
And the 'Personal Life' section of her Wikipedia page sort of confirms our suspicion about Phan preferring to keep her relationship with Capraro private.
However, the article that Wikipedia cites as the source for this statement leads to a page of her interview with Nylon magazine. The source also does not seem to contain any such details, so we suggest taking this bit of information with a grain of salt.
Another indication that she could still be with him is that she has not deleted the Q&A videos she did with him previously. Also, both of them still follow each other on Instagram.
However, these are just mere speculations, and it's hard to conclude whether they are merely keeping their relationship private or have moved on. As of 2023, any information regarding Michelle Phan's boyfriend is unavailable. His social media has gone to private mode.