Fans Speculate Michelle Phan Married Her Boyfriend During The Hiatus
Michelle Phan is a social media influencer turned entrepreneur who amassed huge success after her makeup videos on YouTube went viral. She disappeared from all social media sites in 2015 for an escapade into self-reflection then finally resurfaced in 2017.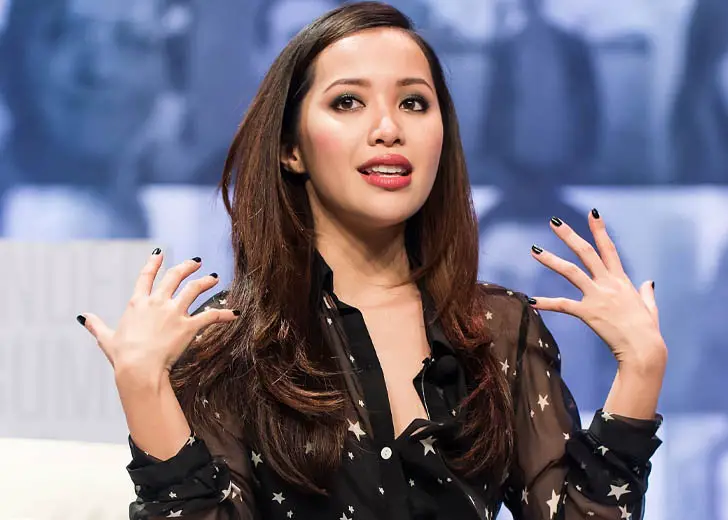 The first known Social media influencer and internet Makeup artist, Michelle Phan, left her fans high and dry in 2015 by taking an abrupt 10-month long break. When she returned in 2017, fans had already brewed a lot of assumptions regarding her career and her relationship status with boyfriend Dominique Capraro.
Michelle Phan's Second Coming Into The World Of Vlogging  
Makeup guru Michelle Phan had everything a late 20s girl would wish for and even more. From her humble beginnings as a vlogger on YouTube, she became a video makeup artist, a YouTube advertising partner, and the CEO of her company Ipsy. Later, she signed a deal with L'Oreal to start her own make-up company, Em Cosmetics.
Then in 2015, she abruptly packed her suitcase and left. The social media icon had cut off from social media completely, so her fans were left wondering where she went. For a year, there were no signs of Michelle.
Finally, on June 1, 2017, she resurfaced by sharing a video on Youtube titled Why I Left, where she explained about her harsh childhood days, how she became a vlogger, and why she took a break. In it, Michelle candidly shared that as her career gained momentum, her insecurity got the best of her. She stayed busy to cope up with the stress and anxiety that she had been facing. She also felt depressed and wanted to be forgotten, so she took an abrupt break.  
The same year, she resigned from Ipsy because she wanted the company's control back that she had handed over to L'Oreal. After resigning, she bought back EM Cosmetics from L'Oreal and relaunched it in April, 2017. 
In an interview with Elle, Michelle elaborated that during her hiatus, she went to Switzerland, followed by Netherlands, China, and Egypt, to find perspective and answers to the riddling questions about happiness.
Since then she has been posting YouTube videos regularly, going back to her roots of vlogging. 
In spite of the unannounced departure, she has been receiving equal support from her fans. 
Michelle Has Been In A Relationship With Boyfriend Dominique Capraro Since 2010
One of the burning questions during her hiatus amongst her fans were regarding Michelle's relationship with her boyfriend, Dominique Capraro. 
Michelle got together with Swiss dancer and model Dominique Capraro in 2010. The couple met in a Parisian café in Paris where Dominique approached her and assisted her with French translation. The couple was in a long-term relationship and after finally reuniting in Paris again.
Michelle and Dom have been seen together in several of her videos. But in January 2016, she revealed that she wanted to keep her relationship private, so Dom is not seen in her videos anymore.
Fans Speculated That Michelle And Dominique Got Married During Her Long Break From The Internet
During her 10-months break from social media, Michelle's fans speculated that she still continued her relationship with Dom as Michelle had disclosed that she went to Switzerland during her break. We know that Dom is from Switzerland.
Fans had even commented on Michelle and Dom's YouTube videos, claiming that Dom is her husband and that they got married when Michelle was in Switzerland. These speculations are also fueled by the fact that in a Q&A video back in January 2015, Dom was positive about marriage, sharing: 
It comes across our (Dom and Michelle's) minds because when you project for the future, you project marriage, wedding, a family where we are going to live. Sometimes we think about it, we talk about it, that's already a lot.
However, contrary to her fans speculation, Michelle certainly did not get married during her hiatus as she mentioned in her interview with Teen Vogue in April 2017, that she took the break partly because she wanted to enjoy the freedom of not being married or having kids for one last year in her 20s.
I turned 29 last year, and I just wanted to enjoy my 20s for at least one year. I don't have kids, I'm not married. I wanted to enjoy that freedom of not having to worry about anything. 
Despite all the claims, neither Dom nor Michelle have publicly announced their relationship status as of now.