CBS's Mark Knoller Biography: From Wife Details To Tracking Trump In His List!
CBS's Mark Knoller Biography: From Wife Details To Tracking Trump On His List! Award-Winning White House Correspondent for CBS News, Mark Knoller is widely known as an encyclopedia for keeping track of presidential and White House related knowledge. However, when it, comes to Mark letting his followers keep track of his personal life happenings, he has remained subtle in providing the details.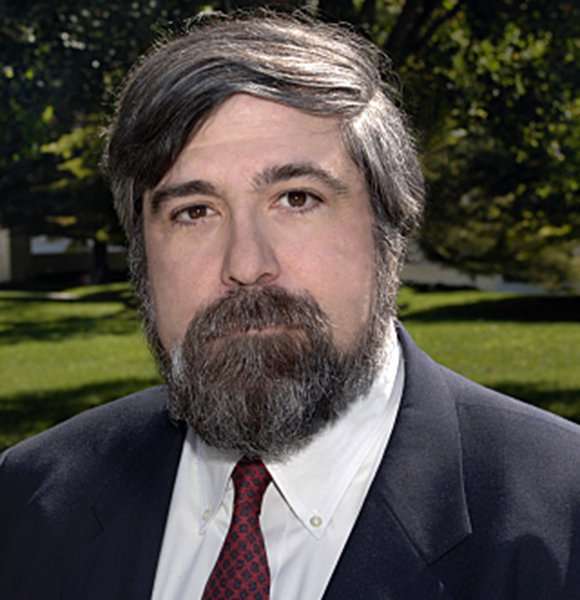 While juggling between the roles of a professional and personal life may come easy for some, Mark Knoller had difficulties performing the two tasks at the same time. And when he had to choose, he knew what he wanted.
Interesting: Maurice DuBois On Overcoming Obstacles With Wife! Married The Right Person
Mark Knoller, an award-winning White House Correspondent for CBS News has reported for the weekend editions of the CBS Evening News and The Early Show. He is the unofficial statistic holder of the presidential house of USA. Nearly every day, he logs every movement, act, and utterance of the commander-in-chief in an obsessively detailed archive of text files and spreadsheets.
From AP To CBS: Mark Knoller's Biography
The CBS news personality was born on 20 February 1953 in Brooklyn and is a graduate from the New York University.  From an early age, he was fascinated by politics and pursued a career in political journalism. 
He started his career as a correspondent and worked with the Associated Press Radio Network for 13 years before joining the CBS News Network in 1988. 
After joining the CBS, Mark reported for CBS News Radio and the weekend editions of the CBS Evening News and The Early Show. 
After working as an Assignment Manager in the CBS News Washington Bureau for three years, Knoller got assigned to the White House. There, he covered the last year of the George Bush Senior's Presidency and Bill Clinton's every day.
And after being appointed to the White House, he has followed every president's moves never missing a detail. Mark has been covering every U.S. presidents since 1998 and continued to do so even today. 
As of now, Donald Trump is on his list, and Mark has been diligently covering every step Trump trakes.
He not only provides updates to the viewers about the latest news about president Trump's most recent news, but he also provided anecdotes about Trump through his Twitter. On 24 January 2018, Mark shared a tweet in which he addressed the contemporary issues cited by president Trump.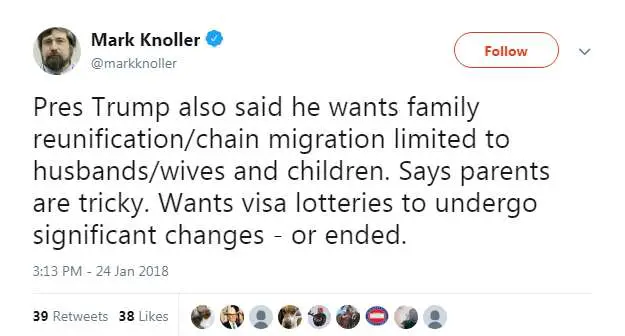 : Mark Knoller on 24 January 2018 via tweet lists different issues (Photo: Mark Knoller's Twitter| 24th Jan 2018)
Similarly, he also tweeted about Donald Trump's meeting with his North Korean counterpart Kim Jong Un and informed his followers about the latest developments in the triple end relationship between America, South Korea, and North Korea in March 2018. 
You Might Also Enjoy: Serena Altschul In Family Bliss! Married Or Just Dating Perfection?
Recently in the month of Januray 2019, Mark tweeted about President Trump's acceptance to deliver the State of the Union Adress which was subsequently held on 5th February 2019.

Letter: Journalist Mark Knoller's tweet about President Trump reply letter to House Speaker Nancy Pelosi's invitation. (Photo: Mark Roller's Twitter | 29 Jan 2019)
Furthermore, he also tweeted about Trumps strong legal standing to declare a national emergency for the purpose of building a southern border wall.
For his service with the CBS, he has been awarded Merriman Smith Award for Deadline Reporting on the Presidency along with several AP Awards.
Mark, who has been serving as a White House Correspondent has made remarkable earnings through his long-tenured career. As a CBS correspondent earns an average salary of $102,548 per year, he is like to grab above the average salary for his experience on the media.
Chooses Profession Over Family, Fears He Cannot Juggle Both At The Same Time
As Mark at the age of 65 revolves around his day to day hectic schedules, it is likely that he never wondered of having a family and has his lips sealed when it comes to his personal life.
Mark is very hard to pin down on anything personal and reporters who rely on Knoller's data trove know little about his life. CBS News correspondent Bill Plante, who worked together with Knoller in the tiny White House booth for 20 years says that Mike is very private and is not very social—by choice. Bill added that around the White House, the personality he likes to project is a curmudgeon.
Read More: Major Garrett, Married Man; Family Guy With Wife - Everything There Is To Know
Speaking to Washingtonian back in 2013, Mark even confessed that he couldn't concentrate on his profession if he had a wife and family. He never wishes of having a family. Furthermore, he stated his then relationship status to be single, as he lived all by himself in Chevy Chase. With such a hectic schedule, it would be difficult for him to balance between wife and profession.
And he has kept by the promise till now. With the veteran correspondent busy in garnering and analyzing the information of the presidential house, having a wife in his own home could be the last thought in his mind.