Lucy Liu's Life Changed in a Positive Way after Welcoming Her Son via Gestational Surrogacy in 2015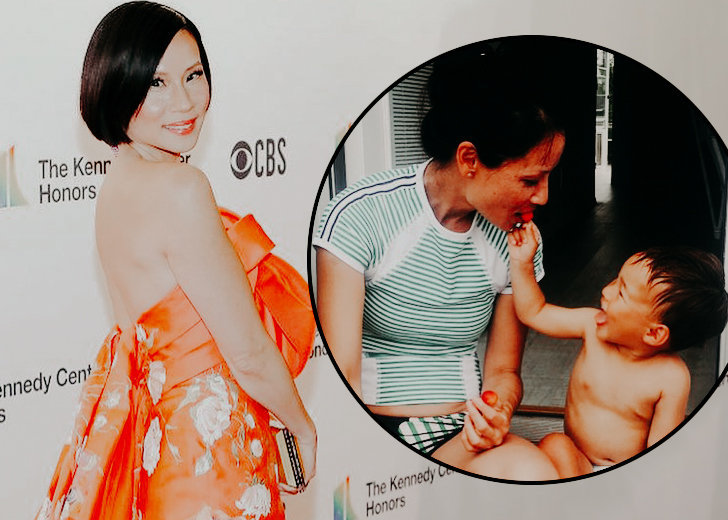 Lucy Liu, best known for her roles in Elementary and Charlie's Angels, is a proud mother. She welcomed her first biological child, Rockwell Lloyd, through surrogacy. 
Surrogacy Was the Right Option for Lucy Liu
In late August 2015, Liu made media headlines, surprising everyone and announcing that she was blessed with a baby boy, Rockwell, taking the surrogacy route via a gestational carrier. 
Liu also took to Twitter to share the news with her fans and well-wishers shortly after her son's birth.
She shared a beautiful black-and-white picture of herself and baby Rockwell in August 2015 to introduce her little man to the world.
The portrait captured the perfect essence of motherhood, as she had wrapped the baby boy in her arms. The talented actress captioned it, "Introducing the new little man in my life, my son Rockwell Lloyd Liu."

Lucy Liu introducing her son Rockwell Lloyd to her fans and followers. (Photo: Twitter)
Even though the news surprised her fans across the globe, they were equally happy for her. Thousands of people warmly congratulated and blessed her in the comment section. 
In an interview with People magazine, months after little Rockwell was born, Liu revealed that gestational surrogacy seemed like the best option.
As she was busy with her professional commitments and didn't know when she would stop, she opted for the surrogacy route to have a child.
 It just seemed like the right option for me because I was working and I didn't know when I was going to be able to stop.
Although the actress had to take a non-traditional approach to experience motherhood, she always knew that she was destined to be a mother. 
However, some people had opinions regarding her way of having a baby, but Liu believed in how she carried herself from the point of having her son and loving him. 
I'm a single mother who had a baby through a gestational carrier, and I know that people had opinions about how it was done.
In an interview with Yahoo Celebrities in 2016, the mother-of-one revealed how people were judgemental on social media. 
She also said that she finds it odd how people would have a negative slant on someone having a family, even in this time and age.
How can anyone have any discouraging words for a baby? I find that really shocking, and I felt it was strange and odd in this day and age that people would have a negative slant on someone having a family or having a judgment on how someone had a family.
Motherhood Changed Lucy Liu's Life In a Positive Way
In another 2020 interview with Yahoo Celebrities, the Elementary actress opened up about how being a mother turned her life upside down in the best way possible.
She explained how one cannot address the changes particularly, but it's more of an 'overhaul.'
As a parent, Liu believes in finding a perfect balance between guiding her son, Rockwell, to the right path and allowing him to make decisions independently. Moreover, she revealed she felt like her priorities changed after becoming a mother.
That human is yours to nurture, yours to love, and yours to teach - but you have to allow them to have independence as well.
Being a career-driven and independent woman, the 53-year-old actress opened up about how her dedication to her work hadn't changed at all. 
In fact, she insisted on loving her work even more because Rockwell made everything brighter. Liu added her child put everything in her life into perspective.
After having my son, it's not that I enjoy my job less, I love it much more because he makes everything in my life that much more. He helps underline everything in my life and put it all in bold.
Lucy Liu's Inspiration behind Motherhood
When asked about what inspired her to become a mother in her late 40s, she replied she had been visiting several nations with UNICEF to meet beautiful and warm children worldwide and felt something special about them.

Liu celebrating her son Rockwell Lloyd's fifth birthday in August 2020. (Photo: Instagram)
The purity of heart and the love the children share in a matter of moments are beautiful, she revealed.
I have to say, there is something incredibly special about children. There is an openness and sharing and love they give to you in a matter of seconds. That is something that you start to lose, as you get older, for whatever reason.
She further explained how she was passionate and devoted to her work, and it never occurred to her that time was flying by until one of her friends remarked about it. In fact, it was Liu's friend who suggested the surrogacy option.
As of now, Rockwell is six years old. The proud mother celebrated his 5th birthday with her social media followers, sharing an adorable picture in August 2020.
She wrote Rockwell is the rainbow of light in her life, and his energy is pure magic.
Does Lucy Liu Have a Husband?
Probably because Liu already has a son, her fans and followers can't help but wonder if she is married. Interestingly, Liu remains unmarried. 
Also, no information about her dating life or her current boyfriend has surfaced.
That being said, Liu has been romantically linked with few men. And George Clooney is one of her ex boyfriends, besides billionaire Noam Gottesman and Will McCormack.
She was also engaged to writer/director Zach Helm. But their engagement ended long before they could get married.