Larry Bakman, Married! Family Man With Wife - Age, Birthday, Salary And More Facts
Larry M. Bakman, an American attorney who has tried more than 500 Federal and State Criminal cases, was one of the three judges to work on CBS syndicated daytime court show 'Hot Bench,' from 2014-2016. Larry has vested significant amount of time to bring justice to the deserving ones. But, how well do you know about the man who has dedicated his entire life to the wellbeing of society?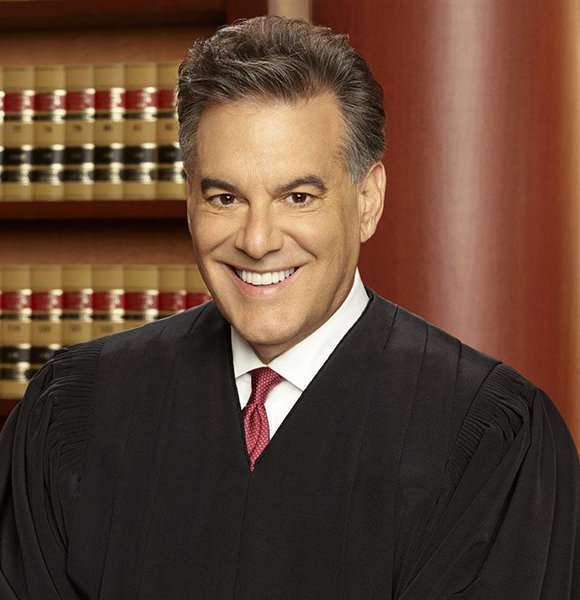 American attorney, Larry Bakman, who tried more than 500 Federal and State Criminal cases, loves his furry baby out of all his children.
Larry Bakman is quite known as one of the three judges to work on CBS syndicated daytime court show Hot Bench, from 2014-2016.
Age of Violence & Abuse: Larry uses his celebrity to bring awareness to the organization, New Directions for Youth for Los Angeles youth to stay off the streets and live violence-free lives since the mid-seventies (Published on 1 May 2016)
Larry has defended a multitude of state court offenses involving murder, manslaughter, narcotic and domestic violence offenses with such successful results.
Larry Bakman's Bio: Age & Career As Attorney
Former Los Angeles city attorney Larry Bakman age remains confined, but it remains known that he graduated Cum Laude from the University of California Los Angeles with a B.A degree in History and also received his Juris Doctorate from the Southwestern University School of Law.
You May Also Like: Attorney Jeanine Pirro "Un-Married" Controversial Husband, Gets Daughter Engaged Now
Judge Larry began his private practice with an emphasis on criminal defense. Through his training, he's gathered various high profile federal and state criminal cases.
Among his many remarkable cases, Larry has defended multiple Federal RICO offenses, in which the US government has sought the death penalty. 
Furthermore, Larry has worked as a Judge Pro Tem for the Van Nuys Municipal Court and the West Los Angeles Municipal Court, where he was employed to assist as a judge substitute temporarily.
Similarly, Larry was also one of the three judges on the courtroom reality CBS's TV series 'Hot Bench.' He left the show back in 2016 after appearing in its two seasons from 2014 to 2016.
According to published reports, Larry left the show to focus on his busy law practice.
Currently, Larry is self-proclaimed to six different jurisdictions: 'The California State Bar,' 'The New York State Bar,' 'The United States Court for the Central and Southern Districts of California,' 'The United States Court for the Eastern and Southern Districts of New York,' 'The United States Court for the Western District of Washington' and 'The United States Court for the District of Arizona.'
Larry Bakman's Family: Inexplicable Love
Correspondingly, Larry also lives a prosperous family life. Although he prefers keeping their identities confined, Larry provided a glimpse of his wife and children through Facebook back in 2016.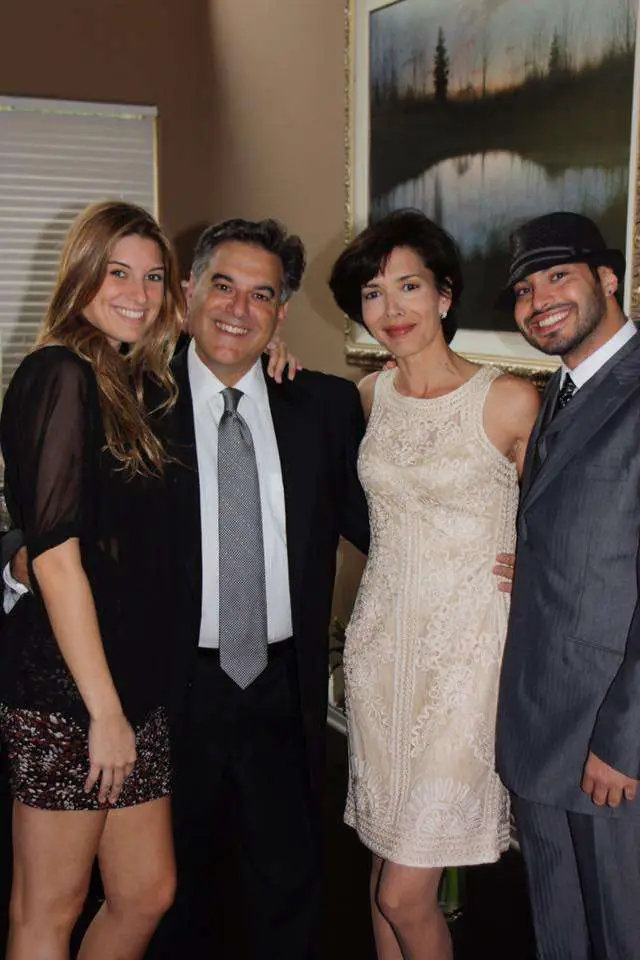 Complete Family: Larry posts a picture with his wife, daughter, and son on Facebook on 3 November 2016 (Photo: Larry Bakman's Facebook)
Larry also loves to spend time with his lovely wife during the holidays. He shared a picture on Facebook of him enjoying with his partner far from Los Angeles on the sea, the same year in 2016. 
Read Also: Attorney Faith Jenkins Age 40 Is Married! Furtive Husband, Salary, Net Worth & Essential Details
Likewise, Larry is close to his son and daughter as well. Recently on March 3rd, he posted an image mentioning that he is chilling with his daughter taking a break from his work. Moreover, Larry shared a picture of celebrating his son's birthday on March 7.
Attorney Larry Bakman is unquestionably a successful man with a blessed family, and even though the exact figure of his salary remains unknown, considering his career, he indeed should be prosperous in his professional front too. 
Larry's Favourite Kid: Immeasurable Comparision
Like any other parents, Larry favors his fur baby the most out of his children. Larry has got a dog, which shares the breed of Great Dane and he loves to share pictures of his dog on social media.
In September 2018, Larry went to the beach of Empire, Michigan in the US to spend quality time with his family. But, he spent the most significant time with his dog and didn't miss the chance to share the moment on his Facebook.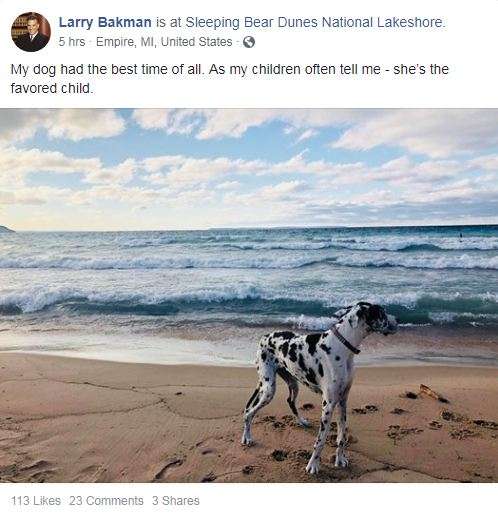 Favorite Member of Family: Larry posts a picture of his Great Dane at the Sleeping Bear Dunes National Lakeshore on Facebook on 2 September 2018 (Photo: Larry Bakman's Facebook)
Larry also announced that he was taking a couple of weeks off to have fun in the Michigan sun and enjoy the summer this September. Though he went with his family, he might just spend most of his holiday with his beautiful dog. 
You Don't Want To Miss: Stephanie Birkitt Married Or Dating? Details On Husband, Boyfriend, Family, Parents And More
And if he's willing, Larry might share more of his family's pictures and reveal some detail on his personal life a bit better.