John Giannandrea Wiki: From Salary To Net Worth & Family Details
Here are some of the interesting wiki facts including his bio, net worth, salary and his married life with family...he reportedly earns a salary of more than $10 million with Apple... John was chosen to head the team with his Apple bio stating him as Chief Of Apple AI... tech-nerd is not bigtime into social media which has led to little information about his married life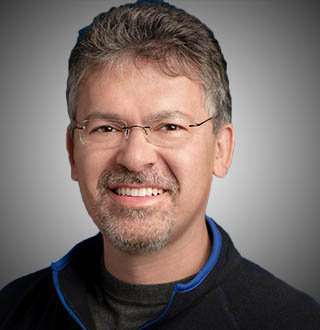 After leaving Google, John Giannandrea worked at Apple Inc. which helped boost his net worth and salary at a higher pace. Not just that Apple also provided him with a platform to create something even more innovative for the company. 
The tech guru's life has been on the face of news after swapping Google for Apple which has created a massive interest in his life. Here are some of the interesting wiki facts including his bio, net worth, salary and his married life with family. 
1. John Giannandrea's Career: From Google To Apple
Scottish computer scientist John Giannandrea is best known for creating Metaweb and Freebase and leading Google Search and Artificial Intelligence. In the early April of 2018, it was announced that he would be working with Apple to help improve the workings of Siri.
Since then, he is the senior executive at Apple Inc., leading its machine Learning and AI strategy efforts.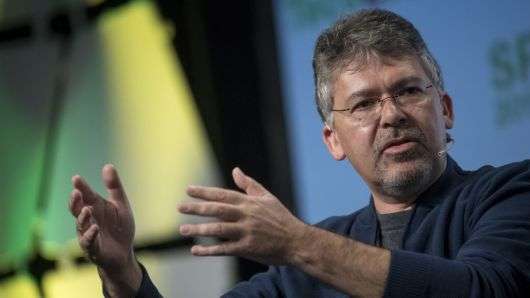 John Giannandrea, a senior executive at Apple Inc., speaks during TechCrunch Disrupt 2017 (Photo:CNBC.com)
John began his artificial intelligence career in the early 1990s. According to his wiki, he worked at the General Magic, one of the pioneering companies of handheld devices. He then worked with Netscape as well as on an early personal assistant similar to today's Siri.
He was the former CTO of the speech recognition company Tellme Networks. In 2005, he became the creator of Metaweb, a software that cataloged links between words and objects which was bought by Google in 2010.
While working at Google, he helped to introduce and develop images recognition for Google photos and smart reply for Google Inbox. He worked alongside 16th employee of Google, Susan Wojcicki.
Not just that, he was a leading figure in Google's parent company Alphabet's self-driving cars scheme. The project used machine learning to navigate streets and obstacles.
He also served as a senior vice president for search, web and machine intelligence at Google until March 2018, before joining Apple Inc. to front up the silicon valley giant's AI department.
After he was hired by Apple, everyone expected the workings of Siri to be much more advanced than the present. But John had another idea on his mind. When Tim Cook brought the concept of self-driving cars, he called it the mother of all artificial intelligence projects.
But according to AI expert John, the project of Titan moving will be the ultimate mother of all AI plans. Thus, for now, he has all his focus and concentration on the Titan Moving project.
2. John's Bio: Family Life Under Veils
Born in 1965 in Bridge of Allan, to a Scottish family, his early life has not been documented. John is a graduate of Strathclyde University located in Glasgow. He earned a Bachelors of Science with Honors in Computer Science. With that, he was also awarded a Doctorate Honoris Causa. Due to his immense knowledge of computer technology, he is one of the boards of trustees at the SETI Institutes and Castilleja School.
The overly secretive tech-nerd is not bigtime into social media which has led to little information about his married life. But what has not remained hidden is the tech guru's vast fortune earned from his time with two of the biggest IT companies in the world.
Similar: Susan Wojcicki Massive Net Worth & Salary That Started From This Small Cali House
3. Joins Apple Inc. Boosting Networth Through Huge Salary
With such vast experience and proficiency in the AI system, John's decision to step away from Google in March 2018 was sure to see him flood with offers from the tech giants all over the world, and he could command any salary he liked.
And barely two weeks after leaving Google, he joined Apple to head its AI department. As one of 16 assistants to directly report to Apple's CEO Tim Cook, he was tasked with improving the voice of Apple, Siri.  
Boasting a vast experience in the technology field, he reportedly earns a salary of more than $10 million with Apple. However, as many contracts with the silicon valley giants, his contract could be laden with lucrative incentives and bonuses increasing his net worth to millions.  
Related To Technology: Rebecca Jarvis: Happily Married Woman With Supportive Husband
4. Heads Siri And Machine Learning Teams At Apple
Despite having initial debates over what division would the tech-guru head at Apple, it was revealed on 10 July 2018 that Apple had merged its teams working in Siri and Machine Learning, creating a new division, Machine Learning, and AI Strategy.
And as widely anticipated, John was chosen to head the team with his Apple bio stating him as: 
"Chief of Machine Learning and AI Strategy."
Moreover, he is expected to report directly to CEO Tim Cook and has been tasked with bettering Siri, which was recently pushed to second place in the ranking of digital assistants by Baidu's digital assistant. 
5. Apple Promotes John Giannandrea To SVP Of ML
In 2018, Apple advanced John Giannandrea to its executive team with a new role: Senior Vice President(SVP) of Machine Learning and Artificial Intelligence Strategy. He had joined Apple earlier in 2018 after leaving his part of the search and AI chief at Google. Before joining Apple, Giannandrea kept the AI features through Google products including search, assistant, and Gmail.
Apple has been considered to be behind its biggest rivals regarding AI, primarily due to the company's rigid behavior on its user's privacy. With the use of large data sets and, in the case of digital assistants, with the use of AI, transferring user data to the cloud would be much more comfortable.
As Apple has been working on alternative ways to improve its technology -- like processing data at the device level, which keeps user data more secure by keeping it out of the cloud.
In July of 2018, Apple reorganized its Siri and Machine Learning teams which were working under Giannandrea Chief of Machine Learning and AI Strategy at the time. The decision to once again boost him shows Apple's commitment to machine learning and artificial intelligence technology. The move also communicates that the ex-Google hire is seemingly an excellent cultural fit at the company despite differences between Apple and Google's approach to privacy.