Is Actor Steve Lund Married to a Wife? | Gay rumors & Ex-girlfriend Stories Also Inside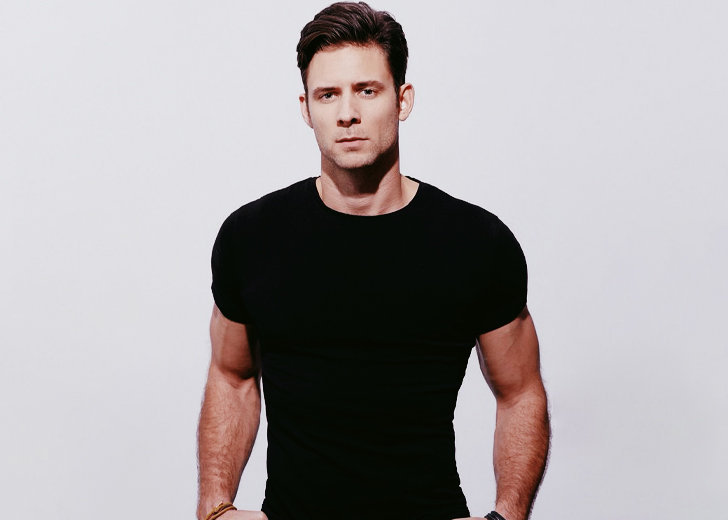 Some of the most asked online questions about the Canadian actor Steve Lund are, "Is Steve Lung Gay?" "Is Steve Lund in a relationship?" "Who is Steve Lund married to?" and "Who is Steve Lund's girlfriend?" 
Fans have long enjoyed seeing the chiseled, handsome hunk in his sizzling on-screen romance with beautiful witch Paige in Bitten (2014-2016) and Dan Levy in the popular sitcom Schitt's Creek (2016-2020).
Similarly, in Hallmark's Christmas Bedtime Stories in 2022, Lund plays the love interest (Pierce) of a wife (Danielle, Erin Cahill) whose military husband (Colby, Charlie Weber) goes MIA, and she has to raise her daughter alone. And in Lifetime's Six Degrees Of Santa, his character Jason was seen on an immersive quest to track down his soulmate, who he is convinced gave him his gift as the original Santa. 
But contrary to his on-screen personas in movies and tv shows, Lund's real-life romantic leanings are a bit of a mystery, prompting fans to speculate if he is gay and even falsely identify him as a married man. 
In this article, learn about Steve Lund's life details, including his family, dating status, sexuality, age, height, and more. 
Steve Lund's portrayed bisexual character in 'Schitt's Creek'
Many recognize who Steve Lund is from the characters he portrayed that were not straight. One of them is Jake in the television series Schitt's Creek. His character has an intimate relationship with David, played by Dan Levy.
In an interview with Halifax Magazine in 2018, the 32-year-old shared his enthusiasm for portraying a gay role. He expressed he was honored to represent a person from the LGBTQ community. His statement to the magazine read:
I felt very honored and privileged to be the one in that position (as a bisexual love interest). But you know, it could have been a number of actors that would have taken the job alongside those Canadian titans. And to smooch Dan Levy! He's the cutest guy ever.
Bold roles such as this might have led some of his fans to speculate about Lund's orientation. However, his penchant for playing a diverse range of characters shows the actor has no reservations when it comes to doing his characters justice.
Despite speculations, Lund has kept his love-life one of the best-kept secrets. Until the actor comes out and reveals his personal matters, it would be insensitive to make assumptions about his relationship status. 
Is Steve Lund gay? 
In 2016, gay rumors about Steve Lund circulated when he posted an Instagram photo where he hugged a man with a caption that read 'I do.' Naturally, this left many speculating about his sexual orientation. 
Adding to that, Lund, who has been revealed to have a "strong feminine side," possesses an expressive personality which led many netizens to wonder if he was gay.
The post that sparked rumors about Steve Lund being gay (Source: Instagram)
While Lund's post was bold, its intent was only jestful. Jeff Lohnes, the man Lund was hugging in the picture, is married and has a child. 
Actually, the rumors about Steve being gay for not being seen with any female partners had already been put to rest when he gave an interview to AfterBuzz TV, talking about his ex-girlfriends and dating preferences, in 2015. 
When the host, Annika Michelle, asked about his ideal date, he said,
"It would be like a whole day thing start with like a wicked brunch that I made, he said. He then added, "I like going to a concert or something like outdoor hiking thing and then eating awesome food. I don't know going to an amusement park. I've been on a couple of dates where we go go-karting."
He also revealed how he intentionally allowed his dates to win in outdoor activities. 
And he revealed more: he shared some of his interesting date stories with his ex-girlfriends, including the time when he kept losing money but didn't give up on a circus event to win a teddy bear for his then-girlfriend and the crazy event that led to him and his then-girlfriend (another woman named Steph) getting kicked out of a Medieval event.
Lund described himself as a romantic good guy who "worships women."
"I am a product of a very influential mother, and I am sandwiched between two sisters who you know were massive parts of my life. I just couldn't be a jerk," Lund stated. 
Also, on Lund's Instagram, a recurring feature is his god-daughter named Eliana Grace McArthur. 
Is Steve Lund Married with Kalleen Kirk?
Steve Lund—a Halifax native famous for a plethora of characters — be it a werewolf Nick Sorrentino in Bitten, a hopeless straight lover in Reign, or a charismatic bisexual Jake in Schitt's Creek—gets lots of questions on social media about his sexuality. 
After all, the Baby, It's Cold Inside actor is a good-looking Canadian actor who has made a name in the competitive acting industry. He also has a large number of both women and LGBTIQ fanbases. 
However, in his decade-long career, Lund, who has a height of 6 feet and 3 inches, has never been spotted or linked with any female co-stars or love interests. That being said, rumors about him being married to a woman named Kalleen Kirk still plague the internet. Even websites like Superstarbio have recognized Kalleen as Lund's wife.
But Kalleen Kirk and Lund are not a couple.
It turns out that the Halifax native was mistaken for 67-year-old Steve J. Lund. Steve J. is a general president of The Church of Jesus Christ of Latter-day Saints. According to the institution's website, he is married to Kalleen and has four children and nine grandchildren.
While there's no doubt that the father-of-four is married to Kalleen, she certainly isn't related to the Bitten star.
What is Steve Lund's relationship status as of now?
Many people have been curious to know if Steve presently has a wife, girlfriend, or none. As he is a popular and likable celeb, it's obvious that his limelight has attracted those who want to know about his personal and his professional life.
However, not all celebs will likely like to disclose their personal life easily in the public sphere. Many celebrities try to avoid the paparazzi and social media glare, and Steve has been among them for a long time. 
And it seems just like Lund likes to keep all the peepy eyes away from his dating life. So, unsurprisingly, there have been no reports in the media of any of his dating scandals or PDAs, let alone the news of him getting married to his lucky spouse. Hence, it will be safe to call him single as of now. 
On his Instagram, Lund shares pictures of his work, travel, drumming, outdoor activities like golfing and skating, and friend and family. 
If you didn't know, Lund was originally pursuing a career in hockey to fulfill his father's Canadian dream of his son playing in the NHL. Later, he got injured as a teenager and had to quit the sport. At the time, he realized that he had to pursue acting, which he had enjoyed since his childhood, and stop "following someone else dream."
Growing up as a kid, the son of a salesman was highly inspired by Indiana Jones, and he later also got an opportunity to be part of a production of the Lion King organized by his music teacher when he was in grade three.
"When I was three years old, I was running around telling people that I was going to be an actor. I was a performer. I'm my father's son, and my father was a kind of a larger-than-life kind of guy. His job was to entertain people; he was a salesman, so he was always there with a joke," he shared with Torontoguardian. "I've always been the class clown. In grade three, we had this great music teacher, and she just encouraged us to let our freak flag fly. She was the coolest chick ever. She ran a production of the Lion King, and she cast me as Bonzai, the hyena, and that was the most fun I'dI'der had. It was like my shining moment."
Lund also credits his deceased uncle Brian for  inspiring him to "invest in film," which also helped him to "ulimately become an actor." 
How old is Steve Lund?
Lund was born on January 9, 1989, in Halifax, Nova Scotia, Canada, to parents Mike Lund and Linda Lund. As of this writing, his age is 34. In 2022, he appeared in the Hallmark television movie Christmas Bedtime Stories as Pierce and in Lifetime's romantic drama Six Degrees of Santa as Jason. 
Lund graduated from the Vancouver Fill School and got opportunities to work in minor roles in the television shows such as Haven, Lost Girl, and  Blue Mountain Slate. Later, his big break in television came in 2014 with the werewolf drama Bitten, which is based on the Woman of the Otherworld book series by Kelley Armstrong. In the television series, he portrayed Nick Sorrentino, a flirtatious and ambitious werewolf.  
How does Steve LunLund'so relate to his zodiac sign?
Steve Lund has the Sun sign of Capricorn. Those born under this sign are known to be highly responsible and disciplined individuals. They are not the type to seek admiration from others but are driven by a strong inner motivation to constantly better themselves.
Capricorns are known for their determination and hard work, which makes them well-suited for careers requiring great focus and dedication. This is evident in Lund's acting career, as he has shown a tireless commitment to his craft and has worked diligently to hone his skills.
One of the defining traits of Capricorns is their practicality and realism. They are not prone to flights of fancy and instead prefer to focus on what is achievable. This trait is often reflected in their behavior, as they are known to be level-headed and down-to-earth.
Capricorns are also known for their strong sense of responsibility and loyalty. They are not afraid to roll up their sleeves and do what needs to be done, and they are always there for their friends and family when required.
In conclusion, Steve Lund's sign of Capricorn perfectly aligns with his hardworking, pragmatic, and responsible personality, which is the main factor for his success. He is the perfect example of the qualities that are associated with this sign and is an inspiration for those who share the same zodiac sign.
What is Steve Lund's worth?
Lund's worth is estimated in the range of $3 million to $5 million as of writing.