Is Neal McDonough Robert Ri'chard's Father? Grandparents, Mom & Dad Revealed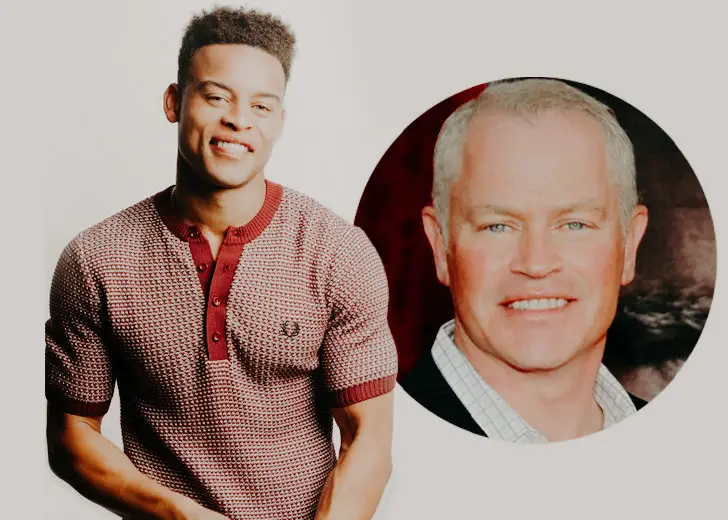 American actor Robert Ri'chard shares an uncanny similarity with actor Neal McDonough in terms of facial structures. His eyes and smile are so similar to the veteran actor that he is rumored to be related to McDonough as his biological son. Not only that, both of the actors are men of the Christian faith.  
Interestingly, McDonough has vowed not to kiss and film intimate scenes with costars,
And their alleged look-alike features have added to the speculations. Add to that, the two share a 17-year age gap — Ri'chard is 40 years old while McDonough is 57 years old, which has also fed into the controversy that they might be biologically related. Moreover, they are of somewhat similar height; Ri'chard is 5 feet and 9 inches, and McDonough is 5 feet and 11 inches. 
But are the two actors actually blood-related? If not, who are Robert Ri'chard's biological parents? And who is Neal McDonough's son? Read on to find out all about them.
Who are Rober Ri'chard's father and mother? 
Speculations of My Brother's Keeper actor Ri'chard being McDonough's son arose due to his similarity with McDonough; as it turns out, the rumors are just that — rumors. Sadly, the fact that Ri'chard and Neal McDonough look-alike isn't enough to conclude they are son and dad.
If you didn't know, the actors have families of their own.
Coach Carter and Queen of Hearts star Ri'chard lives with his family, including his father, Jack Ri'chard, mother, Beverly Ri'chard, and brother, Brandon Ri'chard.
And no, Robert Ri'chard is not related to Neal McDonough. 😅😂 — TONI TONE (@t0nit0ne) November 18, 2021
And he is in a relationship with microbiology student and business owner Meg Ellspermann, also a Christian. In one interview, Ri'chard rated confidence among the top qualities he looked for in women, in addition to attributes such as kind, intelligence, confidence, and sexy. 
According to AmoMama, Ellspermann is the founder of the relief oil company ELITE | PERFORMANCE | MEDIXINE. 
Who Is Robert Ri'chard's actual father?
Los Angeles native Robert Richard's biological father is former basketball player Jack Ri'chard.
The One on One star is strictly discreet about his father, as he rarely speaks about him. Nevertheless, his Father's day post [which is now deleted] on Instagram, posted on June 2018, clarified that he considered his father the biggest influencer of his life.
Through the post, he shared his emotions for his father. He thanked him for loving him and being an ideal person to look up to. He also stated that his dad's influence had guided him to be confident in his decisions.
His full caption read:
My greatest influence in my life has been my father. Dad I LOVE YOU!!! You were the BEST dad ever, and my brother and i cant thank you enough for being a strong example of a man of God!! I confidently stand on the principles you grounded in me, and they affect every decision i make as i go through life.
The actor also maintains similar privacy regarding his mother, Beverly Ri'chard — so much so that his picture with his mother was only available on his brother's private Instagram account. 

Robert Ri'chard celebrates 2015's easter with his mother, Beverly Ri'chard, and brother Brandon Ri'chard. (Photo: Brandon Ri'chard's Instagram)
Robert Ri'chard's grandfather inspired him to be helpful
Ri'chard is a valuable contributor to his community. Whenever he is in his hometown, Skid Row, downtown in Los Angeles, he gathers all of his neighbors and distributes clothes to them.
The actor has also founded HighwayFit, an on-the-go fitness program aiming to make ordinary people fit and healthy. Through HighwayFit, he conducts different events and interacts with the students of the Atlanta University Center Consortium (AUCC).
In February 2020, he became a part of the Not Alone Foundation (NAF), a non-profit organization committed to the awareness and prevention of kidney disease.
However, Ri'chard did not just grow the idea of helping others by himself — he got his inspiration from his grandfather.
Before accepting the Diamond Award at the 6th annual Diamond Awards on 29 February 2020, he revealed that he received a great piece of advice from his grandfather as a child. He explained that he was raised in a household where his grandfather advised him to "give much, ask little, and inspire all."
Also, in one of the posts, Ri'chard expressed gratitude for all the women in his family, including his grandmother, mother, and sisters. He was thankful to his grandmother for showcasing the "matriarch side of heaven" and to his mother for giving birth to him and choosing his father. He also was thankful to his sister for their support. 
What is the name of the Star Trek actor Neal McDonough's biological son?
The Walking Tall and The Shift actor Neal McDonough has a family of seven, including his wife, Ruve McDonough, a South African model, and their five children —  two sons: Morgan Patrick (b. 28 November 2005) and James Hamilton (b. 31 March 2014), and three daughters: Catherine Maggie (b. 14 May 2007), London Jane (b. 11 January 2010), and Clover Elizabeth (b. 15 August 2011). 
McDonough, who has an estimated net worth of $7 million dollars per Celebritynetwort, says that he won't kiss women on-screen because his lips belong to one woman—his wife, Ruve. The pair met in the United Kingdom in 2001 during the series Band of Brothers filming.