Hayley Roberts Wiki: Age, Birthday & Finally Wedding Details Of David Hasselhoff's 'Mrs'
Hayley Robert's fascinating wikis revealing details about who her fiance is, what held their relationship back and, the date when the pair will be tying the knot...The duo started dating each other about a year after the autograph incident...Before Roberts and her fiance got engaged, he claimed that he wouldn't marry her due to the vast age gap between them...Two years after getting engaged, the duo finally announced their wedding plans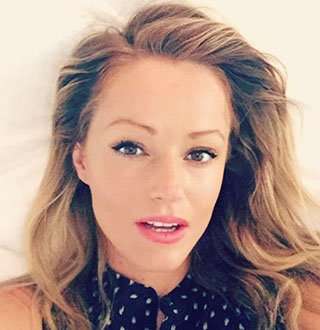 Hayley Roberts had plenty of love with her partner of more than half a decade. The couple's dating life, however, hit a hitch which saw the couple go through a problematic dating period before finally getting their dream wedding. 
To find out about more about the 38-year-old's love story, here are some fascinating wikis revealing details about who her husband is, what held their relationship back and, about their intimate wedding day:
1. Engaged with Baywatch actor David Hasselhoff
Hayley Roberts and famous actor David Hasselhoff announced their engagement in May of 2016.
Roberts met Hasselhoff while he was filming auditions for Britain's Got Talent in 2011. He was a judge on the show at that time while she was waiting for him as a fan to get his autograph. He arrived and was willing to give her his autograph but only if she gave him her phone number in return. Hayley duly obliged and the pair's calls grew up to meets and meet turned to dates.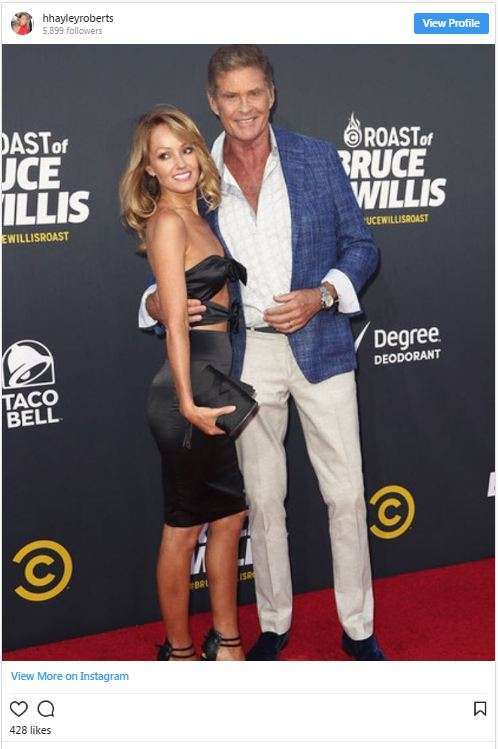 Madly In Love: Hayley Roberts rocks the Comedy Centrals red carpet event with husband David Hasselhoff (Photo: Hayley Roberts' Instagram)
The duo started dating each other about a year after the autograph incident having quickly fallen in love.  
Similar: Gianna Toboni Wiki: From Age To Personal Life Details - Married Or Not?
2. Contrasting Age Gap Held Back Engagement Proposal
Before Roberts and David got engaged, her boyfriend ironically claimed that he wouldn't marry her due to the vast age gap between them. Roberts was born on 19 September 1980 while her partner born day has been listed in wiki sites to be 17 July 1952. The couple had a substantial age difference of 28 years, which held their relationship back.
 David was honest about why the couple had not decided to take their relationship forward in 2015 and explained,
'To be honest, the reason I haven't got married yet is because I know it's not going to be a perfect relationship. We're not going to grow old together, let's face it.'
However, Hayley and her boyfriend's love triumphed against his doubts and fear of not growing old together. With the duo madly in love with each other, Hayley and David's love prevailed and a year after sowing seeds of doubts on their relationship David finally got down on the knees and asked her to marry him.
Five years of dating each other, they saw off one of the biggest hindrances of their relationship in the age gap and with that triumph, they got engaged.
  Hasselhoff told Hello! Magazine in 2016 of Hasselhoff's proposal during a romantic beach picnic in Malibu,
"I genuinely had no idea he was going to do that, I'm still overwhelmed." 
They've proven the people who say that age is not just a number when it comes to love by showing them otherwise. Even Hasselhoff was surprised along with Hayley when he asked to marry her. Maybe the heart has its instances where it can replace the brain's task to control the body.
Before the engagement, he was being held back by his brain and its logic and reasoning, so it has to be either that or the fact that his love and need for Hayley outgrew everything. The engagement left both in tears - that's saying something for someone as manly as Hasselhoff - to be overwhelmed in such a way.  
See Also: Joe Locicero Engaged To Jane The Virgin's Star Gina Rodriguez At Age 31! Wiki, Net Worth, Family & More
3. Hayley and David Announces Wedding Plans 
Two years after getting engaged, the duo finally announced their wedding plans in 2018.
David Hasselhoff revealed back on 15 July 2018 that the duo was tying the knots on July 31 in southern Italy at a small ceremony. He talked with ET about their wedding plans and said,
"We're gonna get married on the 31st, you know, in Italy. My birthday is on Tuesday and then we shoot out to the UK and a few places and then we're gonna get married, but a very small wedding with her family from Wales in Puglia, which is southern Italy."
Even before the ceremony, David was already seen with a special wedding ring in his hand. The huge diamond had been passed onto him from his father and wore it not just for luck but also for his display of faith for his to-be-wife.
The engaged couple had been flourishing together before getting married.
4.Intimate Wedding Ceremony In Southern Italy On July 31 
After announcing their wedding plans on 15 July 2018, the duo finally tied the knot on 31 July 2018. The pair celebrated an intimate wedding in southern Italy, where Hayley's family is from - a nice gesture of love shown by Hasselhoff. He gave a wonderful explanation as to why one gets married in a recent interview with express.co.uk,
 "I had a saying. 'You don't get married because you want to live with someone, you get married because you can't live without them. I felt that way. I knew that I was really unhappy without her. I waited to propose because I thought I was too old for her."
Discover: Serena Altschul In Family Bliss! Married Or Just Dating Perfection?
However, he overcame the hurdle and not just got engaged but got married to his biggest and best fan, Hayley Roberts. Hayley also reciprocated her feelings by stating that she was more worried about not being with him than what might happen down the road. She said in the same interview,
 "I don't want to miss out on being with someone I love because of what might happen down the line." 
They both look optimistic and will be hoping to put in practice about what they said. This is Hayley's first marriage meanwhile Hasselhoff's third - hopefully the third one's the charm!

Hayley Roberts And Husband David Hasselhoff are heading to the Maldives for their Honeymoon. (Photo: Instagram)
The newlyweds will also be spending their honeymoon underwater in the Maldives, without anybody but themselves.
5. Hayley & David Have No Plans On Having Kids Anytime Soon
For David and Hayley, love is flourishing every growing day by day. Despite their vast age difference, the pair have shown that love always prevails despite any hurdles. The married couple seems to be relishing each and every moment with one another as can be evident by their social media posts. And it also seems that they have big plans for their future.
However, one plan which they don't have is having kids. That pair admitted that they really haven't given it much thought and are just content at the moment with being husband and wife rather than mother and father. David has two kids Taylor,28 and Hayley,25 from his previous marriage with Pamela Bach and looks like he is happy with having been a father for just once in his life. As for Hayley, she herself is adamant that she is in no rush to have kids of her own. Only time will tell if the pair ever decide to bring new life to this world.