Has Geoff Johns Added New Green Lantern In 'Green Lantern Corps'?
'Green Lantern Corps' producer Geoff Johns secretly reveals that Guy Gardner will be Joining Hal and John in the new movie. Know the details.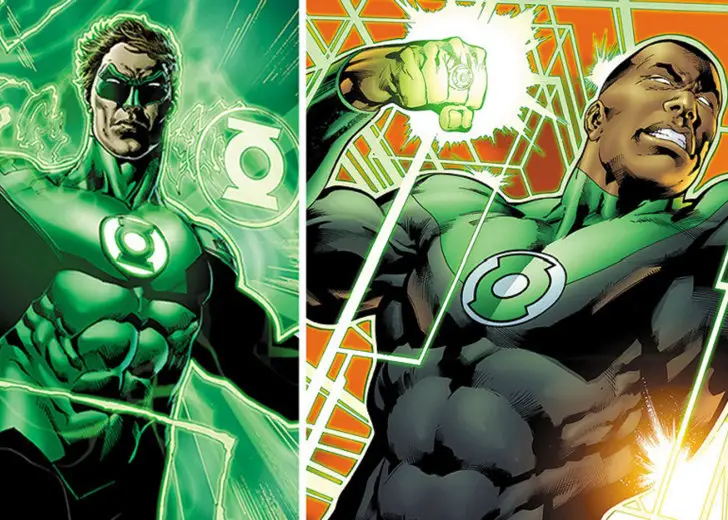 Writer Geoff Johns has left a clue about his upcoming movie Green Lantern Corps on his production house website.
After many years in limbo, Green Lantern Corps is finally in development with non-other than Geoff Johns in the writing duty. The film was under development several times under Warner Bros. banner with several figures attached to it at some point or the other.
But after the failed attempt in 2011 with Green Lantern starring Ryan Raynolds, the project was put on hold until they found someone who knew what to do with the property. 
That someone was Geoff Johns. Johns' nine-year comic book run on Green Lantern superheros single-handedly redefined the mythos of the corps.  

Photo Source: (Madghost Production)
Who is Guy Gardner?
Not many will be familiar with Guy Gardner's version of Green Lantern. He has seldom appeared in Green Lantern adaptations—live-action or otherwise.
He is mostly sidelined in favor of John and Hal. However, he was actually the second choice to don the emerald ring when Abin Sur's ship crashed on Earth. 
In the comics, Gardner comes from a family of police officers. His father, who himself is a decorated ex-cop, frequently beat Guy when he was young. But he worked hard to excel in school to impress his father.
Tired of trying to impress his abusive father, Guy then turned out to be a juvenile delinquent who frequently got into trouble breaking the law. 
But he eventually straightened out, though. He started his university with a renewed sense of self. While in university, he channeled his aggression through college football and even supported himself financially. 
After college, he joined the Baltimore Police Department, like the rest of his family. Three years into the force, he shot a suicide bomber before he could get on a plane, and the resulting explosion killed ten bystanders.
In the aftermath, Guy resigned from the force, and his resignation resulted in an even bigger rift between himself and his father.
Eventually, he would make peace with his father before his death.
Guy Gardner Nature
Guy has an aggressive approach in his missions, which is often disapproved by fellow members of the corps. His unwillingness to follow restrictions bound by the Guardians is also what makes him a unique lantern. He has oftentimes channeled his underlying propensity for aggression to finish a mission quickly.
It will certainly be interesting to see how Guy's personality translates on the big screen alongside the other lanterns in Green Lantern Corps. 
Guy Gardner Reveal In 'Green Lantern Corps'
Along with his writing duties in Green Lantern Corps, Johns will also be producing the film.
The website of his production house (Madghost Productions) has listed several films under development, including Green Lantern Corps—the movie is listed with a picture featuring Guy Gardner alongside Hal Jordan and John Stewart. 

With the recent news coming in that the film will involve other Green Lanterns of Earth, the picture certainly hints that a new addition will be non-other than Guy Gardner. 
Green Lantern Corps Release Date Plot and Cast
The plot for the film hasn't been announced yet, but it is confirmed that the film will focus on the entire corps and not just one lantern.
The casting too seems to be a little down the line with several possible actors being rumored to play Hal and John Stewart. An old leaked photo of Mark Wahlberg even had many speculating if he would play Guy Gardner in the film.
Green Lantern Corps is expected to come out after the HBO Max Green Lantern series, whose story is reportedly being tied in with the film.