Is Froy Gutierrez Gay and Dating rumored boyfriend Richard Madden?
One fan went out of her way to comment, "Are you dating [Richard Madden]...#LoveWins."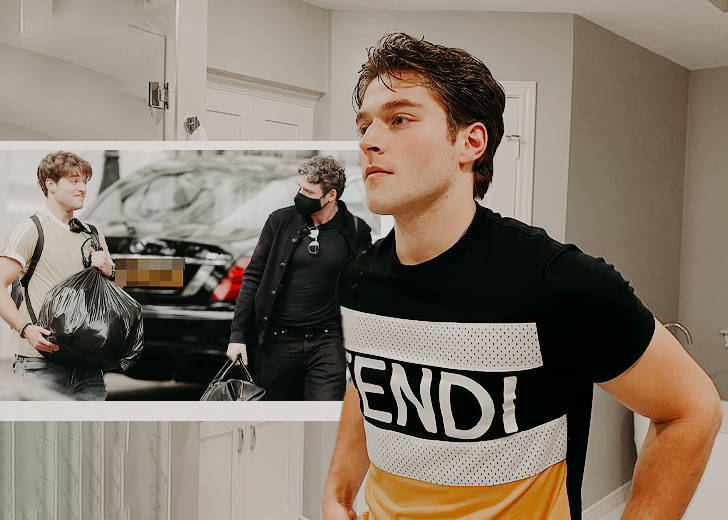 Teen Wolf, Hocus Pocus 2, and Cruel Summer actor Froy Gutierrez had long been speculated to be gay by some of his Snapchat and Twitter fans, but there weren't enough substantial shreds of shreds of evidence to make anything stick.
However, in September 2020, details were made public by Dailymail in a report that the Teen Wolf star was in London with Scottish actor Richard Madden. Madden is known to have previously shared the same roof with 13 Reasons Why's Brandon Flynn, who has been very public about being gay.
Also, there have been reports about Madden's past dating relationships with the likes of Suki Waterhouse (2016), Ellie Bamber (2017-2019), Laura Whitmore (2016), and Jenna Coleman (2011-2016). His relationships have hence attracted him with bisexual rumors. But he refuses to speak. To New York Times, he said, "I just keep my personal life personal."
In this article, learn about Froy Gutierrez's sexuality and dating status. 
But is Froy Gutierrez gay? 
While the fact that alleged boyfriend Richard Madden and Froy Gutierrez spent the lockdown together in itself is not enough reason to make any judgment on their orientation, the fact that Madden and Gutierrez might be having a secretive love life sure does seem to turn heads.
Even Gutierrez's fans are curious about his and Madden's relationship.
One fan went out of her way to comment, "Are you dating [Richard Madden]...#LoveWins" in one of his posts from the BLM protest in Santa Monica.
Although Gutierrez hasn't explicitly talked about his sexuality, he has however spoken about his personality and playing characters who are "struggling with their relation to masculinity."
To W Magazine, he said, 
 I see myself as a very geeky, awkward, shy person, and I'm constantly playing these macho boys who are struggling with their relation to masculinity. They're overcompensating, or they're working very hard to put this masculine idea of themselves out there, and that's something I've never really done."
Gutierrez and Madden were seen together in London
Dailymail published an article back in September, reporting that revealed Guitierrez was in London with his actor pal and Game Of Thrones star Madden. The article contained pictures of the duo taking out the trash in a bulky black trash bag as they walked down the curb.

Froy Gutierrez and Richard Madden taking out the trash. (Photo Source: Dailymail)
The former King Of The North from the fantasy show Game Of Thrones looked dashing as always with a completely black ensemble. He sported a dark denim jacket paired with a pair of black trousers and a top to match.
The black mask on his face not only protected him amidst the coronavirus pandemic but also assisted him in keeping a low profile.
Gutierrez, aged 24, was every bit as appealing. Unlike his dapper pal, he was dressed in more casual attire with what appeared to be a yellow jersey top paired with a pair of faded jeans.
The duo was later spotted driving off in a car with Madden behind the wheel. 

Froy Gutierrez and Richard Madden as seen in London. (Photo Source: Dailymail)
Gutierrez and alleged partner Madden spent lockdown together in isolation in LA
These photographs saw the light of day just months after the news of Gutierrez and Madden spending the lockdown together in LA made headlines in May.
Simon Boyle from The Sun revealed that the Bodyguard star spent the lockdown in isolation in Emilia Clarke's luxury two-bed home in Los Angeles.
The source further revealed that Madden flew back to LA a few weeks before the lockdown started after filming the new Marvel film Eternals in London. During his isolation, the 36-year-old icon also reportedly moved his pal Gutierrez into the picturesque estate to keep him company.
They went on a picnic together
After being spotted together a couple of times before, both Gutierrez and Madden were again spotted together, heading for a picnic at Hampstead Heath in London on April 11, 2021.

The Strangers star Froy Gutierrez and Richard Madden spotted together in April 2021. (Photo: Dailymail)
The two were snapped walking through the quaint village, carrying Marks and Spencer's bags in their hands.
Gutierrez sported a forest green jumper, a pair of black jeans, and walking boots, whereas Madden opted for a similar look, as he wore a grey jumper, padded jacket, a pair of skinny jeans, and black boots.
All these details only hint that the two actors have indeed been dating for some time now. But nothing is certain until they choose to disclose the truth.
Madden previously shared a home with Brandon Flynn
Before isolating with Gutierrez in the super expensive luxury estate, Madden lived with Flynn in their Los Angeles home. They moved in together after Madden split up with his actress girlfriend, Ellie Bamber, in early 2019.
Rumors of Madden being gay then took to the wind, so outlets began questioning him directly. When the Eternals star was asked to clear the air, he chose to keep his personal life to himself.
I just keep my personal life personal. I've never talked about my relationships.
Richard's statement might not confirm the rumors, but it surely did nothing to subdue them.