'Cinderella' Stars Lily James and Richard Madden's Off-Screen Chemistry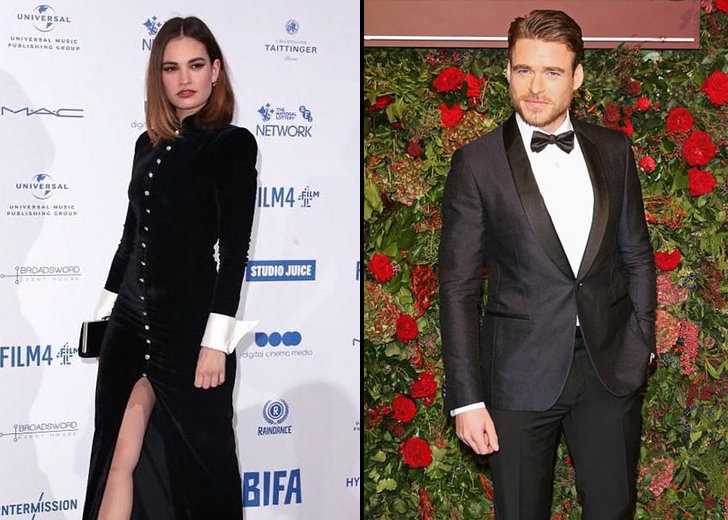 It's been close to seven years since Lily James and Richard Madden graced silver screens the world over in Disney's live-action recreation of Cinderella, and fans are yet to get over their amazing chemistry. 
Their on-screen chemistry was so convincing that fans have been shipping the two together ever since, even to this day. 
But are they dating for real, or is it just fans fantasizing about the fairytale love story that they wish existed? Well, that's what we're here to investigate. 
Where the Lily James & Richard Madden Dating Rumors Began
Dialing the clock back to 2015, let's take a moment to examine the inception of the James-Madden off-screen chemistry. 
After having shot the movie, the picture-perfect couple began promoting their upcoming fairytale romance and made several public appearances together, leading up to the movie's premiere. 
Every step of the way, James and Madden made sure that they made their fans' hearts melt with a trail of adorable snaps.
Now, this was all happening without the script guiding it.
This was natural chemistry — not manufactured by the directors. 
No wonder fans began shipping the two actors as a couple. 
Lily James & Richard Madden Had Relationships of Their Own
However, as Glamour magazine noted, both James and Madden were in a committed relationship at the time and, sadly, not with one another. 
Back in 2015, both James and Madden were dating Doctor Who stars. 
James had just gotten into a relationship with actor Marr Smith while Madden had been committed to his girlfriend, Jenna Coleman, since 2011. 
Despite the abundance of evidence suggesting otherwise, fans were convinced that James and Madden were an item when they shared a kiss on the Cinderella premiere red carpet.

Lily James & Richard Madden's on-screen love (Source: Instagram)
While almost everyone would have been on board for the kiss to have been an act of love, it was most definitely a promotional stunt for the movie. 
What better way to promote a fairytale romance than to get everyone wondering if the romance was real?
Lily James & Richard Madden Romance Rumors Resurface
In the few years since the James-Madden relationship rumor had lost its momentum. After all, they were both committed to relationships with other people. 
No one had really forgotten the apparent chemistry, though. 
So, when the couple came out with adorable monochrome snaps in the middle of the COVID-19 lockdowns, complete with suggestive captions, the rumors came back just like that. 
In August 2020, James posted a photo of herself and Madden hanging out in a casual setting. 
Madden posed for the photo clad in a black jumper with skinny jeans. The actress also opted for a casual look with skinny mom jeans with an oversized black jumper.
Making matters more intense was the caption that read, "Richard," followed by a black heart. 
What's more, Madden took to his own Instagram to share another snap of the same day; only his caption read, "Lily," also followed by a black heart. 
Sadly, neither of the Cinderella leads have come out with official statements confirming that they were dating. 
All things considered, it is possible that the two stars might be dating.
Still, it is more likely that fans have chosen to see the couple under the lens of their fairytale romance, and their romantic relationship is nothing more than wishful thinking.