Food Vlogger Mark Wiens Wife's Challenging Motherhood Journey
Food vlogger Mark Wiens had a baby with his wife Ying Wiens in Bangkok in 2016. Although the beautiful baby boy was born healthy and well, Ying's journey to motherhood was not as smooth.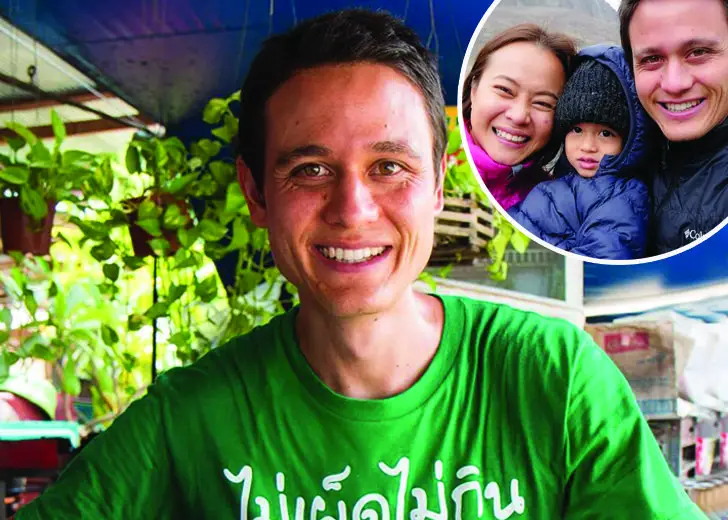 Food vlogger Mark Wiens had a baby with his wife Ying Wiens in 2016. Although the beautiful baby boy was born healthy and well, Ying's journey to motherhood was not as smooth— which Mark reveals the story of in his Youtube channel.
The heartwarming video begins with the vlogger introducing his newborn to the world as Micah Wiens. And then subsequently goes on to detail the couple's journey across Jordan, Ying's pregnancy announcement, and the exciting, albeit challenging journey that the couple faced delivering their first baby.
Mark Weins' Wife Step to Motherhood was not Smooth
Mark drives straight to the delivery news at the start of the video and shows the new-born baby to the world first-hand. Mark then goes on to fondly recall his travels across Jordan in 2016 when he started noticing that his already voracious wife's appetite was larger than usual.
This was when the couple was on their way to the Dead Sea on March 27, 2016. The traveling couple made a pitstop at a convenience store where Ying bought a couple of testing kits, suspecting that she was pregnant.

Ying and Mark Wiens travel to the Dead Sea, 2016 (Photo: Youtube)
Mark hadn't given their trip to the convenience store much thought but once they were in the hotel room, just before dinner, Ying came out of the bathroom and informed her husband that they were expecting.
Mark mentions that Ying went to the bathroom to check for the second time, and when that too was confirmed, the couple were both thrilled at the news.
Doctors had to Perform an Emergency C-Section on Mark Weins' Wife
Fast forward to August 16, 2016, the couple finally arrived home after a 39 day trip around the world to nine cities. Two days after their arrival, on the 25th week of pregnancy, the couple went to the doctor's to have their first ultrasound.
While everything was normal up to that point, their visit during the first few days of November 2016, was particularly peculiar. Mark recalls that the baby was healthy in itself but hadn't turned. Meaning, instead of his head facing down, the baby was the other way around.
The foodie couple was starting to worry about the health of the mother and child so they decided on an emergency c-section surgery for November 24, 2016. However, things did not go as planned.
When Ying woke up on the morning of November 12, she felt that the baby was unusually still. Prior to this, the couple often noticed the baby moving around forming moving lumps in his mother's belly.
When Mark rushed his wife to the hospital, the doctor informed him that Ying was already in labor and they had to perform an emergency c-section.
Thankfully, there were no complications and the baby was born healthy.

Ying and Mark deliver their baby boy Micah Wiens (Photo: Youtube)
Mark and His Wife Ying Share their Love of Travel with their Son
Originally from the US, Mark has been hopping from country to county and continent to continent his whole life. After graduating from Arizona State University in 2008, Mark booked a one-way ticket to Bangkok with zero plans for the future.
After arriving at Bangkok and calling it his new home, he has been exploring and documenting his journies of foods and cultures ever since.
The food vlogger considers himself lucky that his journey to South-Eastern Asia led him to the love of his life, Ying. Ying is Thai by birth and also use to have her own food-related channel on Youtube, which she has now abandoned.
Ying shares Mark's obsession with food. Ying's obsession extends beyond food and this is reflected in Mark's travel vlog. She generally accompanies Mark in most of his travels as the person behind the lens. Mark has even gone on-record to credit her for her help. And now, it looks like their son, Micah, has joined the foray.