Dan Le Batard Married Shakira Look-Alike Girlfriend? She'd Be A Hot Wife
Back in May 2013, the TV star once tweeted that his girlfriend looked like Shakira...his ex-girlfriend is a 10 time Emmy Awards winning American...supposedly dated but it is not clear when and for...According to sources, it is estimated that his net worth is around...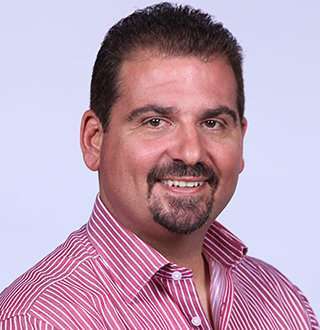 Quick Information
Father

Gonzalo Le Batard

Mother

Lourdes Le Batard

Brother/s

David Le Batard

College

University of Miami

Height/ How Tall?

6 Feet and 2 Inches

Hair Color

Black

Eye Color

Brown

Real Name

Daniel Thomas Le Batard

Date of Birth

Dec 16, 1968

Age

54 Years, 3 Months

Nationality American
Birth Place

Jersey City, New Jersey, United States

Profession

Journalist

Engaged Date

13 September 2018

Fiancee

Valerie Scheide

Net Worth

$1 Million

Ethnicity/Race

N/A
Miami-based sportswriter Dan Le Batard once tweeted that his girlfriend just looked like Shakira in due course of replying to a fan's question.
Dan is best known for his widely-heard radio show, The Dan Le Batard Show with Stugotz which began airing in 2004. He is also known as a sports columnist of Miami Herald. Dan has also been hosting an ESPN talk show, Highly Questionable.
Talking The Talk: The Dan Le Batard Show's 2018 Suey Awards for Best Predictions of the year astonish and embarrass Dan, Stugotz, Greg Cote, and Mike Ryan (Published on 28 August 2018)
In the latest show aired on 27 August 2018, they talked about George RR Martin and bucket lists and what not. The mixture of topics makes the show more spicy and entertaining.  
Interesting: Hallie Meyers-Shyer & Boyfriend Engaged! Years Of Dating Leaps To Wedding
Dan Le Batard Bio: Age, Height, Parents, Brother
Dan Le Batard was born in Jersey City, New Jersey on 16 December 1968.  His Cuban exile parents Gonzalo Le Batard and Lourdes Le Batard moved from Cuba to New York and then to Florida.
Dan, about 6 feet 2 inches (1.89 meters) in height, studied in the University of Miami and worked in his early years as the sports columnist for Miami Herald.
His brother, David Le Batard, also known as LEBO, is a Miami-based artist and a staple of South Florida art scene. David is known for his murals, paintings and sculpture work.
The Dan Le Batard Show: Gives Away Basketball Hall of Fame
Dan hosts a morning show, The Dan Le Batard Show, weekdays with his co-star Jon "Stugotz" Weiner on ESPN Radio. Dan is famous on the show for his humor as he makes jokes about himself to entertain the audience.
However, he is often being criticised for his controversial views, his orthodox appearance and is labeled 'A Mindless Racist.' The Deadspin quoted on March 2012:
 The most common complaint about Le Batard is that he's so aggressively pro-athlete that even his most plaid columns feel like they should come with pompoms.
In 'Basketball Hall of Fame,' which is given every year by Basketball Writers' Association of America, Dan had a vote as a sportswriter. Not happy with administration and processes, he gave away his vote to the sports website Deadspin.
The website used Dan Le Batard's vote as a public opinion poll. This pampered the election process, as it allowed the manipulation of votes.
Following this, the BBWAA imposed a one year ban on Le Batard on January 19, 2014, for his controversial criticisms over the selection process of basketball players.
You May Like:Media Veteran Ron Claiborne, Married Man With Wife? Family Besides ABC
He was also revoked of his Basketball Hall of Fame for life.
What is Dan Le Batard's Net Worth & Salary?
The TV personality Dan Le Batard has worked for the Maimi Herald since 1990. He also hosts the ESPN TV series Highly Questionable.
His afternoon Show The Dan Le Batard Show on ESPN Radio is heard by millions of listeners.
As a top sports writer, Dan has an annual salary of over $65000, and as a radio broadcaster, he makes more than $95 per hour. It is undoubtedly on par with Dan's experience and dedication in this field.
According to sources, it is estimated that his net worth is around $1 million which can only rocket in the coming years.
Is Dan Le Batard Married? Dating Girlfriend Or Has Wife?
Back in May 2013, the TV star once tweeted that his girlfriend looked like Shakira.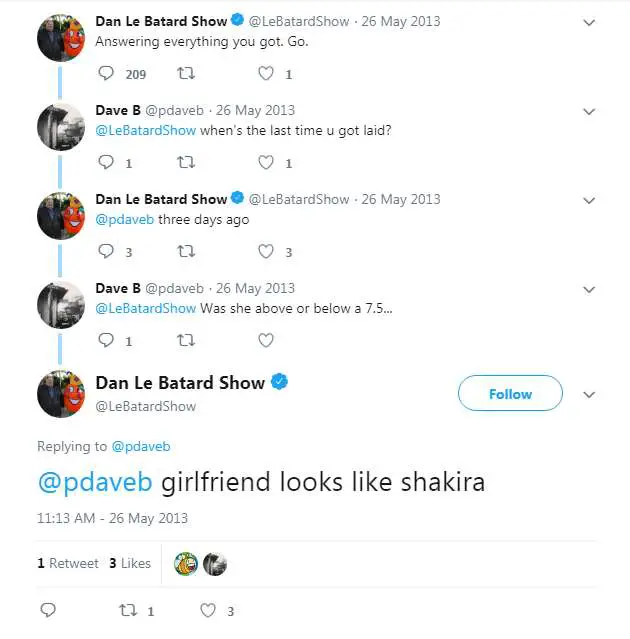 Shakira? Really?: Dan Le Batard tweets that his girlfriend looks like Shakira (Photo: twitter.com) 
In fact, he was referring to his ex-girlfriend Jill Martin. Jill is a ten-time Emmy Awards winning American sportscaster and television personality.
Jill and David supposedly dated but it is not clear when and for how long. It is only sure that they are not together.
Also See: Natasha Raskin, Married To Producer Husband! Inside Her Life On The Go
As for marriage, the TV broadcaster Dan Le Batard tried to keep things inside the closet, but the secret was finally revealed by Miami Herald & ESPN Radio sports columnist Greg Cote. 
But with his escalating age, it's likely that he is in search of a perfect wife to settle down with and lead a happily married life.
Dan zEngaged To Secret Girlfriend Valerie Scheide, Getting Married In 2019?
One of America's most eligible bachelors (once called by People's magazine) is in no mood to remain a bachelor anymore.
The 49 years old turned out to be too good at keeping secrets. When everyone was in dilemma of the existence of his future wife, he has been secretly dating Miami native Valerie Scheide.
And it turns out; the two recently got engaged as reported by Greg Cote on 13 September 2018. The engaged couple has planned to tie the knots in 2019.
This is too much of a surprise for everyone. Dan himself is surprised, not because he is engaged to 20 years younger fiance of course, but because the public has come to know about his secret business without his willingness.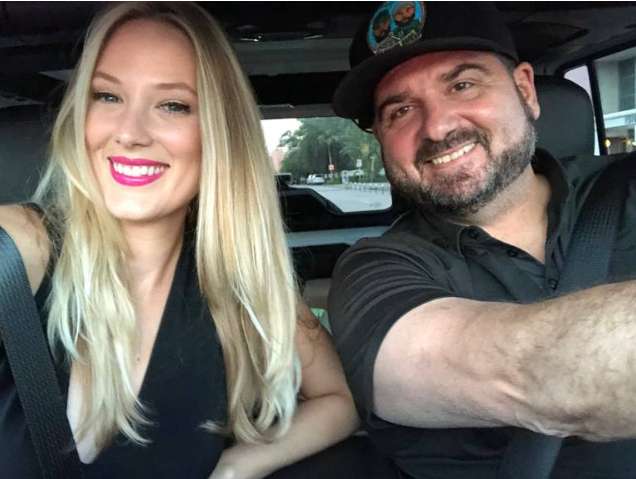 Just Engaged: Dan Le Batard recently got engaged with his girlfriend Valerie Scheide and planned to get married in 2019 ( Photo: miamiherald.com)
The engaged man is not happy with Greg for unveiling his engagement news as the announcement has not been the way he wanted.
I'm mad right now and hurt and it's funny. I can't dispute that this man does whatever he wants, selfishly. But here's the funniest part about it: What a crappy story in terms of news, 'journalism news,' that I'm getting married, and yet it's the biggest scoop of Greg Cote's career.
He's been threatening to report this on me for days, I told him, I think last night on the phone, telling him, 'Don't report that! … Let me announce it my way! -(Reported by Jessica Sager on 14 September 2018.)
Now that the truth is out, a huge congratulations to the engaged couple for a happy future.