Katherine Landford & Gustaf Skarsgård Have Candid Conversation Over Behind-The-Scenes Picture
'Cursed' stars Katherine Landford And Gustaf Skarsgård had a comment-conversation on Langford's behind-the-scenes post on Instagram. Find out the heart whelming conversation between the two actors in the article.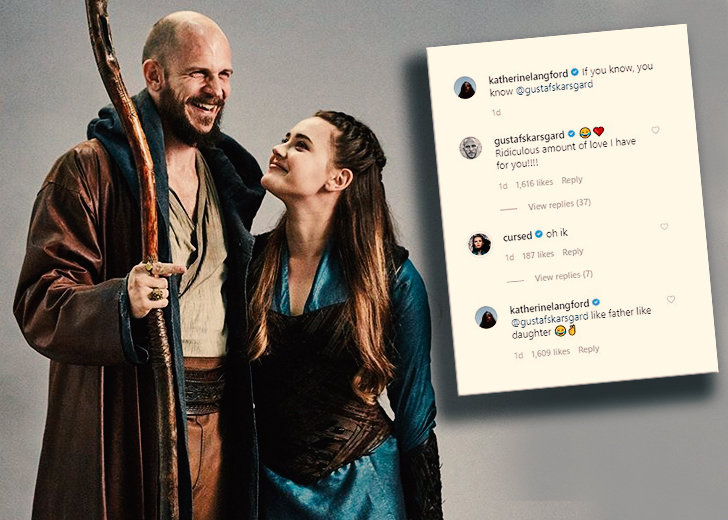 Cursed stars Katherine Landford And Gustaf Skarsgård were spotted having a candid conversation on Landford's Instagram comment section.
On July 27, 2020, the Australian actress dropped a behind-the-scenes picture from the series Cursed on her Instagram handle.
For the picture, the actress and her Cursed co-star, Gustaf Skarsgård, posed gesturing peace with their fingers. Langford sat down on her knees on a stage, whereas Skarsgard posed from behind lying on top of a large stone.
The 24-year-old actress referenced her co-star in the caption. It stated, "If you know, you know @gustafskarsgard."
In response, Skarsgård wrote he had a "ridiculous amount of love" for the actress. "Ridiculous amount of love I have for you," expressed Skarsgård.
The comment-conversation ended with another heartwarming comment from her behalf. She wrote, "@gustafskarsgard like father like daughter."

Katherine Landford and Gustaf Skarsgård's candid conversation on Instagram (Photo: Instagram)
And if you are still unaware of the father-daughter reference, Katherine Landford plays the biological daughter (Nimue) of Gustaf Skarsgård (Merlin) in the series Cursed.
Canadian actress, film and television director Helen Shaver also joined the conversation by dropping a comment.
She confessed, "2 actors I've had the joy of directing and whom I love and respect as artists and people. She continued, "@katherinelangford @13reasonswhy an @gustafskarsgard @historyvikings How lucky am I."
Another user named cursednimue stated, "This looks so fun in comparison to the actual scene."
"Thats a spoil right there," added user moebouabdelli. 
The picture with the candid conversation between the two Cursed stars received over a million likes and over 4 thousand comments in one day.
Katherine Landford And Gustaf Skarsgård recently appeared together in Netflix's fantasy series Cursed. The series—released on July 17, 2020—reimagines the Arthurian tale with the Lady of the Lake as the main protagonist.
In the series, Landford played Nimue (a.k.a. the Lady of the Lake) who wielded the Sword of Power to save her tribe, Fey, from being persecuted by the Red Paladins (Christain monks).
Similarly, the former Vikings actor Gustaf Skarsgård portrayed Merlin, the magician, who initially served as an adviser to the King Uther Pendragon. Later, when he finds out that Nimue is his biological daughter, he joins hands with his daughter to protect her and the Fey tribe.
In addition to the two actors, Cursed cast includes actors such as Devon Terrell, Daniel Sharman, Lily Newmark, Shalom Brune-Franklin, Sebastian Armesto, Emily Coates, and Peter Mullan among others.
More on Cursed: Cursed Shooting Locations In UK Hold Historical Significance