Know about Cleo Rose Elliott's Mother Katharine Ross, Father, Stabbing Story, Marital & Dating Status, Age and Net Worth
Cleo Rose Elliott stabbed Katharine Ross at least six times in her right arm!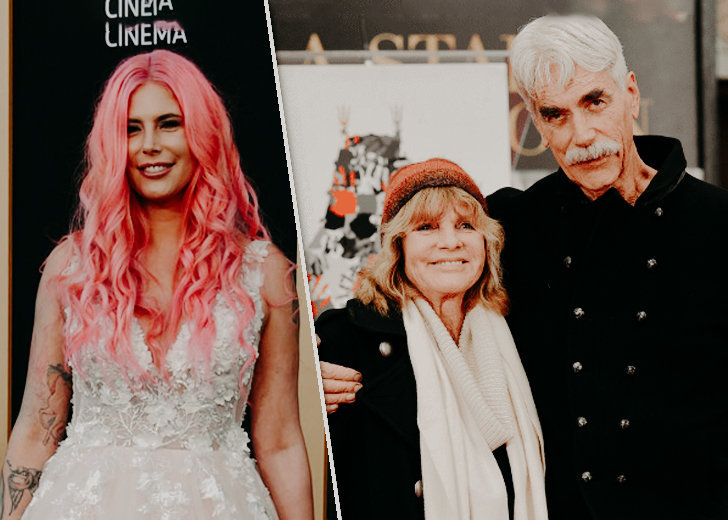 Cleo Rose Elliott is a gifted American singer, musician, and model. She gained fame at the age of 24 after her very first solo CD, No More Lies became an instant hit in 2008.
Since then, she has released several songs and has aspired to make a name for herself in the music industry. 
Read the full article to know about the Malibu native's mother katharine ross, father, stabbing story, marital & dating status, age, and net worth.
Interesting Read: Things You Should Know about Sam Elliott's Daughter Cleo Rose Elliott
Who are Cleo Rose Elliott's Father and Mother?
Cleo Rose's parents are none other than the American acting couple, Sam Elliott, 78, and Katharine Juliet Ross, 83.
The two pair married in 1984, more than five years after their first talk which happened in 1978 on the set of the horror film, The Legacy.
It was her father Sam's first marriage but her mother Katharine's fifth. Her previous husbands were Joel Fabiani, John Marion, Conrad L. Hall, and Gaetano Lisi.
Previously, both of them had also worked on the movie titled Butch Cassidy. However, they didn't speak back then as Elliott was just a supporting actor who couldn't muster enough courage to talk to Katharine, a lead actress.  
In 1985, the proud parents welcomed Cleo to the world. 
Why did Cleo Allegedly Stabbed Her Mother Katharine?
Cleo was in the limelight from the day she was born. She is the daughter of Academy Award-nominated actor Sam Elliott and his actress spouse, Katharine Ross.
However, despite being the only daughter of the renowned couple, Cleo's relationship with her mother was not very healthy. Katharine even got a restraining order out against her daughter Cleo.
Writing in the restraining order in March 2011, Katharine revealed that her daughter Cleo was abusive as a child, and when she reached the age of 12 or 13, she became violent.
"[Cleo] verbally and emotionally abused me even as a little girl but became increasingly violent at age 12 or 13," The Graduate actress stated.
The sourness in their relationship came out in public after Cleo reportedly stabbed Katharine with scissors and Katharine obtained a restraining order against her daughter.
According to the 83-year-old actress, her daughter lost her temper out of the blue and began murmuring, "I want to kill you." Afterward, she kicked the cupboard door, and when Katharine tried to reach out to the police, Cleo cut off the telephone wire with scissors.
Cleo then threatened to hit her in the eye with the scissors but later stabbed her six times in the right arm.
"[Cleo stabbed] using enough force to pierce my skin through my shirt and leave me with marks that are still visible today," Katharine revealed in her statement.
Not only that, Katharine stated that her daughter cut the phone line with scissors when she tried to inform the police before stabbing her in the arms, "using enough force to pierce my skin through my shirt and leave me with marks that are still visible today."
After that incident, Katharine filed for a protective order, and the court issued a hearing on 30 March 2011. Until the hearing took place, Cleo was ordered to stay at least 100 yards away from her mother's home, workplace, and car.
Nevertheless, to date, it is still unclear what prompted Cleo to stab her own mother.
Cleo's Relationship with Her Mother Seems to Be Improving
Although Cleo, 37, and her mother had an unforgettable moment, it now seems that they have put aside all the bad blood between them.
The mother-daughter can be seen together at various events, and award shows, which hints that their relationship is improving.
They were spotted together at the 2017 Sundance Flim Festival's red carpet event for the movie The Hero, which featured Cleo's parents. During the event, an interviewer asked her about her parents.
In reply, Cleo stated that her parents were very talented actors, which made her proud.
On 24 September 2018, Cleo and her mother, Katharine, were again seen together at the premiere of A Star is Born.
They were also together at the 91st Annual Academy Awards, where both of them were smiling and seemed very happy.
Is Cleo Rose Eliott Married to a Husband or Dating?
Cleo hasn't been married yet, but she was engaged to a man with a similar interest in music in Randy Christopher Bates, a recording artist, songwriter, composer, and cycle & motorbike enthusiast. 
However, their relationship ended by April 2019.  
Currently, Cleo has been dating a musician named Jacob, who seems to be a member of the band, B&TB (Beauty & The Beast) she has been involved with.
How old is Cleo Rose Elliott?
Born on 17 September 1984 (age 38 years) in Malibu California,  Cleo was an early learner of flue and guitar. She also developed singing skills at an early age in her childhood and it was her primary interest.
From 2002 to 2006, she studied music at the Joanne Baron/D.W. Brown Acting Studio in Santa Monica, California.
She also undertook classical vocal training, specializing in Talian opera and Bel Cano's musical tradition, from Charity Champman, a famous musical artist and prolific songwriter after her graduation from Colin McEwan High School. 
In 2003, she was featured in the live hair-styling show titled S*xyhair as a model. Later, she would also get featured in many popular fashion magazines.
In such an early stage of her career, she also got exposure from the events she attended with her famous parents such as the 2013's Emmy Awards. She ended up meeting more famous musicians and got training from many of them. 
Eventually, she signed up with the American Society of Composers, Authors, and Publishers after music producer Bobby Harby introduced her to the institution. 
Harby was impressed by her vocal range and her songwriting skills. After she showcased to him her first self-written song, he was instrumental to have her studio record it. 
In 2008, Cleo, who admired Guns N' Roses, Led Zeppelin to the Verdi repertoire, finally released her first solo CD album, No More Lies, which showcased her rock musical influences much more than her Italian opera skills. 
"The sound is very pop rock, but I'm really into heavy hard rock," she said speaking to The Malibu Times prior to the release of the album.
She also touched on how she used her Italian opera musical background to her use, stating, "Classical opera is the best way to warm up your voice for singing rock. You don't want to lose your voice rocking out." 
Later in the interview, she gushed about her supportive parents and her upcoming plans. She shared,
I'm working on selling this one and working on some more songs. My parents are totally supportive of this. They're just happy I don't want to be an actor.
But since the album, the songstress hasn't released any official music yet, possibly because her controversy with her mom (the stabbing incident) slowed down her career. 
But now, she is back with a new band called Beauty and The Beast, as per her Instagram. 
What is Cleo Rose Elliot's Net Worth?
Cleo's estimated net worth is speculated to be $1.5 million dollar, a figure she could have achieved primarily through the contributions of her rich parents. 
According to Celebritynetworth, her mother Katharine Ross, and her father Sam Elliot has a combined estimated net worth of $20 million.