How Old Is Chip Hailstone? — Has Been on 'Life before Zero' from Season One
Know Chip Hailstone's age and the reason he went to jail.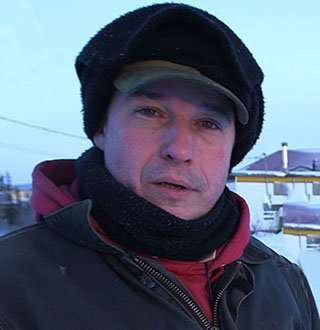 Quick Information
Date of Birth

March 5, 1969

Nationality American
Profession

Television personality

Relationship Status

Married

Wife/Spouse

Agnes Hailstone

Son/s

Douglas J Carter, John Hailstone

Daughter/s

Tinmiaq, Iriqtaq, Mary, Caroline, and Qutan
Chip Hailstone is one of the recurring cast members of the National Geographic show Life Before Zero. He has appeared in the series from its first season that aired on May 19, 2013, weathering the freezing wilderness of Alaska with his family. 
Here are the exciting facts about the television star. 
Hailstone Moved to Alaska at a Young Age
Born as Edward V Hailstone on March 5, 1969 in Kalispell, Montana, Hailstone was into adventure from a young age. His parents father Daniel Franklin and mother Mary Lois supported his adventurous spirit. 
The now 52-year-old learned survival skills like fishing, hunting, and crafts from his father. Lured by the adrenaline rush, the reality star visited Alaska at the age of 19, in 1988.
He permanently settled in Noovrik, by the Kobuk River. 
He Settled in Alaska with Agnes
In Noovrik, Hailstone met a native Alaskan from Inupiat, Agnes.
Agnes had two sons John and Douglas from her previous relationship. Her motherhood, however, didn't stop the Hailstone from falling in love with her. The pair shortly started dating and married after a while.
They welcomed five children, all daughters, in their family. Their two older daughters Iriqtaq and Tinmiaq, travel to and from Alaska just like Agnes's sons. But their three daughters Mary, Caroline, and Qutan still live with them at home.
The Family Stars in 'Life before Zero'
Hailstone and his wife Agnes are among the star cast of Life Before Zero.
The Discovery Channel's series features the daily lives of the people living in Alaska amid the thick Alaskan forests and deadly snow. It chronicles their nomadic lifestyle and the challenges that lurks in the forest filled with wild beasts.
The show feature Aikens family, and Bassich family, among others.
It started featuring the Hailstone family from it's very start in 2013. The pair continue to appear in the series as recurring members. However, only Agnes appeared in the 10th season as her partner missed the shooting to serve a jail time.
Hailstone Missed Season 10 to Serve Jail Time
In 2017, Hailstone faced a jail time for an incident that took place in 2011.
Years back, his family was involved in a fight with other people in Norrvic. His younger step-son Jonathan and eldest daughter Tinmiaq got into an altercation with them. 
The troopers arrested the people involved in the fight, including Chip's step-son. In retaliation, the angry couple and their daughter Tinmiaq went to the Trooper's station, claiming that their son was innocent. 
During the discussion, one of the troopers captured Tinmiaq after she seemed to be in an attacking mode. Though they left her after an interview, Hailstone accused one of the officers, Christopher Bitz, for assaulting his daughter.
He also sought a restraining order against Bitz. 
The situation, however, didn't go as Chip expected as the officer deployed to investigate the accusations gave his report in favor of Bitz. Chip was subsequently charged with four offenses: two counts of perjury and two counts of false statements under oath.
As a result, Hailstone served 15 months in jail in 2017, missing the shoot for the tenth season of Life Before Zero. While he was gone, Agnes looked after the family, even hunting with her daughters to bring food in the family.