Chief Keef Dating Status Amid Fatal Turmoils; New Girlfriend For Rapper/Family Guy?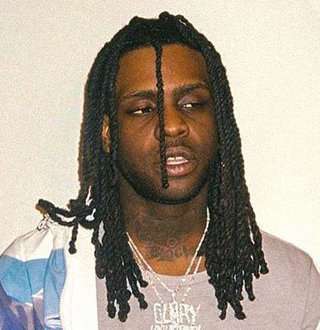 American rapper and record producer Chief Keef became a father at the age of 16. He faced multiple controversies regarding the parenthood but never forgot his responsibility as a father.
The Chicago native is well recognized for his single song I Don't Like which reached Billboard Top 10 list in 2012. He serves the CEO of his record label Glory Boyz Entertainment and is the frontman for the rap group Glo Gang.
Sweet Melody: Chief Keef performs 'Love Sosa' with a live Orchestra on Audiomack (Published on 7 November 2018)
He began his musical career in 2011, releasing the mixtapes, The Glory Road and Bang which earned attention from Chicago's South Side community.
He released his debut album, Finally Rich, whose song, "I Don't Like" became popular and was even remixed by American musician, Kayne West.
Chief has given various hit pieces of music associating with several bands. He released his third album Dedication on December 2017.
Increased Net Worth From Contract With Interscope Records
Chief has made big money from his long stint to music. Producing various popular musical tracks, he has earned the impressive amount of revenue by the sale of his albums.
In 2013, he signed a contract with Interscope Records that could potentially be worth $6 million. The deal covered his three albums, and as part of the contract, Interscope made an advance payment of $440,000 plus $300,000 to cover recording expenses to produce a commercial version of his debut album, Finally Rich. 
Chief also received a $180,000 advance for his record label Glory Boyz Entertainment and $200,000 to cover record label overhead expenses. The album sold 150,000, but the contract was dropped in the same year.
Moreover, receives heavy paychecks for his live performance in various locations inside the country.
Because of his trauma in personal life, he has been evicted from his property several times. As of 2018, his net worth reaches $1 million.
Learn More: Openly Gay YouTube Star Tyler Oakley Age 29, Has Boyfriend In 2018? Height, Net worth
Chief Keef's Family; Brother Was Murdered
Chief was born as Keith Farrelle Cozart on 15th August 1995 in a financially unstable family. He was born when his mother was 16 years old.
His step-brother, Ulysses Gissendanner III was murdered in a gang-related shooting in January 2013. Ulysses was just 19-years-old when he was shot in the back of the head after visiting his uncle.
Chief attended Dulles Elementary School and Banner School. He later went to Dyett High School, where he dropped out of at age 15.
The 22-year-old has been apprehended with various criminal charges. He was arrested several times for drug issues and gangster activities. 
Chief Keef Avoided Jail Time In DUI Case
It was announced in November 2018 that Chief Keef would avoid prison time in his most-recent DUI arrest. Pleading no contest to a reckless driving charge except for facing a felony DUI, Chief got a plea deal.
The deal will give the rapper six months probation and require him to perform 50 hours of community service. This started when Chief was pulled over in Miami in 2017 and tested positive for eight different drugs.
Apparently, he had Morphine, Promethazine, Codeine, THC, Norcodeine, Hydrocodone, Dihydrocodeine, and Hydromorphone in his system at the time of his arrest. 
The stipulation of his six months of probation required that Chief avoided heavy drug use. While 2018 has been a quiet year for Chief on the legal front, he has released a string of projects and collaborations. He has barred the occasional feud with rapper 6ix9ine and has stuck to the music with releases like Back From The Dead 3. 
You Don't Want To Miss: Rod Demery Young Age Mournful Family Tragedy Of Mother & Brother Incident Led To Light
Chief Keef's Multiple Kids From Multiple Dating Relationships
Chief's dating life seems to be a roller coaster as he got involved in a brief relationship with several names giving everyone a girlfriend tag.
One of them was the music video model girlfriend, Pretty Mesha. They got engaged in May 2013. However, the couple got separated without commenting any reasons.
Besides that, he is a father of five kids. At the age of 16 Chief became the father of his first daughter named Kayden Kash Cozart. He was served for child support by the child's mother, Kay Kay. 
After two years, a DNA test revealed that he is a father of a 10-month-old daughter, Kimora Sosha Cozart as well.
Similarly, in May 2015, he became the father of a son, Sno Cozart.  Although he gets multiple claims from women to be the father of their son, he denies those claims which created trauma in his personal issues.
He later announced the birth of the fourth child, a son named Krüe Karter Cozart in September 2014.
In 2017, he became the father of his fifth child named Zinc Clark in July. And it was reported that the baby mother is a former adult film actress Aareon "Slim Danger" Clark.
See Also: 'Our Girl' Star Ben Aldridge Chemistry With Partner On & Off Camera; Dating & Relationship Status
Child Support Amid Controversy In Parenthood
Chief's baby mama officially served for a request of child support around 2011. Moreover, in 2013, he was fathering his second child, a daughter named Kimora.
He was again ordered for paying child support. And subsequently, he began paying child support. It's likely that Chief is spending a reasonable sum of money for the welfare of his kids.
Besides that, he has opened a separate Instagram account for his kids. He showed concern when his daughter Kayden's Instagram account was hacked in June 2014.
Moreover, he does not fail to share the adoring moments with his kids on his Instagram account.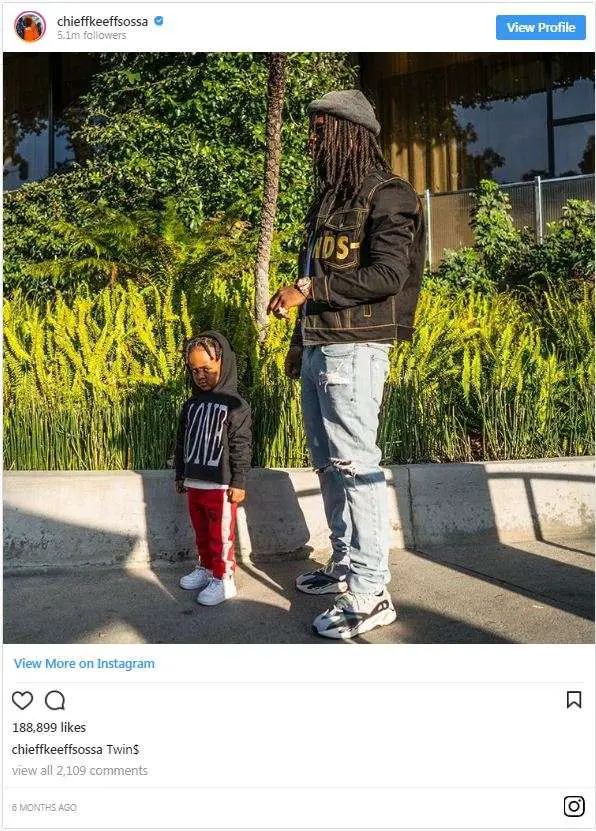 Like father like son: Chief postures twinning with his son, Krue in January 2018 (Photo: Chief Keef's Instagram)
He wished his son, Krue's birthday via an Instagram post in September 2017. Likewise, in January 2018 he uploaded a twinning picture with his son, Krue on his Instagram.
Chief, who is currently unmarried, has not flaunted his dating status. He is probably single enjoying the parenthood with his children.