Brit Hume Bio In Nutshell! Son Tragedy To Journalism Legacy & Retired Moments
The then 28-year-old son of Brit - broke a news about four congressmen plotting... Son's suicide came, as many believed, to be the aftermath of his reporting on... nine years after his son's death by suicide, Brit recounted the events as... Brit's son's death was never classified as...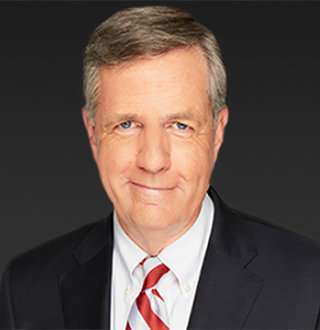 The legendary TV presenter, Brit Hume never truly recovered from the death of his son, Sandy Hume. Outliving his son troubled him until the day of his retirement in 2016.
The former anchor of the show Special Report With Brit is one of the most influential conservative critics, currently working as a senior political analyst for FOX News. He is a regular panelist on FOX News Sunday and also contributes in major political coverages.
Fox News: Brit Hume talks about Trump and how the POTUS critics blame him for everything (Published on 29 October 2018)
Often credited for Fox News' success, he had been the face of the notorious TV network since its inception in 1997.
More About Political Analysts: MSNBC Analyst Elise Jordan Bio: Wedding After Husband Died Horrifically
He is also an author who penned two books Death and the Mines: Rebellion and Murder in the United Mine Workers (1971) and Inside Story (1974).
Brit Hume Bio: Legend In Making
Born on 22 July 1943, in Washington, District of Colombia, Brit Hume graced into the world as the son of Virginia Powell and George Graham Hume. The Virginia boy with a towering height of 6'3 inches come from a Scottish descent.
He attended D.C's St. Alban's School and later graduated from the University of Virginia in 1965 with a Bachelor of Arts in English.
Brit Hume's Career Progression
Immediately after finishing his education, Brit began writing for publications such as The Hartford Times, The Baltimore Evening Sun and United Press International.
During his writing career, he worked for reputed columnists Jack Anderson and Sandra Pollock and was put under surveillance by the Nixon administration as revealed by the leaked documents for his outspoken comments.
In parallel to his writing career, he joined ABC as a consultant in 1973. Three years later, in 1976, he was promoted to the correspondence job working for the network, covering US Senate and US House Of Representative.
In 1997 he was hired as the managing editor of Washington Post for Fox News and presented the program Special Report With Brit. Months after joining his new team, he broke the 'Monica Lewinsky Scandal' on his show which amassed his legendary status.
Discover: Brit Hume Bio In Nutshell! Son Tragedy To Journalism Legacy & Retired Moments
In 2008, he retired from 'Special Report With Brit' but remained on the Fox News in a different role. The same year, the 75-year-old reporter/screenwriter said he was in search of a quieter life in an interview with Hollywood Reporter. He spoke of wanting to spend healthy time with his grandkids and follow his Christian Faith with rigor.
After leaving Special Report, he served fox as a political commentator for eight years only to retire again in 2016. In the penultimate episode of Fox's Show 'On the Record' he thanked everyone connected to the network and said:
'I am deeply grateful to everyone who stayed with us through this transition.
He has not only amassed a massive cult following during his time in broadcasting, but he has also made a lot of money. His net worth is estimated to be around $14 million. 
Brit Hume's Achievement As Journalist
Hume is a veteran journalist and over his career has been recognized for his exceptional contribution to the news industry.
In 1991 he was awarded an Emmy for coverage of the Gulf War. He also received an American Journalism Review "Best in the Business" award twice for White House coverage.
In 2003, he was the recipient of the Sol Taishoff Award for Excellence in Broadcast Journalism.
Insight On Brit Hume's Married Life With Wife And Kids
The screenwriter of the documentary 'The Killing Ground' is married to Kim Schiller and has two kids: Virginia and Luis with his wife. However, he also had a son Sandy Humes from his previous marriage with Clare Jacobs Stoner.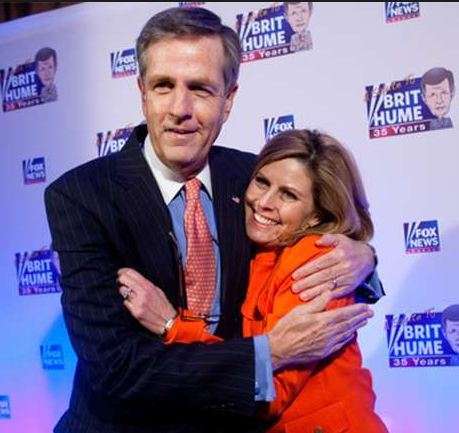 Second Wife: Brit Hume with his wife Kim Schiller (Photo: Article Bio)
An affair with fellow Fox's anchor, Megyn Kelly almost derailed his relationship with his wife, who worked at the same network. The intra-office romance is chronicled in Meghan's 'Settle For More,'
See more: Fox News Bret Baier, Coolest Family With Stunning Brunette Wife
 However, the couple managed to settle their difference and have been together ever since. 
Son Death From Suicide, Conspiracy Theories Circulates Online
In 1997, Sandy Humes - the then 28-year-old son of Brit - broke the news about four congressmen plotting to overthrow a house speaker. 
Following in his father's footsteps, Sandy was an aspiring reporter making big waves in the entertainment industry. 
Sandy's suicide came, as many believed, to be the aftermath of his reporting on the same subject. 
Media outlets reasoned his suicide came as a reaction to threats of exposing his gay affair with a senator, Bill Paxon, who took the helms of House after the resignation of Newt Gingrich as Speaker.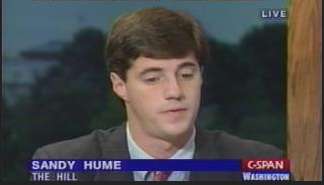 Son Death By Suicide: Late Sandy Hume reporting live from Washington (Photo: David E Fablog)
Speaking to Brody Reports, some nine years after his son's death by suicide, Brit recounted the events as 'painful.' In a deeply moving interview, he credited 'God' for 'rescuing him from pain and grief.'
Despite dying in controversial circumstances with plenty of evidence suggesting of a foul play, Brit's son's death was never properly investigated and classified as a suicide. 
The death of, one of his kids, made him a religious man. And as time passed, his conservative views became sterner.