Fox News Bret Baier, Coolest Family With Stunning Brunette Wife
When Bret met his wife on a blind date in September...They were set up by their friends, and his wife was hesitant about meeting him at first...Bret and his wife were instantly left in the gray...The new parents were devastated while on the feet of prayers...survived after undergoing succesful...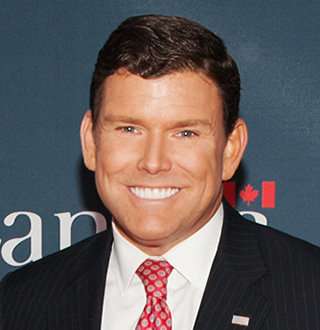 Fox News anchor Bret Baier was left devastated after hearing the tragic news concerning the health of his first son. However, he didn't cease to carry on with a positive light as he held the hands of his wife and his family to triumphant against their testing times!
The Atlanta-native is best known for hosting Special Report with Bret Baier on the Fox News Channel as well as for serving as the chief political anchor for Fox. Previously, he worked as the Fox News' chief white house correspondent and correspondent in Pentagon. 
Age Of Nature Destruction: Bret Baier reports on Hurricane Michael making Landfall falling in Category-Three storm on 'Special Report with Bret Baier' (Published on 10 October 2018)
Born on 4 August 1970, William Bret Baier was raised in Atlanta, Georgia where he attended the private Roman Catholic High School and Marist High School.
Standing tall at the height of 5 feet 9 inches (1.8 meters), Bret graduated from DePauw University in Greencastle, Indiana with a BA degree in English and political science (1992).
Fox News Journalist Bret Baier's Consecutive Success In Broadcasting
Bret boasts the mouthwatering net worth of $16 Million. While the average salary of Fox News channel hosts ranges from $64,838 to $65,081, he earns more than the colossal amount of $7 Million on an annual basis.
You May Also Like: Meg Oliver & Husband | This Is Why CBS Reporter's Married Life & Family Is Goals
The 48-year-old journalist started his television career for a local station in Rockford, Illinois. Eventually, he joined WRAL-TV. After sending a recorded audition tape to Fox News in 1998, Bret was hired as the Atlanta bureau chief of the network. 
But that didn't last long when he had driven to cover the attack on the Pentagon and was made the network's Pentagon correspondent as he remained at the post for five years.
Finally, in 2007, he was made Fox News' white house correspondent while covering George W. Bush's administration. 
In December 2008, he replaced Brit Hume as anchor of Special Report and hosted his first show in January 2009 as a permanent anchor.
By February 2016, Bret started contributing to CBS as he boosted his path by becoming an NBC affiliate.
How Bret Baier & His Wife Triumphed Long Distance Relationship!
When Bret met his wife, Amy Baier on a blind date in September 2001, he hadn't expected to spend the rest of his life with her.
They were set up by their friends, and his wife was hesitant about meeting him at first- 'because he lived on the East Coast,'- as she didn't believe that long-distance relationships would last.
But she eventually agreed, and on their first date, they enjoyed a Rolling Stones concert. Bret charmed Amy on the first date with his gentleman attitude and southern personality.
Read Also: Sean Hannity Wife & Family Status After Harassment Allegations; Divorce?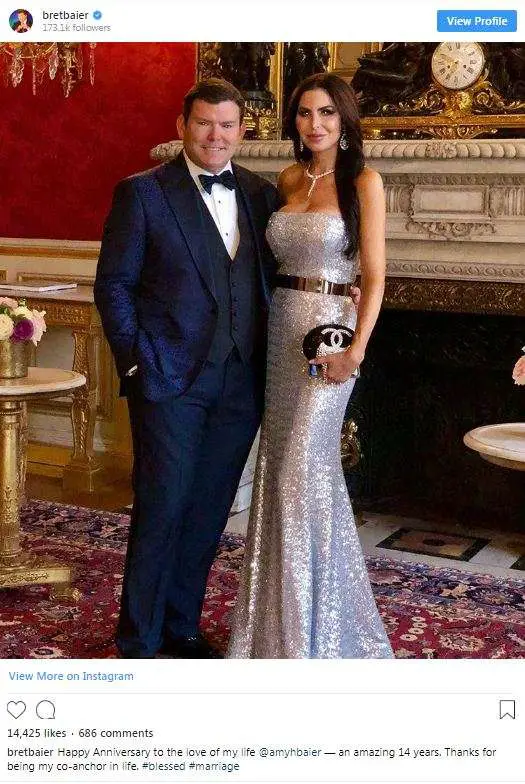 Still Happy: Bret celebrates 14th anniversary with his wife on Instagram on 9 October 2018 (Photo: Bret Baier's Instagram)
And while his wife was initially skeptical about their long-distance relationship, they made extra efforts during the early days of their courtship, traveling between Chicago and Washington D.C.
Carrying the love they had for each other and embracing a tough dating life of meeting and parting, Bret and Amy finally got married in 2004.
What Actually Happened To Bret Bair's Son?
Amidst their overwhelming sanguine moments celebrating the birth of their first son, Paul, in 2007, Bret and his wife were instantly left in the gray after their doctor revealed that he had two holes in his heart alongside three congenital disabilities. 
The new parents were devastated while on the feet of prayers and comfort from their friends and family.
Fortuitously, their son, Paul survived after undergoing succesful three open-heart surgeries. Inspired by their son's successful battle, Bret wrote the book, Special Heart with the intentions to raise awareness on heart diseases that strike millions of other children. 
You Don't Want To Miss: Is Veronica De La Cruz Married With Husband? Personal Life Insight With Son
Thankfully, when they welcomed their second son, Daniel, he didn't face any health issues when he came to the world in 2010.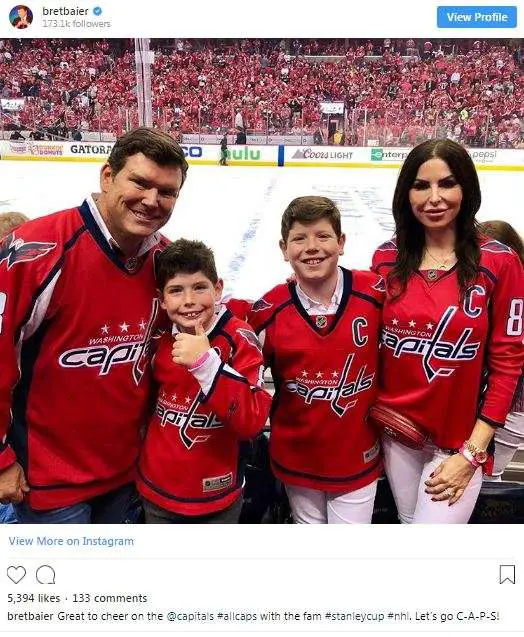 Complete Family: Bret posts picture with his wife and sons as they cheer Ice Hockey Team, Washington Capitals on 3 June 2018 (Photo: Bret Baier's Instagram)
Today, Bret enjoys a tranquil life with his family, and he doesn't indulge himself to work alone as he frequently takes his family to different events and seminars.
He values them more than anything and has been committed to creating random and special moments with his adorable family of four.