Andrew Schulz Had a Slip of the Tongue When He Proposed to His Girlfriend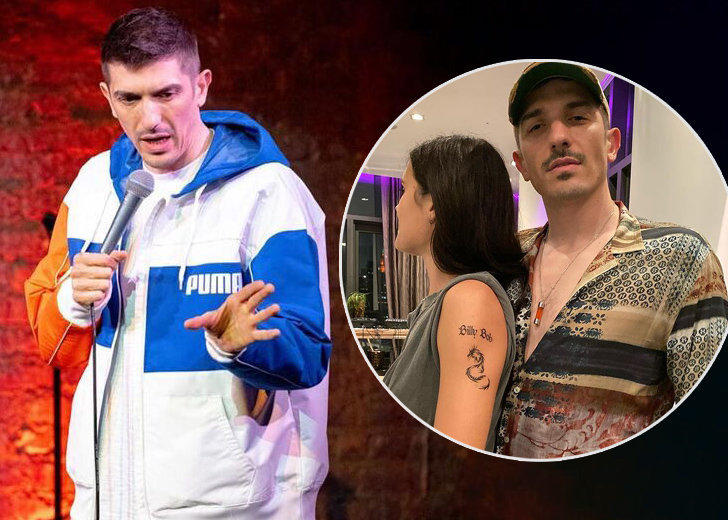 Andrew Schulz is a stand-up comedian who knows how to work his magic on the crowd with his confidence, humor, and charm.
But even this confident chap got weak at the knees while proposing to his wife Emma Turner.
The comedian may be able to deliver his punch lines and perform in front of a live audience smoothly, but when it came to one of the most important moments of his life, he was tongue-tied.
Andrew Schulz Was Nervous When Proposing to Wife
Aside from being a comedian, Schulz also hosts podcasts. In one episode of his podcast Flagrant 2, he talked about how he got engaged to his then fiancée.
He shared with other hosts how he proposed to his girlfriend in her favorite restaurant. 
The comedian had written the proposal lines on his phone and kept memorizing them as he was very nervous. So much that he was sure he would mess it up. 
He tried to be smooth as possible with his proposal and even got on one knee.
But he eventually messed up as his nervousness kicked in. Instead of asking Emma if she would spend the rest of her life with him, he ended up saying, "Will you spend the lest of your rife with me". 
But as it is said "all is well that ends well," Emma said yes. 
Andrew Schulz Married His Wife in 2021
Schulz tied the knot with his fiancée, a year after the engagement, in December 2021. 
The comic wore a white tuxedo with a matching black tie while his partner wore a white strapless mermaid wedding gown.
Before the big day, he even bought himself a bronze-green Porsche as a wedding gift.
Later, Schulz took to Instagram to announce his wedding with his wife. He posted several pictures and videos from the day.
Schulz and his wife Emma Turner on their wedding day. (Photo: Instagram)
In one particular post that featured his wife, he wrote, "What an absolutely stunning bride."
He even thanked his "incredible collection of friends and family" for attending their wedding and taking out time for them. 
"It meant the world to us," he remarked, adding that he and his bride celebrated "like it was our last."
Andrew Schulz Timely Shares Wife's Photos
The podcaster from New York hasn't completely kept his wife away from his social media accounts as she often makes appearances in his posts. Thanks to Schulz's Instagram account, we can see photos from the couple's visits to different countries.
Besides photos from their travel to foreign lands, he also shared one of their Halloween looks where they dressed up as Angelina Jolie and Billy Bob Thornton.
In another photo, the stand-up comic can be seen with Emma and a dog model, promoting his merch. He jokingly mentioned how bossy his fiance is, who is instructing the dog to sit.
Look how bossy my fiancé is... not only to me but to an innocent dog model. Someone call PETA...
Andrew Schulz Wants a Baby in His Family
In many instances, Schulz has expressed his desire to be a dad. 
As a comedian, he jokes on his posts, inquiring if someone was ready to be pregnant with his baby. But can we take a comedian's words seriously? Maybe not.
However, now that he is married, the baby fever he caught (if he did) can be cured! 
Andrew Schulz's Wife Is a Certified Pilates Expert
The comedian has kept his partner's details away from the public eyes. 
Emma's social media handles are private, so the only way to get some information about her is through other people, like her mother.
Her mother Kristin talked about her in an interview with Yoga Poses Asana.
She mentioned that Emma was her youngest child and has BASI Pilates certification but wasn't teaching.
They were featured in a story called 'A Family Affair' in Pilates Style, featuring three generations of Pilates practitioners.
According to her LinkedIn account, Emma is currently busy pursuing her MBA at NYU Stern School of Business.