Louis C.K's Ex-Wife Alix Bailey, Is She Married Again? Bio Adds Net Worth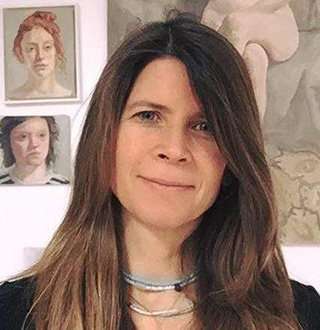 Louis C.K. is now a disreputed comedian, thanks to Time's Up movement and his tendency to invite women to see him having pleasure , but there was once a woman who was married to him for 13 years. The woman was an American painter, Alix Bailey. What were those 13 years like?
The Connecticut-native painter is most famous for being the ex-wife of renowned American comedian and filmmaker, Louis C.K. But among the art enthusiasts of the New York, she has established herself as a skilled painter and art-expert.
Louis C.K. Stand-Up: Louis performs a standup act joking about the woes of being married (Published on 22 January 2017)
As of now, Alix lives with her two daughters in New York City and continues to paint and pursue her passion in arts.
You Might Also Like: Hallie Gnatovich Bio: Age, Baby, Adventure Enthusiast Husband & Facts
Alix's Bio (Age): Painter Parents Inspires Her To Become Painter
Born on 3 February 1967 to painters parents, Alix grew up partly New Haven, Connecticut and partly in Italy. She inherited her love for painting from her parents and went on to study painting at Bennington College in Vermont and was taught by the greats in the field, Pat Adams and Sidney Tillim.
Alix received her MFA (Master of Fine Arts) degree from Indiana University.
Alix Bailey Is One Of The Most Celebrated Painters In New York
After college, and a graduate degree in arts, Alix has become a celebrated painter in New York. Her paintings have been praised and have appeared in some very distinguished galleries in New York City.
At the moment Alix is a member of a non-profit organization and a gallery in Chelsea, New York, The Painting Center.
Alix's 13 Years With Louis C.K.: Married Life & Shared Net Worth
Coming to her personal life, Alix Bailey is the former wife of famous comedian and filmmaker, Louis C.K. While it is not known when the couple met, they got married in 1995 and remained married for 13 years and had a couple of daughters together: Kitty (aged 16) and Mary Louise(aged 13).
Read Also: "Nobody's Child" Author Kate Adie Unseen Biography Reveals Married Status & Family Details

Long-Married Life: Alix and Louis spent 13 years together as a married couple and had a couple of daughters together (Photo: pinterest.com)
More than anything else, what brought Alix's fame out of the art community of New York to the common masses is the frequent mention of her in his standup acts. What's more, courtesy to Louis, Alix has also appeared in a few films, adding another art form to her resume.
Prior to their divorce, Alix shared the net worth of gigantic $ 35 million with Louis.
Alix & Louis Divorced In 2008, What Ended The Married Life?
Alix's and Louis's married life ended in 2008, but the reasons behind the divorce were not disclosed by either of the parties, except saying that they stopped making each other happy.
Related: Alleged Gay Abbi Jacobson Dating Limit Exceeds "Boyfriend" - Weight Loss Shocks All
Lately, one of the accusers of Louis C.K. for sexual misconduct, Rebecca Corry, mentioned that while inappropriately asking her to watch him, Louis had mentioned that he was having issues in his marriage. This was the story of 2005, three years before his married life actually ended.
When it comes to sexual matters, Louis C.K. is far from appropriate, but his admission of having issues in his marriage was probably more than merely a tactic to accomplish his sinister design. Alix and Louis might have started strong, but their divorce seemed to be a long way coming.