Zachary Roloff Age 28 Reveals Baby No. 2, Son & Wife | Biography Talks
After dating for three years Zach asked...He even shared his happiness on a Facebook post after...Just a year later the lovely couple had a traditional wedding and tied the knots on...acted as his best man while for rehearsal dinner his...Soon he welcomed a baby named...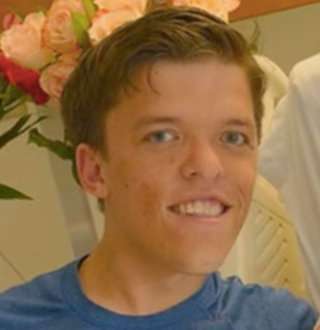 American reality star Zachary Roloff was born with a condition of dwarfism, but that didn't stop him from living his life the way he wants to and proving inner beauty is what matters when it comes to love -- he even found the girl of his dreams who loves him as much as he loves her.
The American television star is best known as the member of the famous Roloff family and stars on the TLC reality series Little People, Big World. He works as a coach for a soccer team. 
Little People, Big World: Zachary goes in for his driver's test (Published on 1 October 2008)
He has appeared in WWE Tough Enough and played in a basketball game as part of the show.
Zachary Roloff Biography (Age & Height)
Zachary Roloff was born at Oregon USA as the son of Matt Roloff, and Amy Roloff on his date of birth is May 10, 1990. He grew up with three siblings, twin Jeremy Roloff, sister Molly Roloff, and brother Jacob Roloff. His parents parted their ways in March 2014.
Related: Jeremy Roloff & Wife Expecting Second Baby At Age 28 | Detailed Bio
Both his parents, as suggested by the title of their reality show, are little people. His father has diastrophic dysplasia while his mother was born with achondroplasia, a condition where a person's arms and legs are disproportionate with his torso.
Zach, who stands at the height of 4'2 inches, is the only among his siblings who was born with achondroplasia like his mother, along with some other health complications which he was able to overcome.
He was a strong soccer player but was forced to stop for a couple of years due to his small size and health issues. He was later able to return to play in high school which he graduated in 2009. After high school, he went on to coach his younger brother's soccer team.
Zach Roloff's Wife Worked At His Farm When They Met
Despite his dwarfism, Zach found someone in his life who loves him for his inner beauty, not his outer appearance. And that someone happens to be his wife, Tori Patton!
The two lovers met when Tori was employed by the Roloff's in their farm during pumpkin season. After meeting her, Zach developed a serious crush on her but was afraid that Tori might not feel the same.
Find more: MSNBC's Kasie Hunt Reflects On Magical Wedding Day; The Perfect Husband
But she did reciprocate feelings for him, and they've been together ever since their first date which lasted five hours.
Zach Roloff's Married His Girlfriend After Three Years Of Dating
After dating for three years, Zach asked Tori to marry him on 30 April 2014. He even shared his happiness on a Facebook post after she accepted his proposal:
She said yes! It's been a brilliant 24 hours and totally excited for what the future holds.
Just a year later the lovely couple had a traditional wedding and tied the knots on July 25, 2015, in front of nearly 200 guests outside on the Roloff family farm. Zach's twin Jeremy acted as his best man while for rehearsal dinner his mother Amy whipped up meals for 45 people all by herself!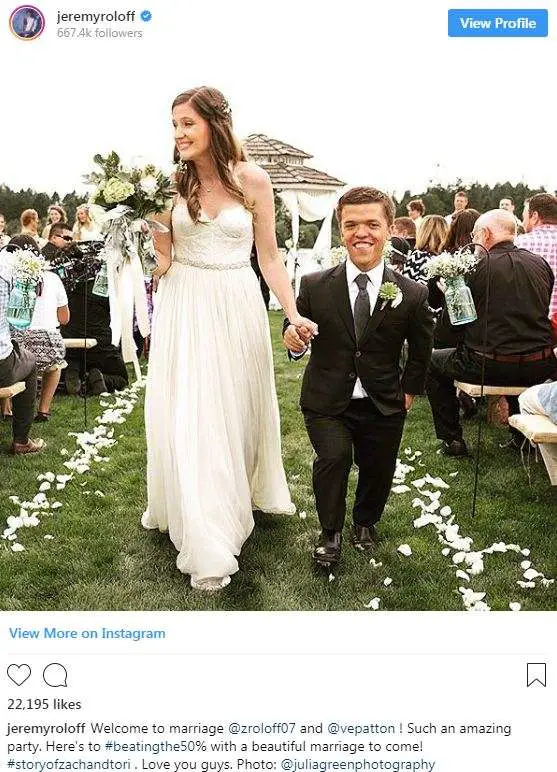 Wedding Day: Zach walks in the wedding aisle with his wife Tori Patton (Photo: Jeremy Roloff's Instagram| 27 July 2015)
Zach and Patton are very much in love with each other and in an Instagram post on 29 January 2018 she even confessed her love for her husband saying:
I don't love Zach because of how he looks (although he is quite handsome if I do say so myself) but rather what things weigh on his heart. It doesn't matter to me that I'm taller than my husband.
This couple makes us believe that true love still exist!
Zach Roloff's Son Born With Dwarfism As Well in 2017
Soon he welcomed a baby named Jackson Kyle in their lives with his wife on 2017.
See more: Helen Flanagan Post Pregnant Excitement As Husband-Wife Gush Over Second Baby
When his wife got pregnant with the couple's first child, she was scared of the fact that there would be a 50 percent chance the baby would have achondroplasia, a type of short-limbed dwarfism, like his dad.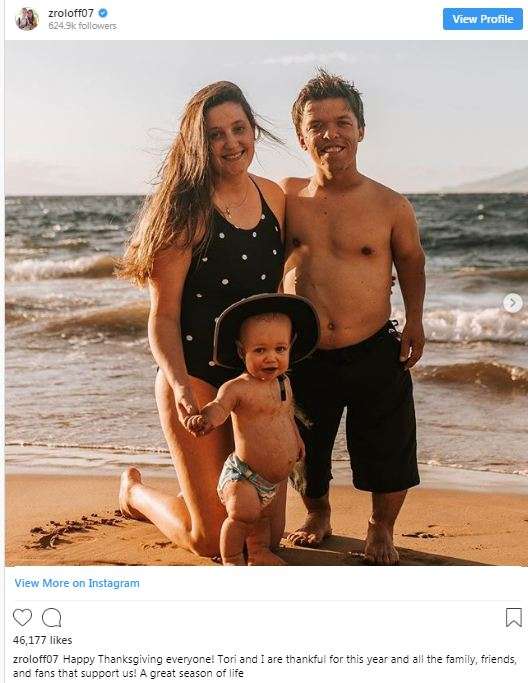 Family Day: Zachary celebrates thanksgiving day with his wife and son (Photo: Zachary Roloff's Instagram | 22 November 2018)
Zach's son was born at a healthy weight of 9 pounds, 1 ounce, and was 20.5 inches long but inherited a similar condition of dwarfism to his.  He revealed his son's diagnosis in a vlog for TLC.
But Tori has been over her fears now after she embraced her cute as a button baby and Zach is all set to help his son live the best life. In his vlog, he stated that:
He may have to take two steps for everyone else's one step, but hopefully we'll be able to raise him in a way where that won't stop him
Zach is going to be the best father and a perfect role model baby Jackson could get, and we're 100% sure of it!