Openly Gay Vern Yip Wedding & Husband | Bio & Net Worth At Age 50
American interior designer, Vern Yip never had anything to hide on his openly gay life, and he certainly didn't hide a bit of his blissful married life with his husband...family means everything to Vern and his husband...The two gay husbands often share images together with their children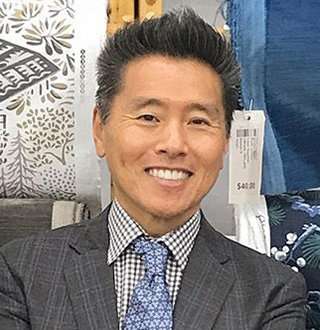 American interior designer, Vern Yip never had anything to hide on his openly gay life, and he certainly didn't hide a bit of his blissful married life with his husband; well, except for the wedding. 
The American national is more popularly known for his sporadic appearances on TLC's Trading Spaces on its fourth season where he had a trademark touch in designing by including silk, candles, and flowers in the rooms he designed. He's a happening interior designer who is adept at providing designing advice while giving tours around his designed homes.
Height Of Sophisticated Designs: Vern Yip gives a tour of his Manhattan home while providing few tips about patterns and visuals around interior designs on Open House (Published on 22 February 2017)
You May Also Like: Christiane Amanpour From CNN: A Blessed Wedding That Got Her Husband And A Son
Vern hosted four seasons of HGTV's Deserving Design that aired from September 2007.
Vern Yip's Bio Reveals Designing Career Through Television 
Born on 27 June 1968, Vern Yip received his B.A. in Economics and B.S. in Chemistry from the University of Virginia and a masters in architecture and management from the Georgia Institute of Technology.
While he had considered initiating a design firm in Atlanta, Vern heightened his career by appearing on television and showcasing his heightening architectural skills to the world. The 50-year-old designer first appeared on the television series, Trading Spaces from 2001 to 2007.
It was from 2006 that Vern got more recognition while he served as a judge on the HGTV Design Star. He eventually made appearances on the TV series, Deserving Design from 2007 to 2008 and started hosting the show, Bang for Your Buck from 2009 to 2012.
Adding to that, he also hosted the HGTV special, Urban Oasis where the Chicago loft that he designed in the Trump International Hotel was given away to a lucky winner.
Appearing in episodes of TV series like Good Day Live, HGTV Showdown, Live! With Kelly and First Time Design, Vern has earned a considerable amount of fortune while he carries an estimated net worth of $3 million.
Vern Yip's Gay Wedding Stayed Secret: Enjoys Serene Married Life with Husband
While Vern is pretty open about his sexuality as gay, he is more than open about talking about his family with his husband. Yes, Vern has already heard his wedding bells and pronounced wedding vows with WAG-A-LOT Founder, Craig Koch.
Vern and his gay husband are absolutely adorable and guess what? They've got kids! They have a son Gavin Joshua Mannox, and a daughter Vera Lillian Beatrix both born via surrogate in 2010 and 2011 respectively and the family is more than cute.
Read Also: Does Eric Villency Have Upcoming Wedding? Family Status After Divorce With Wife
The two gay husbands often share images together with their children and the captions are always filled with love and adoration for their bundle of joys.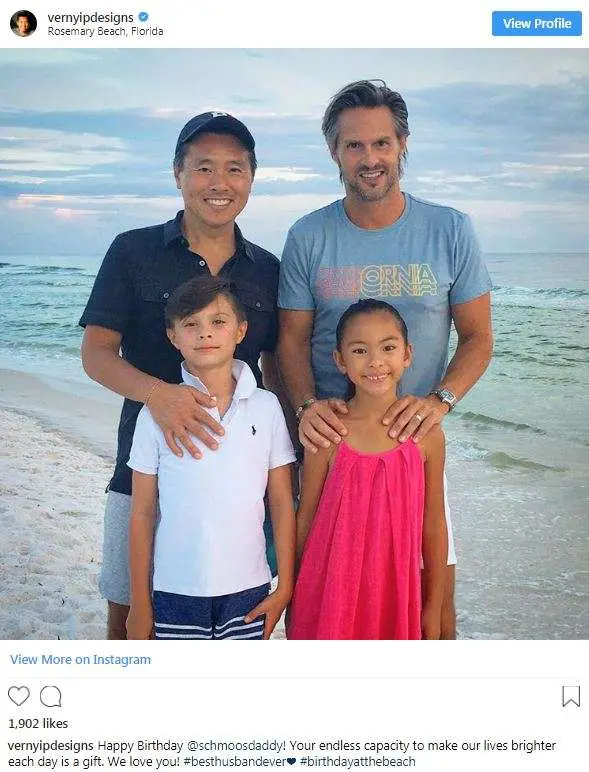 Who To Call Daddy: Vern posts a picture with his gay husband and kids while wishing his husband a happy birthday on Instagram (Photo: Vern Yip's Instagram | 2 October 2018)
And you can bet that family means everything to Vern and his husband. Talking about his husband and kids with the People, Vern said,
You form this little unit and you go through life together and knowing that you're each other's ultimate support system, and it's the purpose behind everything you end up doing.
How beautiful is that? Vern is so enthralled with the concept of family that it has become the first thing he thinks about in the morning and the last thing he recounts when he goes to bed at night.
You Don't Want To Miss: Jane Pauley Up Close: Family Life With Husband And Children At Age 67
While these two gay lovebirds may enjoy their good times, they are there to face the difficult times together with their kids as well. Oh, and overlooking the fact that they haven't shared many details about the wedding they had, Vern and his husband sure are living the time of their lives.