Si Robertson Age 70 & Wife Restore Faith In Love, Married For Decades
The two lovers had first met in 1969 when Christine gave him a lift in her car...even went on a date with her...Robertson proposed her for more than seventy times until she finally said 'YES'...Si and Christine celebrated their wedding ceremony once again in...the groom--Si also surprised his wife with a diamond wedding ring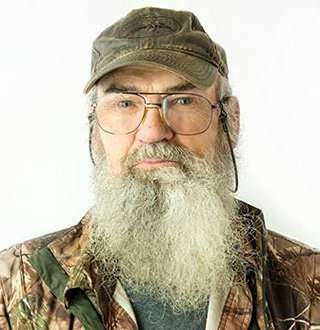 American reality star Si Robertson is a hunter and former army guy. As tough as his persona may seem but behind it lies a hopelessly romantic guy who restores our faith in love all over again. 
The American TV personality is a man of multiple labels, he is a reality star, hunter, preacher, outdoorsman, and a retired U.S. Army veteran. However, he is best known because of his appearance in the A&E's reality show Duck Dynasty, and more affably known as Uncle Si in the show. 
Si-larious Moments: Si Robertson starring as himself in the show Duck Dynasty (Published on 1st December 2016)
He was a duck-call-commander at his family business named Duck Commander which produces products for duck hunters. Prior to working as a hunter, he also formed a band called Uncle Si and The Sicotics and is the author of the book Si-cology (2013) & Si-renity: How I Stay Calm and Keep the Faith (2016).
Find Out: John Luke Robertson Young Age Wedding Bliss! Wiki, Wife, Net Worth
 Over his career, he made guest appearances in various TV programs such as Last Man Standing, Going-Si Ral, Buck Commander, and The Duckmen of Louisiana.
Si Robertson's Youngest Sibling Owns Duck Commander
Born on April 27, 1948, in Vivian, Louisiana, Silas Merritt Robertson was one of the seven children of Merritt B.Thurman and James Harold Robertson. His siblings include four brothers Jimmy Frank, Tommy, Phil and Harold and two sisters Judy and Jan.
His brother--the youngest of Robertson siblings, Phil Robertson, is the founder of Duck Commander, a company that manufactures duck calls mimicking devices and hunting gear.
He studied at North Caddo High School and later attended Louisiana Tech University in Ruston. But he dropped out from the university in order to join the army and fought in the Vietnam War. He retired in 1993 as a First Class Sergeant.
After his retirement, he joined his smallest sibling into Duck hunting business. 
What is Si Robertson's Net Worth? 
Forming his career as a successful hunter, reality star and the author of a massively successful book, Robertson definitely has made a big amount of fortune for himself.
His family business fronted under the name of Duck Commander is worth around $20 million. And the company's revenue in 2013 was worth around $400 million thanks to merchandise sales due to the success of Duck Dynasty.
Know more about: Clarissa Ward Bio: Happily Married To Husband, Adds Baby To Family
And Si as one of the most important characters of the reality show made himself a fortune. With multiple sources of income, he has a net worth of 8 million dollars.
Si Robertson Finally Married His Wife After Proposing For More Than 70 Times 
As traumatizing as wars can be Uncle Si had solace in the fact that he had a lovely wife back at home waiting for his return.
The two lovers had first met in 1969 when Christine gave him a lift in her car as he was hitchhiking. Robertson fell for Christine from that moment and even went on a date with her. How romantic right?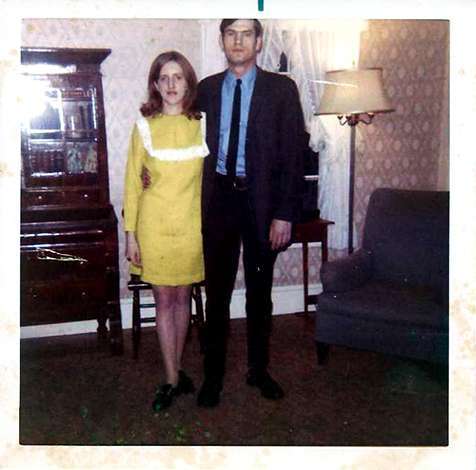 Dating: Young Si and Christine together shortly after their marriage in 1971 (Photo: US Weekly)
After the date, Robertson proposed her for more than seventy times until she finally said 'YES' and the rest is history. The couple got married in 1971 and is blessed with two kids, daughter Trasa and son Scott.
Discover: Maurice DuBois On Overcoming Obstacles With Wife! Married The Right Person
Both Trasa and Scott are married and have a family of their own. Uncle Si as a grandpa enjoys the love of his seven grandchildren all of whom are boys. Moreover, his son Scott also followed his lead of joining in the army.
After serving at Iraq war, his son Scott had PTSD, and since then Uncle Si has been very vocal about the well-being of veterans.
Why Is Si Robertson Wife Not Part Of Family Show?
Si is very popular for his role in his family show but among all the family members the one that's missing in all the seasons is his wife, Christine. We all wonder why? 
Talking to US Weekly in, he stated that:
Sometimes we film 12 hours a day, and she's just not healthy enough to go through the rigors of that. But, ah, it ain't no big deal. She wants no part of it anyway. She's been married to me for 43 years. The last thing she needs is to watch us on a TV show.
Well, this explains it all.
Find Out About Si Robertson And Wife's Second Marriage, Ages After First
How lucky is it to grow old with someone? But more than that how lucky is it to get married once again surrounded by your lovely family?
Si and Christine celebrated their wedding ceremony once again in 2014 with their family as they weren't able to celebrate it in a proper way back then. The couple's second marriage came a whopping 43 years after their first marriage.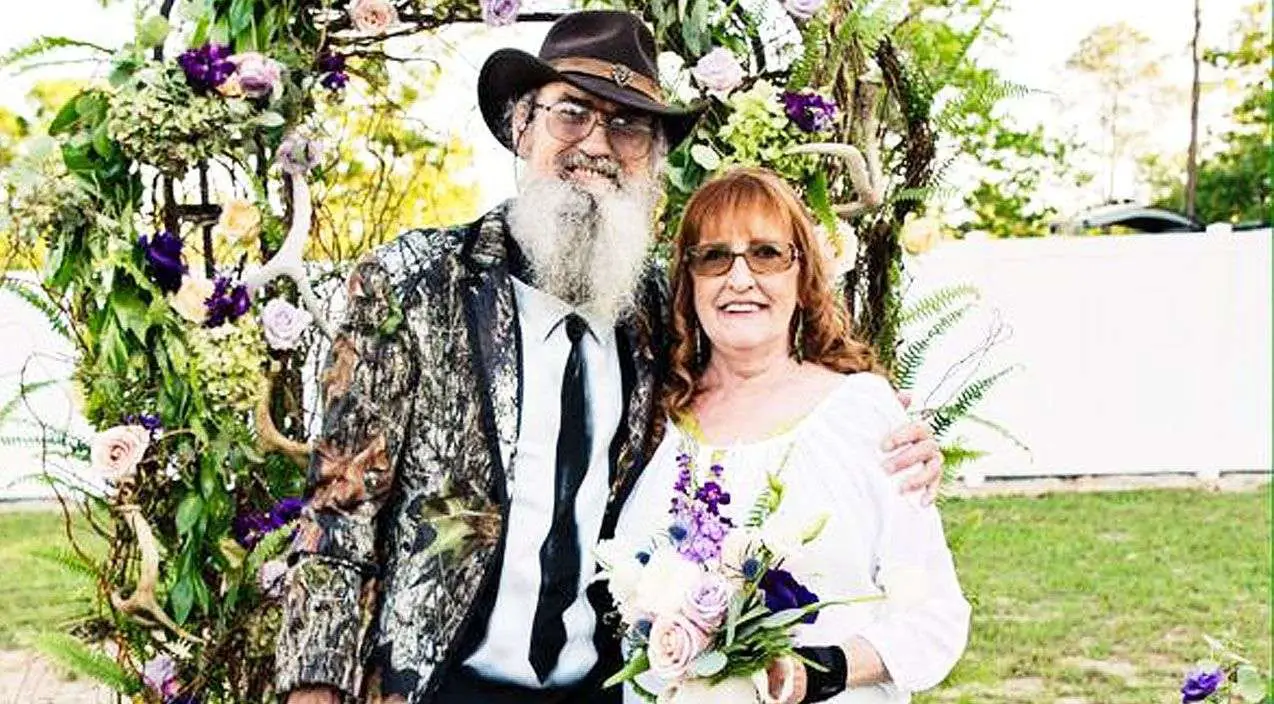 Wedding Ceremony: Si with his wife Christine on their second wedding ceremony (Photo: Pinterest)
The couple celebrated their second marriage in son Scott's tent. The bride-Christine was escorted by their little grandsons Connor and Logan and was draped in a white designer gown. Moreover, the groom--Si also surprised his wife with a diamond wedding ring, which made the ceremony more memorable.
Already married for decades, the couple has now renewed their rusting vows. The undying love between the two surely gives us couple goals and definitely restores our faith in love!