Sandi Toksvig Age 60 & Spouse | Engraving Gay Wedding In History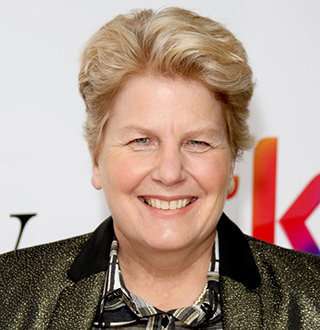 Being gay wasn't a choice nor a revelation for Sandi Toksvig. As per her words, it just came to her consciousness naturally.
And despite having lived in conservative society decades and decades ago, she never hesitated to express her love towards women. That bravery did lead her to some dark places but as they say, after a hurricane comes a rainbow, it was worth it in the end after all.
British-Danish native is a comedian, writer, television presenter, and political activist who is famous as the host of BBC TV quiz QI and BBC Radio 4's The News Quiz. Currently, she is the co-presenter of The Great British Bake Off which is on its ninth season.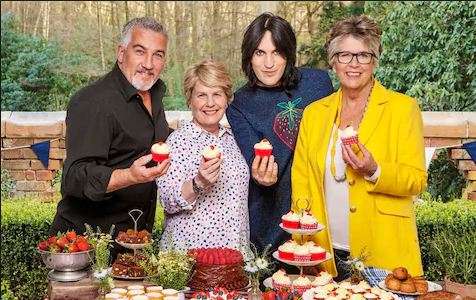 Co-Presenter Toksvig: The first image of Paul Hollywood, Sandi Toksvig (in white spotted shirt), Noel Fielding and Prue Leith on The Great British Bake Off (Photo: The Telegraph)
Besides it, she has also worked as a host for Channel 4's quiz show 1001 Things You Should Know and game show Fifteen to One. She has also imprinted her mark on the political scene, as she is the co-founder of British feminist Women's Equality Party.
More on Comedians: Comedian Todd Glass Long Gay Relationship With Partner; Did It Fail?
Sandi Toksvig Short Bio (Age & Height)
Born on 3 May 1958 in Copenhagen, Denmark, the 5 feet tall Sandi Birgitte Toksvig, age 60, graced into the world as the daughter of Claus Toskvig and Julie Anne Toksvig.
As a child, Sandi moved a lot for her father's work. She lived in Africa and the US. After being thrown from two out of five schools in the US, she attended a British Boarding School which she despised. Later the talented Toksvig attended Cambridge University.
Sandi Toskvig's Versatile Career From Comedian To TV Host
It was during her time in Cambridge, she discovered her passion for comedy, writing, and performing in Cambridge Footlights and at The Comedy Store in London.
The witty and enthusiastic Sandi started made her way to the TV industry by presenting children's programmes: No 73, The Saturday Starship, Motormouth and her own show Toksvig.
From 2006 she joined BBC Radio4 as the host for The News Quiz, a topical panel game show but left in 2015 to enter into politics. She co-founded her political party in 2015.
See More Radio Hosts Profile: Marilyn Denis Engaged 40 Years Later, Wedding To Prom Date - Her Story
During her time as a host in TNQ, she was involved in many other projects too. She launched the game show 1001 Things You Should Know, hosted the travel show Excess Baggage and in 2014 renewed the general knowledge quiz show Fifteen-to-One.
Over her career, she has hosted factual programmes such as Island Race and The Talking Show, produced by Open Media for Channel 4. She has starred in sitcoms like The Big One and Up the Women and was a team captain on Call My Bluff. She has also written fiction and non-fiction books for children and adults.
In 2016, she hosted the BBC television quiz show QI, and since 2017 she has been working as a co-presenter for The Great British Bake Off.
Stepping her foot in many shows over her career, she has been able to accumulate a hefty net worth of $8 million!
Sandi Toksvig Coming Out As Gay Strained Her Relationship With First Spouse
Moving on to her love life, her preference for romance isn't straight but rather gay! Yes, Toksvig is a proud gay.
She was first in a relationship with her partner Petaline Stewart, who was a former nursery school teacher, since 1982. The couple even had three children; Jessie, Megan, and Theodore together.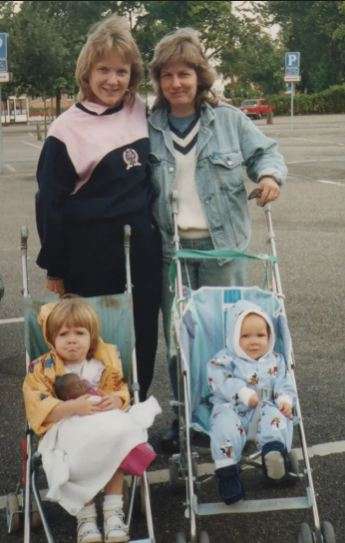 Gay Spouse?: Sandi Toksvig (left) with her first wife Peta Stewart and children (Photo: The Guardian)
In 1999 she came out clean to a Sunday Newspaper stating:
I would rather keep my private life to myself. But I didn't want to live in fear. And I felt it was more important for my children to lead honest lives than for me to have a career in the media.
Coming out in a time when being gay was considered a sin, it was brave of Sandi! But the response from her colleagues and media weren't supportive as she was taken down for it -- Save the Children withdrew her invitation to host for its 75th anniversary.
The negative response which befell upon her led her to depression. During this time her spouse Peta found it difficult to cope with the relationship; hence, the couple split!
Sandi Toksvig Renewed Her Wedding Vows With Second Wife After Gay Marriage Legalization In 2014
The chapter of love for her wasn't closed yet as she finally found the love of her life. She has been married to her wife Debbie Toskvig since 2007.
And adding the cherry on top to her love story, after gay marriage was legalized in England and Wales, she even renewed her vows in 2014 without any restriction as they were knotted together only through a civil partnership before.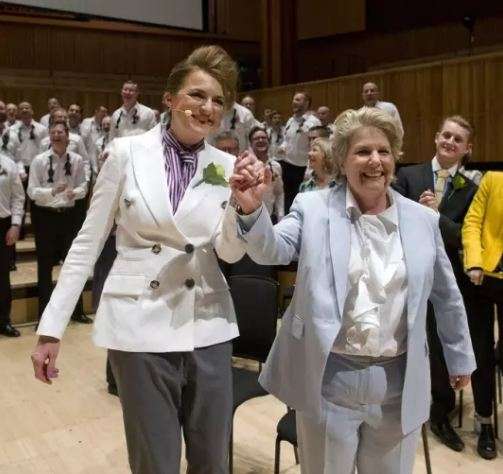 Gay Wedding: Sandi Toksvig married to her wife Debbie after gay marriage legalized in England and Wales (Photo: Buzzfeed)
The wedding was the first same-sex marriage that took place in England and Wales. It took place at the Southbank Centre in London where hundreds of people arrived and celebrated the liberty of love together!
Know more about: Sue Bird Age 38 & Girlfriend Make Gay/Lesbian History! The First To Do It
It must have been a huge moment for both Sandi and Debbie who met in a doorstep of a stranger's house in 2000. They fell in love at first sight, and after only two and a half weeks Debbie proposed Sandi to be her fiance!
---