Melissa McKnight Wiki: Where Is Ex Model & Wife To Matt LeBlanc Today?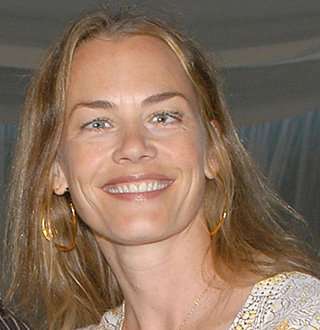 Quick Summary
| | |
| --- | --- |
| Date of Birth | March 10 ,1965 |
| Age | 55 Years 0 Month(s) |
| Nationality | American |
| Birth Place | United States |
| Birth Name | Melissa Sue McKnight |
| Profession | Actress |
| Relationship Status | Single |
| Husaband/Spouse | Anthony Esposito (M. 1990–1996), Matt LeBlanc (M. 2003–2006) |
| Net Worth | N/A |
| Ethnicity/Race | N/A |
| Hair Color | Blonde |
| Eye Color | Blue |
| Son/s | Tyler Esposito |
| Daughter/s | Jacqueline Esposito, Marina Pearl LeBlanc |
For British-American Model Melissa McKnight it was a dream come true to marry everyone's favorite clueless handsome hunk from Friends Joey Tribbiani aka Matt LeBlanc. But the marriage didn't end up in a happy ever after for her.
American national Melissa McKnight is best known for her career as a model and rose to fame as the wife of popular Friends star Matt Le Blanc.
Besides modeling, she is also an actress who starred in the movie Triangles and Tribulations (2001). She is well known for her performance in VH1: All Access (2001) and appeared in the 31st Annual People's Choice Awards (2005).
For an in-depth insight into the life of Melissa McKnight here is a wiki-like bio including details about her early life, career, relationship, and family life:
1. Melissa McKnight's Wiki: Started Modeling From Young Age
British-American Melissa Sue Mcknight was born on March 10, 1965, in England. She is an English by birth and an American by nationality as she moved to the US at a very young age.
Discover: Alaina Marie Mathers Wiki: Parents, Grandparents & Net Worth Of Eminem's Daughter
The privy loving former model's initial background including her parents, siblings, and education is off the media.
The gorgeous blonde with blue eyes and perfect physique had everything it takes to be a model. And that is what she really did, starting modeling from a young age. She managed to establish herself as one of the top models of the 80s and 90s where she appeared as the face of biggest fashion mags such as Cosmopolitan, Elle, Vogue, and many more.
Moreover, she transitioned as an actress in the early millennium and appeared in a few feature films.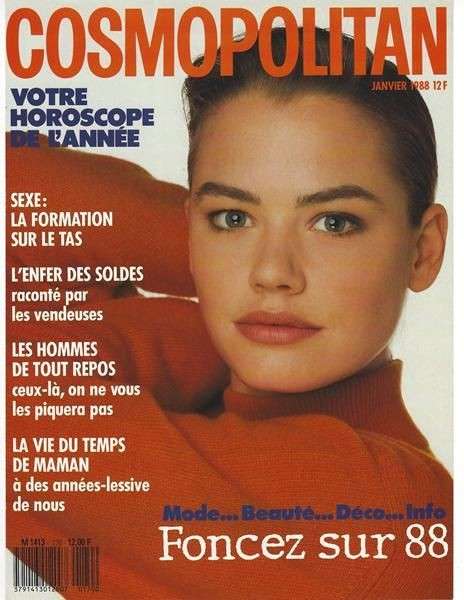 Cover Girl: Melissa McKnight poses as a cover girl for Cosmopolitan Magazine (Photo: Bellazon)
McKnight has profited from all the hard work she put into her career and established herself as a successful model and actress.
​​​​​​2. Melissa McKnight Was Married Before Tying Knots With Friends Star Matt LeBlanc
Relationships don't last forever and a split is inevitable - if there is no effort made by both parties to make it last forever. McKnight has witnessed the aforementioned fact come true having had a first-hand experience of failed relationships.
The pretty blonde was firstly married to filmmaker Anthony Esposito and became the mom of two children Tyler Esposito and Jacqueline Esposito with her husband.
Find Out: Nathan Schwandt Wiki: Age, Dating, Girlfriend, Ex, Brother, Gay & More
Sadly, the marriage didn't last and the couple parted their ways. But the wave of love wasn't over for the attractive lady.
It was 1997 when she met famous womanizer Joey Tribbiani aka Matt LeBlanc from Friends--who had the ability to make any girl stand up and take notice. The gorgeous model met Matt through their mutual friend Kelly Phillips and her husband Lou Diamond Phillips.
The couple quickly escalated in their relationship from dating to engaged in just a year. And five years later the couple were hooked for good as they got married in one of the biggest celebrity weddings in Hawaii. The 150 guest list included Matt's castmates from Friends along with their spouses all clad in a Hawaiian shirt.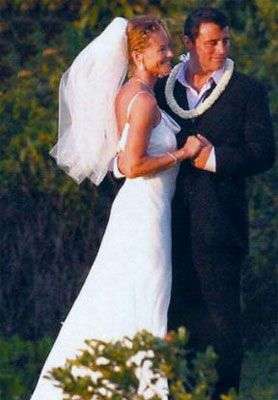 Biggest Celebrity Wedding: Melissa McKnight weds Matt LeBlanc (Photo: Pinterest)
The union was a first for Matt and he was all praises of McKnight for her role in stabilizing her. Speaking to Entertainment Weekly before their marriage Matt stated:
Relationship with McKnight and her children gave me stability. They're great kids. It's been a fantastic experience. I'm very grateful for them in my life. Because before them, I was out at the bars, I was chasing chicks all over the place, I had kind of a reputation.
Any wife would be glad to hear that right?
The happiness of a married life didn't end here for Melissa as they were blessed with baby daughter Marina Pearl LeBlanc in 2004.
3. Melissa McKnight's Daughter Was Diagnosed With Rare Brain Disorder
However, the birth of the daughter was not the start of the couple's happiness, but sadly the beginning of their relationship's downfall.
After 11 quiet months of baby Marina's coming into this world, a sudden incident in the family left Melissa and her husband worried. Their little princess was diagnosed with a rare brain disorder--cortical dysplasia, a congenital problem that brings about seizures.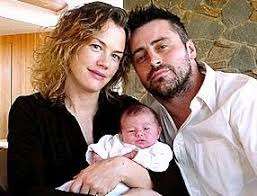 Little Daughter: Melissa McKnight and Matt LeBlanc with their daughter (Photo: WhosDatedWho)
After a year-long treatment, McKnight's daughter became healthier and seemed like the couple had turned pages in their relationship, which was not to be the case.
4. Melissa McKnight's Divorce With Matt LeBlanc
After one broken marriage McKnight had the ignominy of facing similar fate again in her life.
Matt, who had a reputation of being a womanizer, resorted to his old habits of wandering into the bars again. The couple's relationship reached a tipping point when a heavily drunk Matt was spotted groping a stripper at an all-nude club while vacationing with five buddies in British Columbia. Though Matt apologized to Melissa, the damage seemed to have already been done.
However, the final nail in the coffin seemed to be Matt's relationship with his co-star, Andrea Anders.
Melissa, sick of her husband's infidelity and extramarital affairs started having daily brawls with her husband. And Matt fed up of the constant squabbles filed for a divorce in 2006.
The couple waived off any spousal support claims but Matt, who has a net worth of $60 million agreed to pay a monthly sum until his daughter turned 18 years of age. Melissa meanwhile, who herself is believed to have a net worth in millions, decided to do away with her husband's fortunes.
5. What Is Melissa McKnight Doing Today?
After the divorce, Melissa and Matt took a joint custody of Marina. Both of them are looking after their daughter.
Know more about: Sophie Hunter Bio: Married, Children | Who Is Benedict Cumberbatch's Wife?
McKnight hasn't been around in the media spotlight these days. She is protective of her personal life and there is no news in the media of her relationships at all. On the other hand, her ex-husband Matt is currently dating actress Aurora Mulligan.
Though Melissa may not be in any relationships currently as of our knowledge, she definitely has three beautiful children by her side to love and that's quite a blessing!
---