Maya Soetoro-Ng Bio: From Age To Net Worth - Parents, Husband & Facts
her bio also reads as the Director of Community Outreach and Global Learning...Maya Soetoro-Ng is known by many as the maternal half-sister of the former POTUS...Maya found her perfect match and married her Chinese-Canadian husband...It had only been a year of the marriage when Maya and her husband were blessed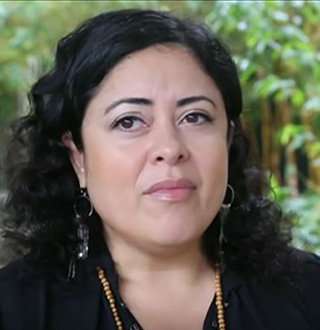 Faculty specialist Maya Soetoro-Ng has never failed to boast about her relationship with her half-brother Barack Obama, but how much does she gush about her family with husband? 
Maya Soetoro-Ng is known by many as the maternal half-sister of the former United States President, Barack Obama. An active philanthropist her bio also reads as the Director of Community Outreach and Global Learning at the Spark M. Matsunaga Institute for Peace & Conflict Resolution.
Bond Of Siblings: Maya Soetoro-Ng talks about her half-sibling, former US President Barack Obama and how he went from a laid-back teenager to a two-term president on BBC News (Published on 6 January 2017)
You May Also Like: David C. Meyer Bio: Married Camille Grammer; What's His Age & Net Worth?
Maya Soetoro-Ng participated in the 2008 Democratic National Convention as she spoke about the Asian-American presence to the stage.
Maya Soetoro-Ng's Bio Reveals Inexplicable Bond With Half-Siblings
Born on 15 August 1970, Maya Kasandra Soetoro was named after American poet, Maya Angelou. She was born to parents, Lolo Soetoro and Ann Dunham in the Roman Catholic Hospital in Jakarta, Indonesia. She follows the religion of Buddhism as she once described herself as 'philosophically Buddhist.'
Maya, age 48, spent many years together with her elder half-brother Barack Obama before her mother (died at the age of 52 to cancer) decided to return to Indonesia. Her father remarried after her parents divorced and Maya was blessed with more siblings, well half-siblings; her half-brother, Yusuf Aji Soetoro and half-sister, Rahayu Nurmaida Soetoro.
Following her graduation from the University of Hawaii at Manoa after receiving a Ph.D. in international comparative education, Maya started her career with different jobs that enhanced her teaching and leading career.
Maya soon started to widen her career paths by consulting and promoting exchange in partnership with the East-West Center as an Assistant Professor at the Institute for Teacher Education at the University of Hawaii College of Education.
Read Also: All About Tammy Rivera: Her Daughter's Baby Daddy, Age, Parents And More
She co-authored a children's book, Ladder to the Moon which was published in 2011; this brought a considerable amount of fortune to her door. Looking at the jobs she has taken to develop herself professionally, there's no doubt that her net worth is calculated in millions.
Maya Soetoro-Ng & Interracial Marriage: Love For Husband Crosses Infinity
As a trilingual who can speak English, Spanish and Indonesian, Maya found her perfect match and married her Chinese-Canadian husband, Konrad Ng in 2003. Her husband is a US citizen carrying a Malay-Chinese descent who is the Executive Director of Doris Duke Shangri La Center for Islamic Arts and Culture in Hawaii.
It had only been a year of the marriage when Maya and her husband were blessed with their first child in 2004; a daughter they named Suhaila.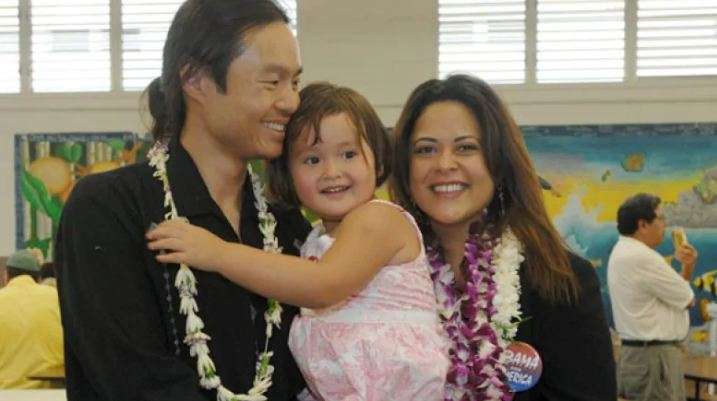 Parents To Princess: Maya poses for a picture with her husband and daughter Suhaila after meeting with Obama supporters in Honolulu (Photo: cbc.ca | May 2007)
Maya and her husband's life was veering in the plain waters after the birth of their first daughter, and the couple's happiness multiplied in 2008. The family of three turned four with their happiness knew no bounds when their second daughter, Savita was born in 2008.
The loved-up couple's daughters were named after the Moon and the Sun respectively.
You Don't Want To Miss: Kristine Leahy Bio: 'American Ninja' Host Has Husband Or Casually Dating?
She keeps the details of her life with husband and daughters in the shadows so, there aren't many pictures of her second daughter. But despite the fact that Maya stays away from using social media sites, there's no doubt that she has done the best job as a wife and mother. 
And while she embraces a beautiful bond with her family with husband, Maya has never failed to maintain togetherness with her half-siblings, along with her nephews and nieces.