Tammy Rivera's Husband Is Not Her Baby Daddy, but He Shares Adorable Relation with Daughter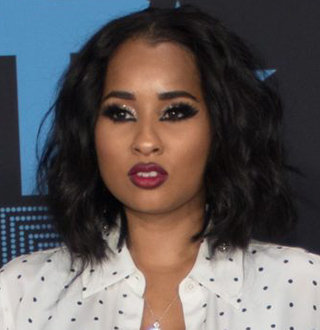 American television star Tammy Rivera's long-time husband, Juaquin Malphurs aka Waka Flocka Flame, is not the biological father of her teenage daughter, Charlie Rivera.
Rivera's daughter was already around six years old, when she first met Floka in Miami back in 2011. The presence of her child didn't matter in their relationship as they started dating.
Three years after, in 2014, they married legally with no traditional ceremony. The love-birds agreed to renew their vows through an extravagant ceremony if their marriage lasted until their fifth anniversary.
As projected, their marriage touched the five-year mark — although the pair had a brief break-up in 2016 because of Waka's infidelity. Recovering from the incident, Rivera and her husband renewed their wedding vows through a traditional ceremony at the beach in Mexico in January 2019.
The Love & Hip Hop Atlanta star donned a white gown from Zuhair Murad's 2018 bridal collection and coupled it with a 5-carat diamond ring and 3-carat wedding bands. Her husband was clad in a white tuxedo and a matching red bow tie and shoes.
Rivera's daughter, 15, also attended the wedding and shared the joyful moments with her parents.
Read Also: Angel Brinks Wiki: Age, Baby Daddy/ Husband, On-Off Boyfriend & Facts
Daughter's Relation with Baby Daddy And Husband
Rivera's baby daddy is Brian Williams. Before tying the knots with Waka, the 34-years-old was in a relationship with Williams and gave birth to her daughter, Charlie, on July 1, 2005.
From what's apparent in Williams' Instagram, Charlie spent her early years with both her father and mother after their separation. She can be seen going to the beach and spending fun times with her biological dad.
However, her step-dad became the ultimate father-figure in the coming days.
Though not biological, Waka raised Charlie as his own. He even tattooed Charlie's face on his arms. Rivera was quick to share her happiness through an Instagram post. The TV star of mixed ethnicity uploaded a picture of the tattoo. Then in the caption, she stated that calling her husband "a stepfather" would be an insult as he showered selfless love upon their daughter. 
The father-daughter duo melted hearts with their relationship when they performed a salsa on Charlie's Quinceañera, a celebration of her 15th birthday.
Before the Quinceañera, Charlie had asked her parents if her girlfriend could escort her to the party. Her parents, especially her stepfather, approved and supported her choice.
The everyday life of the Rivera's family is chronicled on the Television series, Waka & Tammy: What The Flocka. Before this, their relationship was featured on WE TV's Marriage Boot Camp and Love & Hip Hop: Atlanta.