Here's Joey Chestnut's Earning, Impressive Eating Records & 2018 Net Worth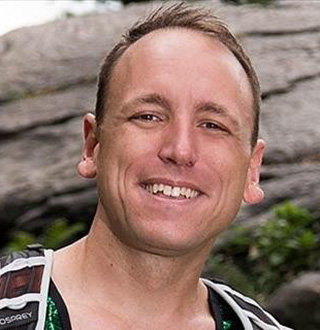 So, you think you can beat Joey Merlin Chestnut in Nathan's Hot Dog Eating Contest? Okay okay, you might as well beat him on eating gig. But you'll have a hard time bringing him down if you are to compete against his millions net worth- maximum of which are earnings for eating.
The competitive eater rose to recognition after winning Nathan's Hot Dog Eating Contest eight times in a row. This particular eating contest is held every year on 4th of July as a celebration of America's independence day. He has been the longest runner in the competition with the maximum win. And he kept up the victory by winning 2018' contest as well.
Eating His Way To Victory: Competitive eating legend Joey Chestnut gets an epic introduction and then breaks his own record by eating 74 hot dogs for his 11th career title (Published: 4 July 2018)
Read Also: Shay Mitchell Responds To Gay/Lesbian Rumors | Boyfriend Status At Age 31
The American native's appetite is not only for the hot dogs. He entered in the competition for the first time munching down on deep-fried asparagus. He has set records for eating chicken wings, burritos, doughnuts, apple pie, gumbo, poutine, hamburgers and you name it.
Joey Chestnut's Bio (Age): Left Job To Eat
Joey was born on 25 November 1983 in Fulton County, Kentucky to parents Merlin Chestnut and Alicia Chestnut. He is currently of age 34, but he'll soon celebrate his 35th birthday in November of 2018. And if he throws a birthday party, it is likely that he'll devour all the cake by himself.
The eating pro was not born to be an eater. He has a degree in civil engineering from San Jones State University, and before dedicating his full time for eating competitions, he used to receive earnings from a job in construction management.
Having landed in eating gig in 2005 while he was still an engineering student, he decided to hold on to it, and in 2011 he quit his job to become a full-time eater. The quit is justified for all the genuine reasons as he is paid for eating and seemingly he counts frequent earnings as the winner of several eating competitions.
Joey Chestnut Found Eater Girlfriend Who Nearly Turned Into Wife
It's not a big surprise that the food lover would love a woman who loves food as much as he does.
Don't Miss: Nolan Gould Defying Gay Rumors? Modern Family Star's Dating & Girlfriend
Well, guess what, he came across fellow competitive eater Neslie Ricasa, and after a few years of dating he popped the proposal on the set of 2014 Nathan's Hot Dog Eating Contest.
The event turned into a winner-winner hot dog dinner for him as Neslie accepted the proposal to be his wife and he won the competition that year.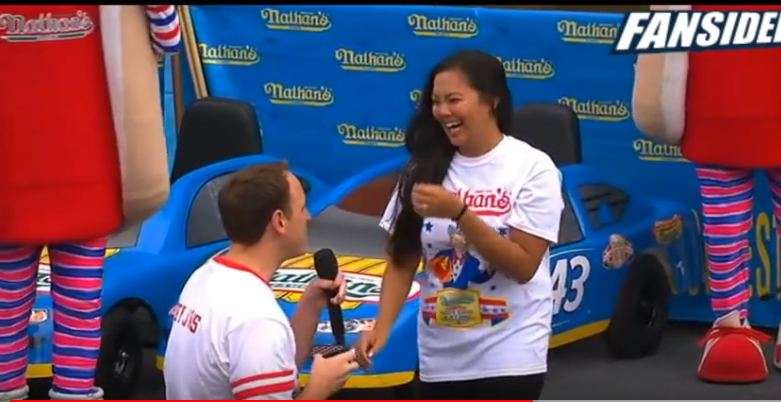 Will, You Be My Wife: Joey Chestnut proposes to his girlfriend before Nathan's Hot Dog Eating Contest on 4 July 2014 (Photo: Youtube)
Perhaps the engaged duo couldn't love each other as much as they loved eating. Their engagement was doomed for good a year later months before their wedding schedule.
Joey's promise to return back to engineering once he has a family with a wife is yet to be fulfilled as he remains single till 2018.
Joey Chestnut's Impressive Eating Records & Net Worth
It's not easy to beat Joey in eating competitions. If he loses, it has to be his bad day.
Joey has the record of the longest winning contestant in Nathan's Hot Dog Eating Contest except for the first two years in the competition and in 2015/16. But he defended his position in 2017 with a record of gulping 74 hot dogs in ten minutes.
You May Like: David C. Meyer Bio: Married Camille Grammer; What's His Age & Net Worth?
Besides, he has a record of eating 182 chicken wings in 30 minutes, 141 hard-boiled eggs in 10 minutes, 183 hamburgers in 8 minutes among many others.
He relishes a hefty net worth of $900 million, most of it accumulated from earnings as eating contest winner. The salary from his engineering job has hardly contributed to his millions of net worth.
---