Here's How James "Bobo" Fay Dispelled Cancer Rumors after Sudden Weight Loss
It wasn't cancer!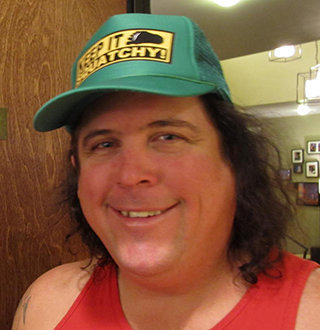 Quick Information
Date of Birth

Apr 16, 1961

Age

62 Years, 5 Months

Nationality American
Birth Place

Manhattan Beach, California

Profession

Actor

Relationship Status

Single

Girlfriend

Not Known

Net Worth

Not Disclosed

Ethnicity/Race

White

Height/ How Tall?

6' 4"

Hair Color

Blonde

Eye Color

Brown
James "Bobo" Fay turned heads when he underwent a sudden and alarming weight transformation circa 2016. The sudden loss of his weight was accompanied by his clean-shaven head, which seemed to result from hair loss.
Because of the swift change in weight and hair, many of his fans and followers showed concerns and suspected if he had cancer. The bigfoot Finding Bigfoot, thankfully, addressed the rumors and clarified all doubts and queries through a Facebook post.
Weight Loss Resulted from Diet Control
All the viewers of Finding Bigfoot were accustomed to seeing Fay in his chubby, somewhat overweight body and his long, shoulder-length hair. His stout persona was something that had its own identity. 
So it was more than natural for his followers to worry after he came up to the screens with a different look — extremely reduced weight and a clean-shaven head. He was almost unrecognizable. So much so, many suspected if he had cancer and lost his hair to chemotherapies. 
However, the sudden change wasn't because of any health adversities. The television star addressed his fans' queries in a Facebook post dated January 15, 2017.
Stating that he had been questioned about whether he was going through cancer because of the weight loss, the TV personality asserted that the weight loss had to do nothing with health issues. He clarified he lost so much weight because of his change in diet. He had cut out soda, candy, pizza, and baked goods while exercising four to six days a week. 
While the post clarified that his weight loss was not an effect of illness but his choice, he posted another status the same day to clear up confusion invited by his shaved hair.
He explained the shaving was just a hairdo after getting irritated by his long hair blowing in his face in the winds. He also mentioned that after his friend Tin Tin helped him shave it, only one person could recognize him, despite traveling through four major airports.
At the end of the message, he also mentioned that it was weird but still nice to be unrecognized by people in public.
Discover: Gator Boy Paul Bedard Wiki: Getting Married? Answer To His Valentine
Continues Research Even after 'Finding Bigfoot' Ended
Bigfoot, also called Sasquatch, is a creature that Fay always had an interest in. From an early age, he was determined to find more about the creature. So he started investigating Bigfoot sightings in faraway zones of the country from his teenage years. 
Getting my presentation together right now. Bring a mask and have a good time if you don't have any health conditions which would make it too risky for you. https://t.co/REGvxsv8hU — James Bobo Fay (@squatcher) July 18, 2020
To get acquainted with the territory, he even took up jobs of building roads and commercial fishing in Northern California. His determination to locate the beast fortified when he admittedly saw a sasquatch in 2001 during an investigation with veteran Bigfoot researcher John Freitas. 
Then, he joined Animal Planet's show Finding Bigfoot in 2011.
More From Finding Bigfoot Cast: Cliff Barackman Bio: Happily Married To Wife No.2 | Net Worth At Age 47
He continued to research through the show until the program got canceled in 2018. After the show, he started commercial fishing out of Eureka, California, and performed any job that would let him know more about the creature and its sightings.