Erwin Bach Wiki: Husband To Tina Turner - Age, Job & Sacrifice For Love
Erwin Bach is a music producer and actor by profession who is famously known as the husband of the rock and roll diva Tina Turner...The couple met at EMI record label party in London...But the hopelessly in love Bach only married Turner after 27 years of dating...

German Music Producer Erwin Bach didn't gain fame just off of his career but indeed by marrying the queen of rock and roll. Bach's love for his wife is an epitome of selfless love and gives us serious couple goals in this era.
Erwin Bach is a music producer and actor by profession who is famously known as the husband of the rock and roll diva Tina Turner. He is a record label executive and fronts up as the MD of EMI group Switzerland.
Here is a wiki-like bio of Erwin Bach including his age, net worth, job, and married life:
1. Erwin Bach Wiki Featuring His Age, Job, & Birthdate
Bach was born in Cologne, Germany, to parents of Caucasian origin. His exact birthdate has been listed as 24 January 1956, which makes him 62 years of age now.
Find Out: Karl Cook Wiki: Kaley Cuoco Horse Rider Beau's Net Worth, Job | Details
His childhood and educational background are unknown but he is said to be a work-oriented person from a young age. He worked hard to achieve what he has today.
Young Bach's first job of his long and chequered career was as a music producer and executive in an unnamed record company. After his stint at the record company, he served as the managing director of EMI Records Germany.
His job in EMI took him from Germany to Switzerland and served with EMI in a similar capacity with the EMI Recorded Music, Switzerland. He is the man behind the curtains who is responsible for the success of artists like Pink Floyd, Paul McCartney, Pet Shop Boys, Queen, Radiohead and his wife Tina Turner.
Oprah's Next Chapter: Erwin Bach chats in an interview with his wife on Oprah's Show (Published on Aug 26, 2013)
The musical genius is also an actor and has appeared in Maldito Amar: Demasiado (1999), and 60 Minutes (1968). His other TV appearance includes Oprah's Next Chapter, where he and his wife detailed about their life and times. 
2. Erwin Bach Married Tina Turner After 27 Years of Dating
Despite being an established music producer and having been the brain behind the success of big rockstars, he is most popularly known as the husband of Tina Turner.
The couple met at EMI record label party in London in 1985 and since then have been head over heels in love with each other. The dating couple moved to Switzerland in 1994 for Bach's business and his wife officially became a Swiss citizen in April 2018 after giving up her American passport.
Discover: Steve Darnell Bio: Age, Wife To Darnell Family, Net Worth & Explicit Facts
But the hopelessly in love Bach only married Turner after 27 years of dating. That's quite a long time but in an interview with Oprah Winfrey in 2006 his wife Tina gave the perfect explanation for it:
I have love. I have a good life. I don't need to interfere with that. For some people, marriage means "You're mine now." That can be the beginning of the failure of a relationship. Psychologically, something happens when someone says, "You're my husband or wife. You can't do this or that." It's about ownership. That freedom that two people loving each other and wanting to be together – and being able to leave if anything is wrong – is gone.
She further added that she never felt the urge to get married. She added that she was very happy with her relationship and did not want to get married just to please a random person, 
Neither Erwin nor I feel the need to get married. We've been together for 18 years. What would marriage give me that I don't already have? Marriage would be about pleasing the public. Why do I need to please the public if I'm already pleased?'
His wife Tina was previously married to Ike Turner and faced abuse and violence in the relationship. Tina divorced with her abusive husband citing violent behavior. She has two children from the first wedding Raymond Craig and Ronnie Turner and divorced in 1976. 
3. Erwin Bach Had A Lavish Wedding With Tina Turner
After 7 years of the famous interview with Oprah, Erwin and Tina had a change of heart as news about their marriage surfaced in and around the news in July 2013. 
And true to the news, the two musical talent indeed tied the knot of love in a lavish style on 21 July 2013 at Lake Zurich in Switzerland.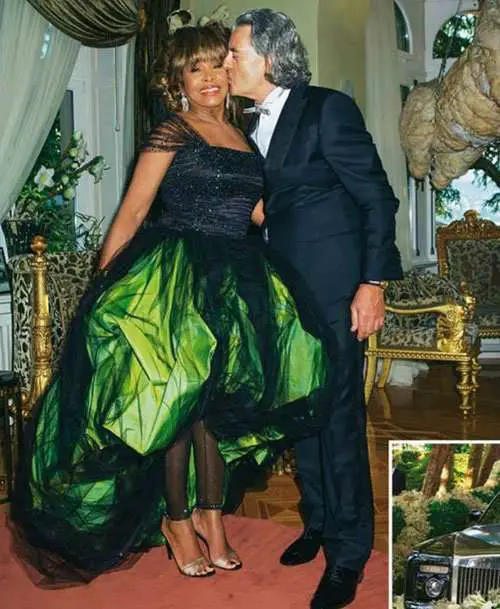 Wedding Day: Erwin Bach poses for a picture with his wife on the wedding day (Photo: Weddin Digest Naija)
His wife was dressed in a striking green taffeta and black silk tulle Giorgio Armani dress for the wedding. The wedding was joined by A-list celebrities such as Bryan Adams and David Bowie.
Despite Bach being 16 years younger than his wife, who is currently 79 years of age and celebrates her 80th birthday this November, they have proven that age is just a number when it comes to loving someone wholeheartedly.
The couple has been together for more than 3 decades and age was just a number back then when they decided to date and it is still a number now. 
4. Erwin's Net Worth Pales In Comparision To That Of His Wife, Tina Turner
The couple is currently rejoicing their days in their home in Switzerland, with family and love taking a front seat and career taking a back seat. And the couple does get to enjoy after such a fulfilling career in every sense. 
With the recognition and fortune he gained off of his career, Erwin has a total net worth of $50 million dollars. Being an established music producer his estimated salary stands at around $70,000- $1 million dollars. However, his net worth is dwarfed by that of his wife. His wife Tina Turner has a net worth of $250 million dollars, five times more than that of her husband.
5. Erwin Bach's Sacrifice For Love: Donated Kidney To His Wife
Marriage is a sacred bond and it comes with compromise, commitment, and sacrifice. Tina became a Swiss citizen for her husband likewise Bach too did something really big for her.
As his wife suffered from a kidney disease in 2016 she needed a kidney transplant. And in that moment of need, the longtime partner turned husband Erwin donated one of his kidneys to his beloved wife.
Know about: Ryan Kwanten Gay? Wife-Like Game Changer Girlfriend Is The Answer
His wife also expressed thankfulness towards his sacrifice in an interview with Time:
It shocked me that he wanted to give me one of his kidneys. I was overwhelmed by the enormity of his offer.
In this 21st century of break-ups and divorce, Bach's selfless sacrifice for his wife seriously gives us hope that true love still exists.