Chris Plante Biography Reveals: Married Status, Salary & Never Known Facts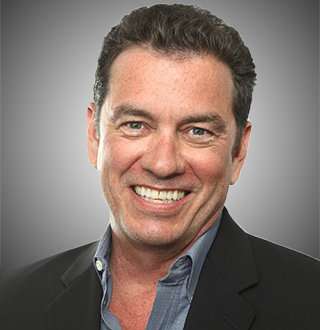 Chris Plante's land in the media and radio industry was nothing but the result of a fortunately unplanned take-off. Despite being a media person, he is very secretive about his love life, but the radio host once shared a picture with a woman who might hint to his possible 'someone special.'
The radio talk host is most prominently recognized for his The Chris Plante Show on WMAL Radio in Washington D.C and can be heard on the Westwood One Network.
Live Radio Show Host On The Fox News: Chris Plante makes a guest appearance on FOX News covering news on White House (Published on 11 October 2018)
Prior to being a radio host, he is also a frequent guest on both Fox News Channel and Fox Business. He also hosted his own program on The American Life Television Network.
More on Radio Show Hosts: Dori Monson, Life Of A Rich Man; Show, Salary, Wife & Family
For his excellent reporting from Pentagon during 9/11 he received the Edward R. Murrow Award from the Radio Television Digital News Association (RTNDA). He is also the recipient of the Reed Irvine Award for Excellence in Journalism (2015).
Chris Plante Biography Reveals Age, Family Life & Education
The currently 59 years of age, Washington D.C. resident was born on 1960 as one of the six sons to parents Jules Orteig and Barbara Barnes Orteig Plante. His father died of a heart attack in 1960. And after that, his mother, who died of lung cancer in 2001, married Bill Plante.
As of his education, he graduated from the University of California, Santa Barbara in 1982.
When it comes to the radio and media industry, his career in it is highly influenced by his family. He even calls himself a "third-generation media person."
His grandfather Pat Barnes worked as a radio and TV shows newsman/host for four decades. While his late mother worked on Mutual Radio's morning and as a host for Milwaukee TV station's morning show, his father covered business news for U.S. News & World Report.
He also has a stepfather named Bill Plante who is a CBS correspondent and anchor. Coming to his brothers, Mike is a senior producer at Fox News, and Dan is a TV anchor in San Diego.
Chris Plante Served CNN For 17 Years Before Joining WMAL -- Salary Reveal
Moving onto his career, he never wanted to work in the news business but somehow ended up in it! His first job in the media was as a courier for CBS, where the referral of his stepfather hired him.
You May Want To Know: Sean Hannity, 'Hannity' Show Host's Net Worth & Salary, Among Richest!
But the big break took in his career only took place when he worked for CNN in various positions as Pentagon Correspondent, Senior Producer for National Security Affairs, Military Affairs Producer and as an assignment editor serving 17 years.
After CNN he joined WMAL team as a live talk show host for The Chris Plante Show. His live show is a political-themed show which consists of humor mixed with sarcasm, intellectuality, and information along with the discussion of breaking news. You can listen to the show from Monday – Friday live at 9 am – 12 pm Eastern.
With that, he is estimated to earn an average salary of $74,650 yearly as a radio show host.
Is Chris Plante Single or Married With Wife?
When it comes to his love life, his relationship status remains unknown to the public and whether he is married to a wife or single is a mystery!
But having crossed the golden age of 50, the handsome and smart Plante might definitely have had some romance cooked up once in his life. And following the topic of romance, the secretive Chris once on August 2017 shared a picture on Facebook with a beautiful lady at Riga, Latvia.
See More: Anthony Cumia Cheated On Ex-Wife; Radio Show Host Bad To Girlfriend Too
He referred to the lady as his BEST GIRL! Who calls a beautiful lady 'best girl' unless she happens to be your best friend or WIFE OR LOVE INTEREST! This tag to the woman stirred up several speculations about his romance with the lady!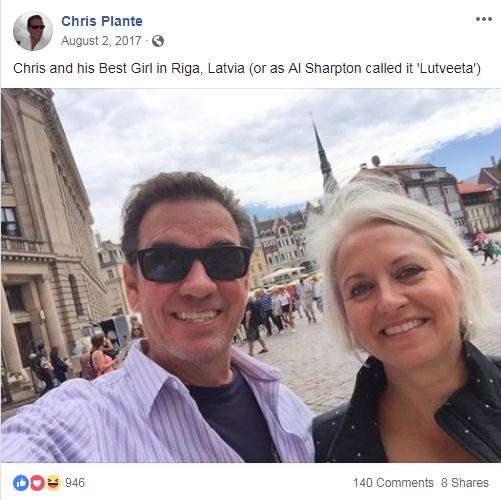 Wife or Just a Friend?: Chris Plante with his best girl in Riga, Latvia (Photo: Chris Plante's Facebook)
However, Chris hasn't given any statement or confirmation to the speculations on this possible relationship or love interest.
But with his escalating age of 59, he probably might be married to someone special which is yet to be known to the public!
---