Chanel West Coast Is Trying to Find a Husband — Inside Her Personal Life

Quick Information
Date of Birth

Sep 01, 1988

Age

35 Years, 3 Months

Nationality American
Birth Name

Chelsea Chanel Dudley

Profession

Rapper

Birth Place

Los Angeles, California, United States

Relationship Status

Single (2021)

Net Worth

$3 Million

Father

DJ Jamie Dudley

Mother

Jamie " Penny Porsche " Dudley

Hair Color

Brown

Eye Color

Black

Tattoo/s

Yes
Chanel West Coast is a popular rapper, singer, actress, model, and television personality who came to prominence after her appearances in MTV's Rob Dyrdek's Fantasy Factory and Ridiculousness.
Get along to know more about the alluring artist, including her personal life, and bio!
Is Chanel West Coast Dating a Boyfriend in 2021?
The talented rapper, Coast, is single presently, if we go by a statement, she shared during an interview with BroBible magazine in April 2021.
In the interview, the MTV star talked about marriage and her willingness to find a suitable husband for herself.
She stated, "It's so crazy, I'm like, 'I do not want to make an OnlyFans, I'm trying to find a husband. The last thing I need is a f****** OnlyFans link in my bio," after she was asked about her OnlyFans dilemma.
"But I think that doesn't even matter these days because it seems like these types of girls are getting married before me," Coast added.
Those statements clarify that the rapper is seeking a perfect soulmate apart from fans and fame. And if she already had one, she would not be making such statements.
In addition to that, her Instagram account, where is updates her daily life, lacks the presence of any man, too.
All that being said, Coast previously dated musician Liam Horne from 2014 to 2017. The former couple also collaborated on the album titled 'Waves' in August 2015.
However, their relationship didn't last long, as they separated just before Coast joined the TV show Love & Hip Hop: Hollywood.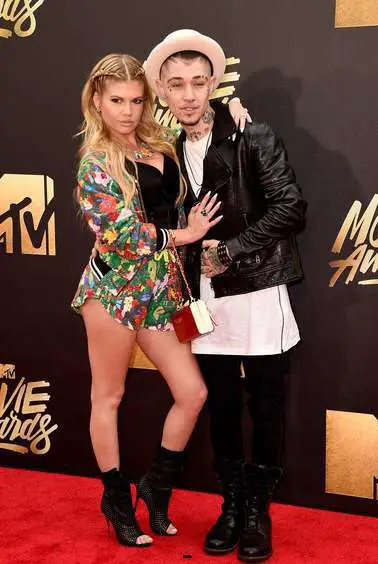 Chanel West Coast and her ex-boyfriend Liam Horne on a red carpet of MTV Movie Awards at Warner Bros back in 2016 in Burbank, California. (Picture: zimbio.com)
Besides Horne, the 'America's Sweetheart' musician had a boyfriend named Saul, who was shot and killed on December 7, 2007. 
My ex boyfriend Saul was shot and killed on December 7, 2007. Today he would have been only 24 years old. RIP Saul. I'll always luv u!  — Chanel (@chanelwestcoast) March 12, 2010
Coast has also been linked to fellow Love & Hip Hop star Solo Lucci, and entrepreneur and reality TV personality Rob Dyrdek, in the past.
Gender Conspiracy: Chanel West Coast Is Not a Boy 
The side-by-side picture of Chanel West Coast and actor Lee Norris, who played Minkus on the sitcom Boy Meets World, was viral on the internet with the captions suggesting they're the same person.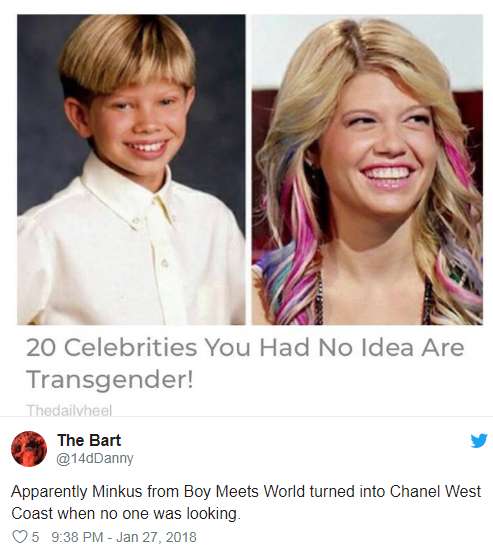 A picture posted on Twitter comparing Chanel with Minkus and mentioning them as the same person. (Picture: intouchweekly.com)
Whether in the form of a meme or headlining a story related to the transgender community, it's nearly impossible to ignore such topics. That picture sparked rumors that Coast was a guy before her Love & Hip Hop: Hollywood and MTV days.
But later, she cleared out all the rumors in an interview with In Touch, where she mentioned that she was going through a legal situation to try and get all of that offline because it's technically defamation of character if one labels her as transgender.
Coast also took to her Twitter on June 22, 2016, to deny all the rumors question her gender.
She wrote, "I got news for all these dumb sites posting that ad saying I'm transgender and used to be minkus...you got a BIG lawsuit coming your way lol."
Her Short Bio
Coast was born on September 1, 1988, in Los Angeles, California, USA. Her birth name is Chelsea Chanel Dudley.
She initially went to Taft High School. However, after studying for two years, she dropped out and instead took the homeschooling route to complete her high school studies.
Growing up, she spent her time living between North Hollywood with her mother and New York City with her father. Her father was a hip-hop DJ and used to take her to nightclubs throughout the city as a child while her mother was a salesperson.