Chanel West Coast Fights Back Plastic Surgery Rumors and Trolls
Reality Star Chanel West Coast continuously denies plastic surgery accusations.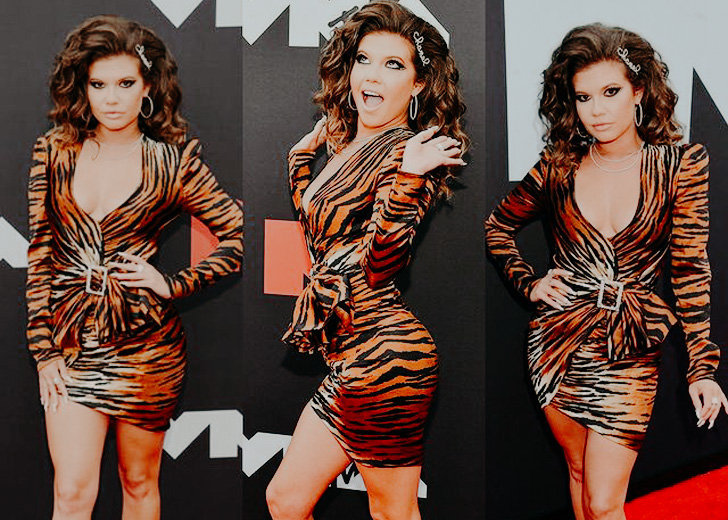 Reality TV star and burgeoning rapper Chanel West Coast constantly finds herself on the receiving end of haters who allegedly pollute her social profile comment section. However, she takes all that in stride and claps back at her haters. 
Having said that, she also has the love and support from her loyal fans who help her fight the trolls. 
Confronts Plastic Surgery Accusations
With the fame that MTV's Fantasy Factory and Ridiculousness brought her, Chanel West Coast also started getting negative comments. The recognition seems to have opened up some pandora's box as trolls became a constant part of her life. 
There were several instances when the rapper had to fend off unwanted commenters in her profiles.
The hate started since she started using social media. But to speak of recent events: In July 2019, she posted a video of her twerking but one troll wasn't particularly impressed with that and bad-mouthed at her character. 
The person wrote, "So sad...will never have a man who really respects you." The hip-hopper fired back, writing, "every other [expletive] who poses with their [expletive] out got a man. So [expletive], you frigid [expletive]. I'm an amazing woman, and twerking in my living room has nothing to do with what type of man I will find."
Then, in August 2019, a particular troll commented on her sultry crochet one-piece suit. The troll commented something completely unrelated to the photo at hand and instead made fun of her signature laugh. 
The rapper took a dig back at the troll and stated that only mean people disliked her laugh.

Chanel West Coast claps back on her laugh comment. (Photo: Instagram)
Although the rapper's laugh has come under scrutiny, it has become her signature trait over the years. 
In December 2019, one troll took a side dig at her and commented on what had really been on everyone's mind since she took to fame.
The said commenter complimented her while taking a dig at her possible plastic surgery at the same time. The cheeky comment was, "I love what the lip fillers did to your lips." This Immediately prompted a reply from the singer. She admitted she had no lip fillers with a laughing emoji. 
This was a confrontation with the plastic surgery rumors that the rapper had been on the receiving end for quite some time. But that didn't bother her, and she replied in polite terms that what she had was all-natural and hinted that there was no plastic surgery involved. 
Know About Her Personal Life: Chanel West Coast's Boyfriend, Gender, Real Name Revealed
Does Not Understand The reason after Hate
Being the victim of constant harassment from online trolls has made her strong, to say the least. Regardless, the constant criticism and online bullying would take their toll on any celebrity. 
In an Instagram story, the rapper came out in public regarding the trolls she received. She said she was the nicest to everyone and stated she didn't understand why she got the negative comments.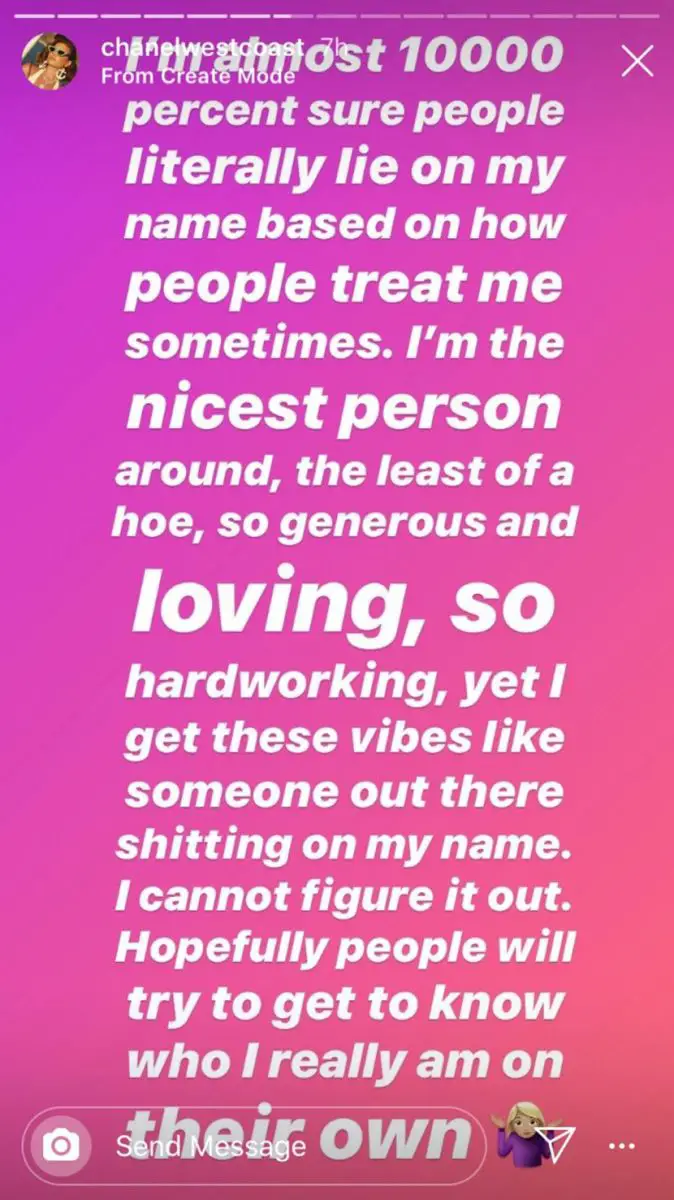 Chanel West Coast talks about the hate comments (Photo: Instagram)
This wasn't the first time that she came to share her grievances with the public. Previously, through an Instagram story, she had shed light on the reason for her grievances. And she mentioned that even celebrities - who weren't too fond of her - took the time and effort to take a dig at her. 
Literally some of the most famous, influential people are SO nasty and hypocritical in real life. If only people knew who they were idolizing.
Ending her message, she maintained that anyone who spewed hate to any other human being should never be idolized.
Her Loyal Fans Are by Her Side
Coast is not alone in her fight with her trolls. Like any celebrity with a good heart, she has some loyal fan following who are more than happy to stand by her side and give their solacing words.
Regarding her above-mentioned August troll that took a dig at her laugh, one fan said in support, "The laugh should be trademarked."
Another added, "Personally love her laugh. I literally wait for it. The videos aren't honestly even funny unless @chanelwestcoast is laughing IMO." Another fan even commented that her laugh was genuine and contagious. 
Then in a December 2019 post of her interview with rapper Blueface at Rolling Loud, one rude commenter wrote she had "zero class" and even "less cash." One of her followers came to the rescue and pointed why he was following her despite having a low opinion of her. 

Chanel West Coast slams newbies in the music industry. (Photo: Instagram)
Despite all the shades thrown at her, Chanel holds her head up high.
One reason being her fans' every green support. And another is that she is a humble person. She started working since she was 15 years old and grew up with a single mom. She shared the fact when one of her trolls took a dig at her family.