Get to Know Brooke Ence a Bit More Intimately — From Personal Life and Career to CrossFit and More
Know everything about American fitness trainer and actress Brooke Ence.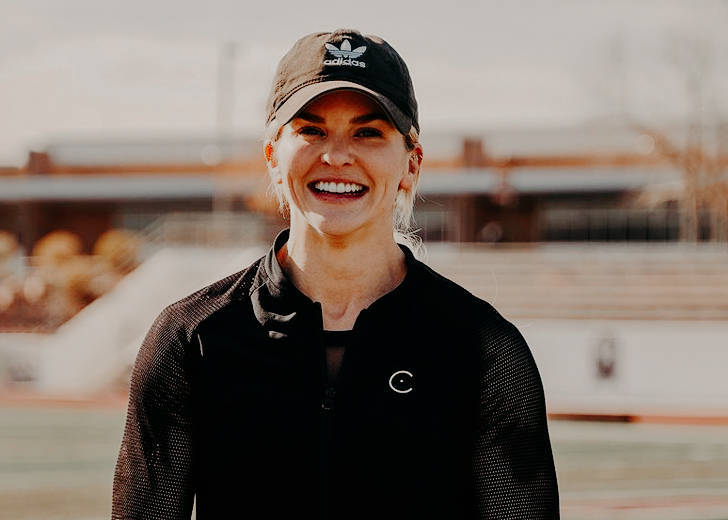 Brooke Ence is an American fitness trainer and actress who gained fame after she qualified for the Reebok CrossFit Games in 2015.
Since then, she has created several records at CrossFit Games and subsequently beaten her own personal records time and again. Her success journey has also seen her develop her own Naked training program, overcome an intense spinal injury, and blend into the entertainment industry as an actress.
Today, Ence is considered one of the most accomplished CrossFit athletes, with over a million fitness enthusiasts following her on her social media.
Brooke Ence's Bio: Age, and Family
Ence was born on August 10, 1989, in Califonia, USA. Her birth sign is Leo. She studied modern dance at the University of Utah.
She is the youngest daughter of four. Her three siblings include a brother, Cody Ence, and two sisters, Lacey Naylor and Robyn Collins.
Her Siblings:
Brooke often posts pictures with her siblings on her Instagram and expresses her love for them.
Not just her siblings, but the aspiring actress also adores her siblings' children and usually shares snaps with them. 
In March 2021, she posted a picture with her niece and expressed that she wanted to see her family members have great life experiences, opportunities, and wealth.
She further added that she wanted to be "the example that my nieces and nephews need to push themselves towards their work."
Her Parents:
Speaking about her parents, Tracy Ence is Brooke's mother. However, the athlete is yet to reveal her father's name. That being said though, she is equally expressive about her feelings towards both her parents.
The Wonder Woman star occasionally shares snaps of her parents and thanks them for giving her a beautiful life.
The CrossFit athlete is also often spotted going on hikes with her father.
The Ence family resides in Utah, a state in the Mountain West region of the United States.
Career: From Professional Dancer to CrossFit Athlete
"I heard about a CrossFit gym in southern Utah, so I went and tried it out. It was awesome, totally kicked my butt," Brooke told Parade magazine in August 2019, while speaking about her shift from dancing to CrossFit.
She added, "I had been a dancer all the way through college, so I was using [CrossFit] to prepare for this new type of role. I knew that [CrossFit] was initially intended to help people get stronger overall, but I also knew people were using it in conjunction with their standard training to get better within their specific sport."
Afterward, her perception of fitness changed and she eventually got involved in CrossFit.
"It changed the way that I approached fitness because prior to getting involved in CrossFit, I only knew conventional training," she disclosed.
I really liked that CrossFit incorporated movements through all the body planes and used different modalities to do so.
In 2012 she was the 1613th CrossFit rank worldwide (in open individual women). In 2015 she became the 19th CrossFit rank worldwide [13th in the United States].
However, her journey slowed down in 2017 after she started suffering from significant wear and tear on her shoulders.
Her injuries either required a major surgery, which would have taken her away from CrossFit competitions, or an investigational treatment, which was basically a plethora of stem cell injections.
She chose the latter to be able to train and participate in regional competitions at least.
Today, she offers workout routines, tips and tricks, and personal plans via her Naked Training Program to push aspiring fitness geeks closer to their dream of having a healthy physique and make it to The CrossFit Games.
She shared her daily routine in an interview with Parade,
I travel a lot, so depending on what's going on when I am out of town my days vary greatly. Typically, when I am at home, my mornings start out very early.
"I usually catch up with my assistant in the afternoon and talk about current business and projects and what is on the horizon," she added, while further stating, "My afternoon and evenings are usually "me time" or time with my friends. We really enjoy cooking or going out to eat."
Work as an Actress
In addition to dancing and CrossFit, Brooke is also an actress. She made her debut with 2017's hit movie Wonder Woman, portraying the role of Penthiselea. The DC Comics cinema also starred actors such as Gal Gadot, Chris Pine, and Robin Wright.
In the same year, the CrossFit athlete also appeared in another DC Comics release Justice League, continuing her same role.
Brooke was initially approached by director Zack Snyder for the role after seeing her pictures online in 2015. The actress told People magazine, "[Director] Zack Snyder had come across a picture of me online and asked Warner Bros. to reach out."
It took me a little while to accept [the role] because I wasn't sure it was going to be worth disrupting my career. I was training for the World Finals of the CrossFit Games, but I ended up accepting it. It was a natural thing for me to do Wonder Woman as well after doing Justice League.
Her Net Worth
Brooke achieved great heights as a CrossFit athlete and actress. Because of that, she has amassed a healthy net worth.
The CrossFit winning amounts, several sponsorships, advertisements, and acting salary act as the main sources of her income.
In addition to that, she is also an entrepreneur, owning her own Naked training program.
However, Brooke has not publicly disclosed her net worth figures.
Personal Life: Divorced With Husband Marston Sawyers
Brooke and film director Marston Sawyers, who were together since 2007, officially divorced on June 26, 2020. They filed for divorce at the Superior Court of Santa Cruz County in California on March 27, 2019.
The news of their separation shocked many people as it came out of the blue.

Brooke Ence and Marston Sawyers' wedding picture in 2014. (Photo: Girls With Muscle)
Since starting to date in 2007, they grew their relationship and career together — Ence competed at CrossFit events while Sawyers made  CrossFit's post-production shows.
They eventually started living together in Santa Cruz in 2012. And later, got married as well.
After the divorce, Brooke released a statement through her YouTube channel, saying that going through a divorce was a very emotional and personal matter for her.