Where Is Adam Richman Now? Married Man Or Still Dating? Facts Revealed
Adam had been laying it low for...he wasn't the one to hide away himself from the...quickly covered his time on a new...hasn't shown interest in doing any...he had torn his hamstring doing a split on...mentioned his apparent ex-girlfriends once or twice on...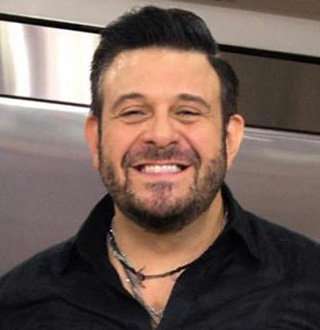 Television personality Adam Richman made a huge name through relishing unique menus of different restaurants on his show, Man v. Food. But since the show has dissolved for years now, people are wondering what he is up to today.
Adam Richman is a television personality who gained massive recognition after hosting the show, Man v. Food on the Travel Channel. He's also known for hosting The Burger Show alongside Alvin Cailan.
Biting It Off: Adam Richman and Alvin Cailan try burgers ranging from $23 to $295 on The Burger Show (Published on 6 February 2018)
Adam is also an author whose book, America the Edible: A Hungry History from Sea to Dining Sea was released on 9 November 2010 by Rodale Publishing.
Adam Richman Carries Immense Net Worth Through Eating & Hosting
Born on 16 May 1974, Adam Richman was raised in the Sheepshead Bay neighborhood of the borough. He got his undergraduate degree in International Studies at Emory University and got a master's degree from the Yale School of Drama.
You May Also Like: Carter Jenkins Wife & Family | Is He Gay? Is He Straight? All Answers
Adam, age 44, started his acting career with guest roles on All My Children, Guiding Light, and Law & Order: Trial by Jury. But being a self-educated food expert and a trained sushi chef, his career took a swerve when he started appearing on Travel Channel's Man v. Food where he faced off eating challenge at restaurants from all over America.
As the show demanded him to overeat, Adam would exercise twice a day while on the road and sometimes, even avoided eating the day before a challenge. He soon retired from competitive eating making Man v. Food Nation the final season and lost 60 pounds (27 kg) after exiting the show in January 2012.
He returned to the screen in 2014 as the host of the NBC game show, Food Fighters. And he became one of the judges on the British television series BBQ Champ which was hosted by Myleene Klass and aired on ITV.
So it should come as a surprise to hear that Adam carries an estimated net worth of $10 million. Let's not forget to mention that he earned $35 thousand per episode when he appeared on Man v. Food.
Adam Richman's Not-so Clear Married Life With Mystery Wife
Unlike his professional life, Adam's dating life is kind of a blurred line. He has never once been seen with anyone that could spur up rumors regarding his possible girlfriend. Well, he has mentioned his apparent ex-girlfriends once or twice on Twitter. But he didn't bother to reveal the identity or even the name of any of his girlfriends.     
Read Also: Roxana Saberi Bio: From Ethnicity, Career At Al Jazeera To Dating Status
In fact, he even mentioned of his then-girlfriends when replying to a tweet of a fan.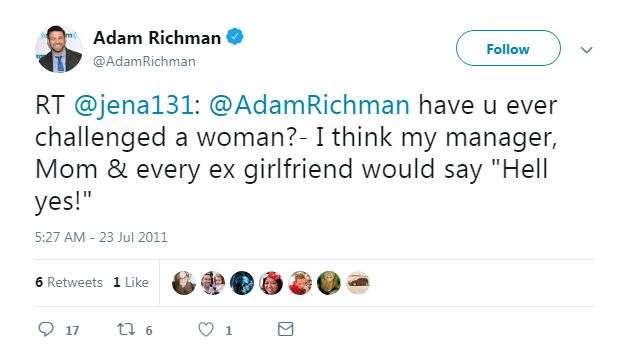 Not Dating Now: Adam Richman talks about how his manager, mother, and ex-girlfriends would agree that he was challenging (Photo: Adam Richman's Twitter | 23 July 2011)
But that was in 2011, so it's difficult to make a guess or confirm if he's single or taken as of 2018. And since he has reached the age of 44, people are more curious to know if he is married and settled down with his possible wife already.  
Well, the most recent statement he made about not being married was in 2013 on Twitter. So you see, Adam is extra secretive about his possible married life or his mystery wife, and that doesn't help a bit to reveal any personal matter of his.
Anyway, the TV personality may or may not be living a comfortable married life with his wife. But we hope he soon feels comfortable enough to share details on his mystery romance.
You Don't Want To Miss: Brooke Langton Age 47 Married On Screen; Who's Real Husband Now?
What Happened To Adam Richman? Where Is He Now?
Adam had been laying it low for a while after leaving Man v. Food, but he wasn't the one to hide away himself from the screens. Well, he quickly covered his time on a new show in April 2015 called Secret Eats with Adam Richman where he ate off-the-menu dishes at different locations.
The last episode of the show aired on 1 February 2017, and since then, Adam hasn't shown interest in doing any shows. He did update his fans on his life in June 2018 saying that he had torn his hamstring doing a split on stage with E40 at the BottleRock music festival in Napa, California.
He soon recovered and right now, Adam is living his life organizing fan meets and obviously, eating all the good foods. The foodie has been more inclined to spend his time on people that he loves and seems quite content.