Paul Reubens' Bio: Arrests, Wife, Family & Gay Rumors
Paul Reubens had an impromptu "mock wedding ceremony" with Chandi Heffner.

Paul Reubens is an American actor with many talents. He is a writer, film producer, game show host, and comedian, known for his quirky, childlike comedic personality.
He has been present on both the big screen and television since the 1980s.
Paul Reubens' Family
Paul Reubens was born Paul Rubenfeld on August 27, 1952, in Peekskill, New York.
His mother, Judy, was an elementary school teacher and his father, Milton Reubens, was a civilian pilot of The United States Air Force and Royal Air Force. They relocated to Sarasota, Florida, and opened a lamp store.
In Florida, the 64-years-old attended Sarasota High School. He later joined the Boston University and California Institute of the Arts.
The eldest among three kids, Reubens' younger brother Luke Rubenfeld is a dog trainer, and his younger sister Abby Rubenfeld is an attorney. She is also the legal director of a national gay and lesbian civil-rights organization, Lambda Legal Defense and Education Fund. 
Arrested Multiple Times
Reubens is no stranger to legalities. He has been arrested multiple times. 
His first brush with the law took place when he was at the age of 18. He was arrested for marijuana possession. In 1983, he was caught for allegedly "loitering and prowling" in front of an adult bookstore. The incident didn't cause much harm as the charges were dropped later. 
Paul's career faced a terrible setback in 1991. He was arrested in the South Trail Cinema, an adult theatre in Florida, during a raid by the detectives. Charged with indecent exposure to a sexual organ, he came out of the county jail after paying a $219 bond.
You May Like: Openly Lesbian Comedian Hannah Gadsby On Dating Status, Partner, Weight Loss & Sexuality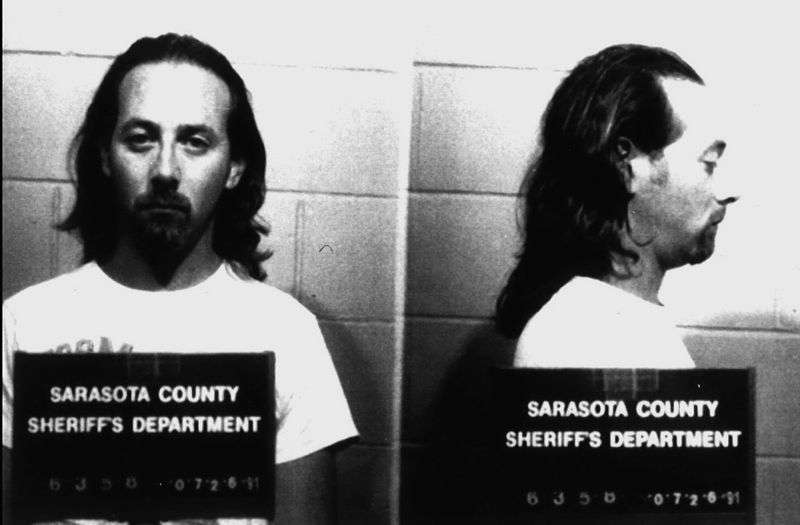 Paul Reubens' mug shots after being arrested on July 29, 1991 (Photo: Nydailynews)
After 11 years, in 2002, he again got arrested for a charge of a misdemeanor. Police found materials in his home that appeared to depict child pornography.
He took the responsibility by calling a few images in the collection obscene and paid a $100 fine.
Facing three years probation, he also joined a counseling program for a year and agreed to register as a sex offender till his probation. He was released on a bail of $20,000.
Interesting: Neil Morrissey Wiki: From Brother's Shocking Death To Partner After Failed Married Life
Paul Reubens' Relationship
Buffy The Vampire Slayer star married Chandi Heffner — the late American heiress, Doris Duke's adopted daughter — in 1989. The pair had met in Hawaii. In an interview with Vanity Fair, Reubens revealed that they had married in an impromptu "mock wedding ceremony" during dinner. 
After the marriage, Reubens started dating TV personality Debi Mazar circa 1993. She helped him to come back into the industry after his arrests. They stayed in the relationship for about two years and parted ways amicably.
Since then, Reubens hasn't been linked to any person. He has also not been open about his relationship status, which has ignited his gay rumors. But, The Blacklist actor hasn't commented anything on the matter. 
His Movies and TV Shows, Net Worth
Being a neighbor of 'Ringling Brothers and Barnum and Bailey Circus' (an American traveling circus company billed as The Greatest Show on Earth), Paul Reubens developed a prominent interest in comedy and acting from his early childhood.
Also Read: Edu Manzano Doesn't Plans On Getting A Wife, Children Fill That Spot
He appeared in various plays in the local theatres from the age of 11 and became a part of The Groundlings, an improvisational comedy troupe. It was during his stints in the group that he created his sensational character, Pee-Wee Herman.
In 1981, after running his own The Pee-Wee Herman Show at The Roxy Theatre, he succeeded in grabbing HBO's attention. He aired his show as part of the channel's series, On Location.
His character soon became a brand. With the role, he featured on movies such as Pee-wee's Big Holiday, Comedy Bang! Bang!, Saturday Night Live and The Pee-Wee Herman Show on Broadway.
With more than 100 acting credits, he has a net worth of $5 million, as per Celebrity Net Worth.
Interestingly, in March 2021, HBO disclosed to Deadline it was planning to air a two-part documentary revolving around the life of Reubens and his beloved character.