Jade Eshete Bio: Beyond Movies & TV Shows; Who Is Boyfriend?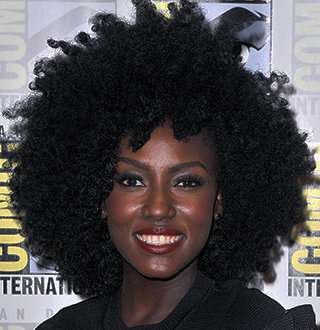 American actress Jade Eshete has never been the one to reach the spotlight with her romantic affairs, but she revealed that she had a crush on someone. Let's find out who the lucky person was.
Jade Eshete is quite known for her appearance on the BBC American series Dirk Gently's Holistic Detective Agency which is based on the book of Douglas Adams carrying the same name.
Revealing Bio-Related Facts: Jade Eshete talks about her time in Dirk Gently's Holistic Detective Agency on the BUILD Series (Published on 31 October 2017)
You May Also Like: Jacinta Kuznetsov Age 30 Biography: Engaged Now, Jonathan Scott Reacts
While Jade knew that Douglas Adams was the author of Hitchhiker's Guide to the Galaxy, Jade was only introduced to him through the project of Dirk Gently's Holistic Detective Agency.
Jade Eshete's Bio Reveals Parents Were Unsure About Her Dancing Passion
It was on 9 January 1985 when Jade Eshete was born to Ethiopian and Guyanese parents in Brooklyn, New York. She had a passion for dancing from a young age, so she volunteered with National Dance Institute to grow her talent.
But since her parents were not sure about her passion for dancing, Jade was sent to The City College of New York to obtain her structural engineering degree.
Standing at the height of 5 feet 4 inches (1.64 meters), Jade soon took her acting desires to the view and started taking acting classes as well. According to her bio, Jade began her professional career in commercial print modeling for brands like Marshalls, QVC, L'Oreal Paris, Dark & Lovely, Essence Magazine, and SoftSheen-Carson.
Jade, age 33, transitioned her commercial stints to featured roles on stage that even included the character, Squeak in the national tour of the musical The Color Purple, which was directed by Gary Griffin.
Read Also: Javi Marroquin Bio: At Age 25 Welcomes Baby Son, Who Is Girlfriend?
As an actress with credits streaming down her background, Jade has appeared in several short movies like Brooklove (2015) and Ache (2017). She has also made her presence known in TV shows including HBO's 2012 series, High Maintenance, Hulu's Deadbeat and the NBC's 2016 series Shades of Blue.
But by far, her most prominent role has remained Farah Black in the BBC America science-fiction detective series, Dirk Gently's Holistic Detective Agency in 2016.
Who is Jade Eshete's Boyfriend? Dating Status Remains Hazy
When it comes to Jade's dating life, there isn't much to know. It's either because Jade doesn't have anything that could spark up her dating rumors or because she has mastered the technique of hiding her mystery boyfriend in the shadows.
Well, she did mention in an interview about having a crush on Jason Gong when she was in high school. In fact, the actress even decided on taking weight training because she had heard words that he was taking it.
He was Chinese and Italian and very cute. Totally worth it… but not really because he still doesn't know my name (-said by Jade Eshete on justjared.com | 2 November 2017)
We could say 'aww' but it was just a crush, and Jason Gong hasn't even noticed Jade. And that was the end of it. Other than that, Jade hasn't bothered to involve herself in romantic rides or even cared to talk about her dating details with her possible boyfriend.
You Don't Want To Miss: Bonner Bolton Age 31; Bullrider Shifts Dating Interest After Girlfriends?
But let's hope that she soon feels comfortable enough to talk about her well-hidden boyfriend.
---