Abigail Hawk Age 33 Wiki: Changing World With Husband & Children
While she was pregnant with her second son, she went through... it was unexpected for her as she didn't experience anything like that when she was...Abigail tries to redefine masculinity, as it is one of the most toxic things...she only started with herself and her family...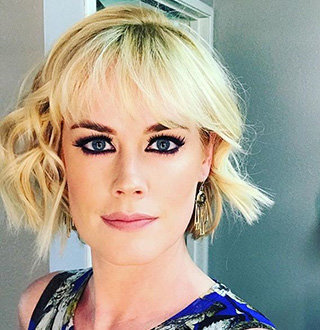 It may not sound significant but American actress, Abigail Hawk did her part, however small it was, for the betterment of the society, be it an honest portrayal of an NYPD detective or a feeble voice against the society's toxic norms.
The Georgia native is famous for playing Samantha in sci-fi series Reality Check, detective Abigail Baker in CBS's critically acclaimed police/family drama, Blue Bloods. She won the best actress award in Golden Door Film Festival for her role as Ellie in Domenica Cameron-Scorsese directed Almost Paris.
Blue Bloods: Watch Abigail Hawk meticulously play Detective Abigail Baker of NYPD in Blue Birds (published on 7 October 2018)
You Might Like: Wynton Marsalis Biography Reflects: Has Children But Not A Wife! Never Got Married?
Today, we present to you mind-blowing wikis about TVs beloved-but-strong detective's age, children, pregnant details, married life with husband, and height
1. Abigail Hawk's Wiki-Like Bio: Started Her Acting Career From An Early Age
Born on 4 May 1985, in Marietta, Georgia, as Abigail Diane Gustafson, Abigail went on to study in the North Springs Charter School of Arts & Sciences in Sandy Springs, Georgia.
She then graduated from the University of Maryland, College Park with a Bachelor's degree in fine arts (theatre). Very early in her age, Abigail starred in sci-fi television series Reality Check.
According to the wikis, she stands quite tall for an American woman, at the height of 5' 8".
2. Abigail Reached Career Heights Playing NYPD Detective
While already a star of a TV show at a young age, Abigail, after graduating from college, resumed her career with minor roles in various shows like police procedural drama Law & Order: Special Victims Unit and musical Across the Universe.
Finally, she got her big break with CBS's police procedural/family drama Blue Bloods as Detective Abigail Baker. Although she was initially cast for a one-off role, the makers of the show were so impressed by Abigail that they decided to make her a regular cast. And after nine seasons, Abigail is still with the show.
Interesting: Bryant Gumbel Moved On From Acrominous Divorce! New Wife, Children And Married Life
3. She Married Law Enforcement Officer; Husband Bryan Spies Is FDNY Lieutenant
Abigail's affinity to law enforcement is not limited on screen. In her personal life too, she is married to FDNY (Fire Department of the New York City) lieutenant, Bryan Spies.
While Abigail keeps the details of her personal life private, she also doesn't shy away from showing off her love, admiration, and respect for her husband.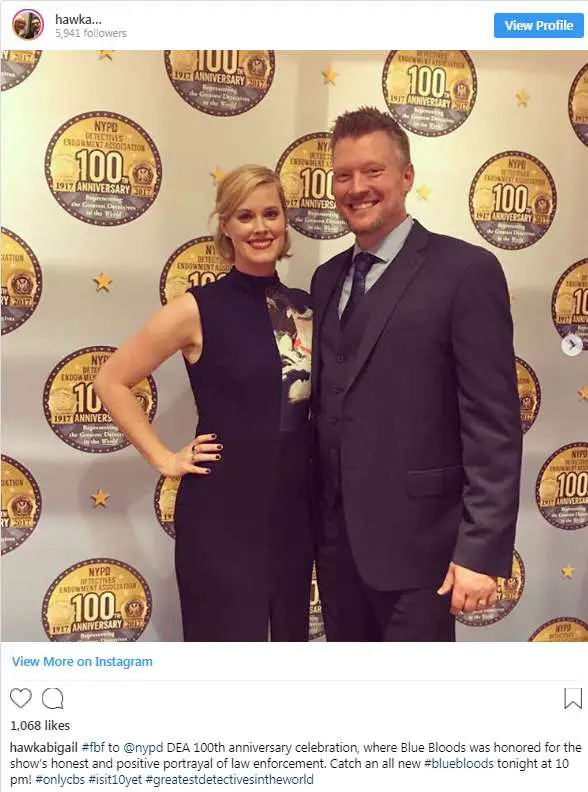 Abigail & Husband: Abigail Hawk, and her husband, Bryan Spies during NYPD's 100th anniversary on 12 October 2018 (Photo: Abigail's Instagram)
The couple has two children together, and the family of four is very tight-knit.
4. Her Pregnant Experience Was An Unexpected One
Apparently, while she was pregnant with her second son, she went through a postpartum depression, a story she chronicles in her contribution to the book, The Unofficial Guide to Surviving Pregnancy Without Losing Your Mind. 
Abigail says it was unexpected for her as she didn't experience anything like that when she was pregnant with her first son.
Continue Reading: Julie Chen Married To Husband! Pregnant, Children, Plastic Surgery – All Details
Her story in the book deals with darker less-treaded aspects of pregnancy.
5. Abigail's Contribution To Change The World
Everything said and done, Abigail believes in "changing yourself at first is the best way to change the world."
And as a wife of an attentive and tender man, Abigail tries to redefine masculinity, as it is one of the most poisonous things plaguing our society. In a recent Instagram post, she shared a picture of Bryan napping in an armchair with his two children in his arms. She captioned the photo with,
This is masculinity. This is how we change the world. This, and voting.#bethechange #boystomen#believesurvivors
Abigail's Instagram photo might not have affected many people, but she only started with herself and her family. So, even if just one person outside of herself and her family listened to her, it was the task accomplished.
And seems like, Abigail will continue more of the similar tasks in the future.