Top 5 Worst Josep Maria Bartomeu Signings At FC Barcelona
Here we take a look at the five worst transfer deals FC Barcelona did under Josep Maria Bartomeu, the club's current president.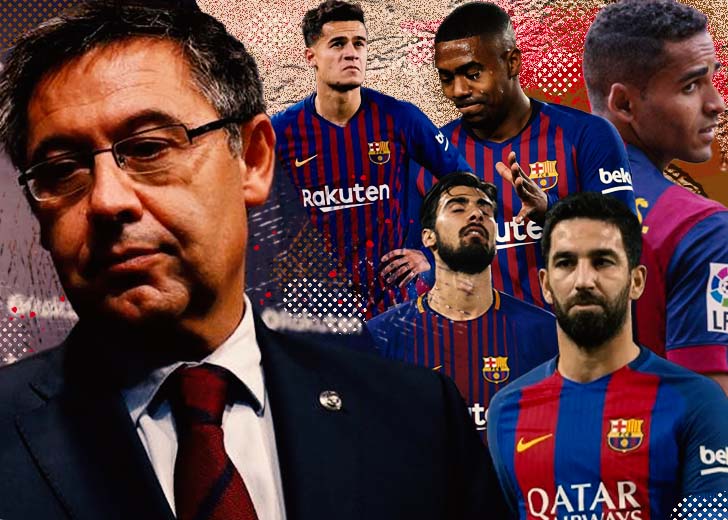 Josep Maria Bartomeu became the president of FC Barcelona on the 23rd of January 2014, right after Sandro Rosell resigned from the post. Since then, he has made good as well as bad decisions and the club has seen years of both immense success and dreadful performances.
However, his reign is known more for catastrophic decisions and happenings than for success. The board under his leadership has made some horrible decisions, both in the administrative and financial aspects of the club as well as the sporting aspects.
Here, we focus on the sporting side of things and list the five worst first-team signings during Bartomeu's reign at FC Barcelona. These are the players who came to Barcelona and were bad pieces of business from various points of view, in no particular order.
Arda Turan
Arda Turan was a force to be reckoned with during his time at Atletico Madrid. Under Diego Simeone, he was one of the best players in the squad and was signed by FC Barcelona at the start of the 2015-16 season.
However, his signing perplexed almost everyone. A 34 million Euros signing, this piece of business never made sense. He wasn't coming off a particularly good season, either, having just two goals and five assists in 32 matches during the 2014-15 season. Also, he wasn't the profile of a player that Barcelona needed and usually went for.
And his time at the club started synonymously with the feelings he generated among the supporters. He did not play a lot of games. And even when he did, his performances left a lot more to be desired. He never seemed to put his maximum effort on the pitch and was usually sluggish.
During his first season at Barcelona, he made just 18 league appearances, and in only nine of them was he in the starting lineup. He gathered 816 minutes on the pitch, and recorded two goals and three assists.
His second season wasn't any different. During the 2016-17 league campaign, he played the same amount of games as he did during his previous season, but made a lot more starts. He started 14 games out of 18. He also missed a lot of the season through various injuries and health problems. In the 1,243 minutes that he played, he scored three and assisted three. However, worse than the numbers was the way he played and how he connected with the team in general.
Once a force to be reckoned with, Arda had fallen from grace within two seasons. He had also fallen out of favor from almost everyone inside the club before the start of the 2017-18 season.
Already having serious injury problems, the newly appointed manager at the time, Ernesto Valverde, completely froze him out from the start of the 2017-18 season, even when he was fit. Therefore, after having played zero games until the season break, he was offloaded to Istanbul Basaksehir FK, a team in his home country of Turkey in a loan deal that lasted till the end of his contract with FC Barcelona i.e. the 1st of July 2020.
Arda was one of the worst signings under Bartomeu, not only because he was not the right kind of player that the team needed, but also because of the fact that the board gave such a long contract to a player of that age.
André Gomes
Andre Gomes was coming off a decent season with Valencia when he joined FC Barcelona. A good dribbler and passer of the ball, he had flair and a drive about him that he fully showcased during his two seasons at Valencia.
He scored seven goals and four assists during his time at Valencia. However, it was his second season there that made Barcelona sign him. He scored and assisted three during the 2015-16 season. However, it wasn't his stats as much as it was his influence from the midfield that made Barcelona sign him.
Therefore, Gomes officially became a Barcelona player on the 21st of July 2016. He was such a sought-after talent at the time that Barcelona paid 35 million Euros upfront to Valencia. Added to that was a 20 million Euros variable fee.
And, on top of that was a bonus clause. A Ballon d'Or clause was included in his contract which said that if Gomes was to win the Ballon d'Or during his time at Barcelona, Valencia were to be paid a 15 million Euros bonus.
However, unfortunately for every party involved in this deal, that clause never came near to being solidified. And neither did the expectations the fans had ever come near to fulfillment. His time at Barca was dismal to say the least.
During his first season at the club, he made 30 La Liga appearances. However, he was in the starting lineup only 17 times. Fans don't remember the times when he was shockingly poor on the pitch, but here's the thing; fans also can't remember a single match where he was impressive. He was slow and lethargic, all his flair had seemed to vanish and he did not impress anyone with his three goals and one assist.
His second season, under Valverde, was even worse. He played just 16 games the whole league campaign and started only six of them. In 640 minutes, he had no goal and assist contributions and was out a lot of the time either due to health concerns or not being included in the squad at all.
A decent but promising player when signed, he was never really the kind of player who suited the 'Barcelona' way. And after just two seasons in the Blaugrana colors, he became one of the worst signings of the Bartomeu era, fell out of favor at the club and was offloaded to Everton where he plays now.
Philippe Coutinho
Philippe Coutinho was a phenomenon at Liverpool, and that's exactly Barcelona made him the most expensive signing in the history of the club. He came in with a lot of quality to provide, a lot of expectations, and for a lot of money, which even at the time for a player of his quality seemed too high.
FC Barcelona paid Liverpool a hefty 145 million Euros for Coutinho's signature. However, only around 116 million Euros were paid upfront and the rest was add-ons depending on various milestones that Coutinho was expected to reach during his time at Camp Nou.
But, in the midst of all these transfer headlines, there were no clear plans as to where Coutinho was going to play in the team. The board purchased him to be the replacement to Iniesta in the midfield. However, Valverde had other ideas. After a decent first six months, he was asked to play in the left-wing position, unnatural and mismatched to his playing style. And naturally, his performances declined and so did his confidence.
In the 54 matches that he played during the 2018-19 season, which was his first full season at the club, Coutinho contributed 11 goals and five assists. However, even if his numbers sound decent enough, the way he played was not decent at all.
Unable to play in his natural role of attacking midfielder and having to play out wide, his confidence took a big hit. And it wasn't a lack of talent that ruined his time at Barcelona, it was the board's bad planning for him or a lack thereof. He was shipped out on loan to Bayern Munich after a one-and-a-half season stint at the Camp Nou.
As of now, the board's incompetence regarding Coutinho's role at the club and Valverde's mismanagement, combined with his big fee easily makes him one of the worst signings made by the club during Bartomeu's reign.
Still technically a Barcelona player, he could still turn it around and prove his inclusion in this list wrong. However, looking at the scenarios around him and the club dictating his future, that seems highly unlikely.
Malcom
Malcom wasn't a bad transfer in terms of his talent or the profile of player that he was. He was a perfect signing for Barcelona; he is a winger who is quick, has loads of talent, and had a huge potential for improvement when he was brought in. He is unfortunate to be in this list but nevertheless falls here because unfortunately, he was the centerpiece in one of the worst transfer deals this board has done.
Much like Coutinho, Malcom was brought in with no real plans regarding his playing time and his role and position on the pitch. Signed for a fee of 41 million Euros in a deal that was basically a hijack move to stop Roma from signing him, he never really got a chance to show his quality in the team.
During the 2018-19 season, which was his solitary season at the club, he made just 24 appearances, with 11 starts. Malcom could never get himself the attention of Valverde and was rarely used. He was on the bench for most of the season and was even completely omitted from the squad at times.
Even so, his output was okay-ish for someone who was given only 1,073 minutes to play. He scored four goals and set up two.
His time at Barcelona came to an end after completely failing to make it into Valverde's plans for the 2019-20 season, and was shipped off to Russia to Zenit Saint Petersburg for 40 million Euros upfront with 5 million in variables.
Douglas
Douglas, or Douglas Pereira dos Santos, was, is, and will probably be the weirdest signing in FC Barcelona's history. And even if we said that this wasn't a list with a particular order, this one is definitely a contender for the number one spot of this was a ranked list.
Purchased for a mere 4 million Euros, Douglas was brought in as a replacement to Dani Alves, as if anyone thought it was ever possible to replace someone like Alves. He wasn't a sparkling talent, was playing in the Brazillian league and also was 24-year-old when Barcelona signed him.
Nevertheless, he arrived at Barcelona, and nobody was complaining that much, probably because of the small transfer fee. But what was to come in regards to his time at the club was an absolute joke, or a fairy tale, whichever you want to call it.
During his first season at the club, he played a grand total of five games and started two of them. He was not even included in the squad for approximately 90 percent of the games. But, bizarrely, he won a treble that season.
His second season, i.e. 2015-16 season was an even worse one. He played three games and gathered 116 minutes. But, again, in his second season, Barcelona won a domestic double and a FIFA Club World Cup.
After two seasons at the Catalan capital, he was sent on various loan spells until his contract with the club expired. He managed to play for Sporting Gijon, SL Benfica, and Sivasspor all on loans before his Barcelona contract ran its course.
Finally, on the 27th of July 2019, he was no longer a Barcelona player and he joined Besiktas on a free transfer.
His time at Barcelona will be remembered as one of the most bizarre two seasons in the history of the game, and through no fault of his own (for the most part), he became the centerpiece to one of if not the worst piece of transfer business FC Barcelona did under Bartomeu's reign.