Does Phillippe Coutinho Have A Future At FC Barcelona?
Philippe Coutinho has been a subpar performer during his time at FC Barcelona. This was hugely due to Valverde's mismanagement of the Brazillian, but he himself had some part in it, too. And this trend of underperformances has continued during his time at FC Bayern Munich. Could he remain at Barca after this season, or could he search for game time elsewhere?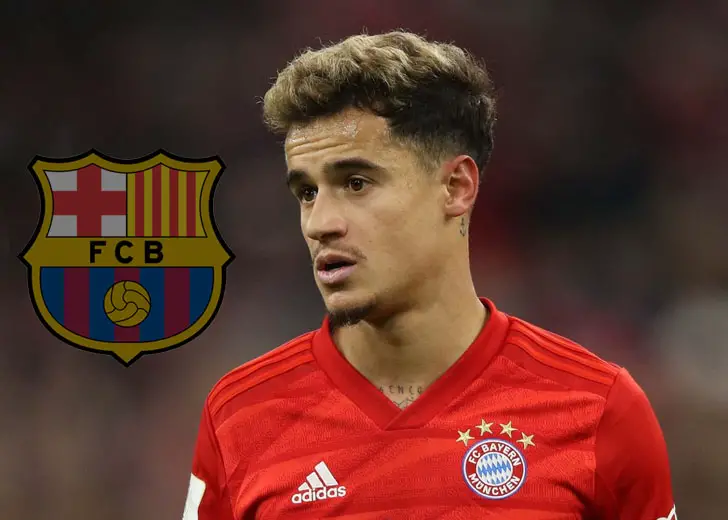 Philippe Coutinho is the most expensive signing in FC Barcelona's history. The Catalan club paid a massive £145 million to get the Brazillian playmaker from Liverpool FC in January of 2018. He was supposed to be the replacement for Andres Iniesta, and there were a lot of expectations on his shoulders.
However, things didn't start the way it was expected of him. With the departure of Iniesta in July of 2018, Coutinho was expected to play in the midfield and be the creative player that was supposed to fill in Iniesta's shoes. But, Valverde did not play him in his natural role. Instead, he pushed him out wide to the left, but it wasn't his natural position. This unnatural shift caused his form to fall so much that he was a mere shadow of his former self in Liverpool.
Consequently, the plummeting in both form and market value prompted Barcelona to send him out on a season-long loan to Bayern Munich. 
Coutinho's Time At FC Bayern Munich
After joining the German champions on a season-long loan deal worth £8.5 million in August 2019, Coutinho was expected to regain his lost form. He was supposed to become a force to be reckoned within Germany. However, this was not the case, even in the slightest.
During his first 12 league matches with the club, Coutinho scored three goals and provided the same number of assists. He was usually played in his preferred role of an attacking midfielder, and these stats were not too shabby for a player who was just starting to find some feet at a new club and regain his lost confidence.
However, at a time when his numbers were expected to grow, they didn't. He scored just 5 goals and recorded three assists in the next 10 Bundesliga matches. Admittedly, that didn't sound too bad on paper, but when we factor in the fact that he had scored those goals in just two games: a hat-trick against Werder Bremen and a brace against Hoffenheim, it shows that he had been very inconsistent in his performances.
Things weren't going to get any better for the Brazillian, either. He got injured in the middle of April and subsequently suffered an ankle surgery. Since then, he has missed every match and is likely to play only after the Bundesliga is over.
Bayern Extends Coutinho's Contract
Bayern have extended his contract till the end of the 2019-2020 season. This extension means that if he revives from his injury quick and well-enough, he could feature for the German champions in the Champions League in August.
With his team 3-0 up against Chelsea in the round of 16 1st leg, he could play a key role in the team's road ahead to the finals.
All-in-all, Coutinho has nine goals and eight assists in 32 matches for the Bavarians, among which one goal and two assists came in the UEFA Champions League. 
Could He Still Have a Future At FC Barcelona?
The loan deal, although extended till the end of the season, is going to be all the time he's going to get at Bayern, as things stand. Munich will likely not trigger the £120 million purchase option for the player if he doesn't showcase phenomenal performances. If that happens, he will be returning to FC Barcelona after the end of this season. But does he still have a future at Camp Nou?
Coutinho was a subpar player when he played under Valverde, who played him out of his preferred position. His lack of confidence playing alongside the likes of Lionel Messi and Luis Suarez also contributed to his bad performances. In the two seasons from 2017 to 2019, Coutinho only scored 13 goals in 52 matches.
However, Barcelona have now undergone a change in the coaching department under Quique Setien, and this could make things very different when he does return to Catalonia.
Setien has different ideas than his predecessor, and he could very well use Coutinho in a way separate from how Valverde used him. During an interview with RAC1, as reported by Barca Universal, the head coach openly praised Coutinho.
"Coutinho is a great player, I like him very much. Basically, he is a Barcelona player."
Adding further, he expressed his desire to have him back at the club. "Of course, I would want to have him back. I would want to talk with him," said Setien.
The Barca head coach also revealed how he would use the Brazillian playmaker. He said:
"The way you let him play, the things you allow him to do, plays a big role. In Barcelona,  however, the main role is always reserved for him (referring to Lionel Messi). You have to deal with that."
These quotes clearly show that Setien plans on using Coutinho in a way that will benefit both him and the club. However, the inference to Leo Messi being the main man has some implications on how Coutinho will perform in the team.
Coutinho's future at the club, if he chooses to stay, clearly depends on how he will manage to play alongside Messi. But, both him and Messi like a free role on the pitch. Therefore, playing him in the midfield and Messi together could create problems for both of them. And the addition of Griezmann, who also tends to thrive in a freer role, only adds more complications to his future at Barcelona.
Similarly, if Lautaro Martinez makes his way into the Barcelona's squad 11, Coutinho's may face extreme competition just to get a role in the playing 11 at Barcelona. 
Could Coutinho leave FC Barcelona to Resurrect His Career?
The perspectives highlighted above clearly suggest that Coutinho will not have an easy path ahead in trying to become an influential player in the team. Positional inconvenience, past failures, and the presence of other heavyweights in the team might prompt him to achieve a significant career resurgence.
It's not only Coutinho that has a decision to make regarding his future. Barcelona, too, are in a pickle regarding his future. It is already difficult for the club to recoup the money that they spent on him. At the moment, no club will pay a huge transfer fee form him due to his underwhelming performances. And the pandemic has made the situation even worse. Now, the clubs are reluctant to spend a huge amount of money on any player, let alone a player in Coutinho's situation with a lack of form and conviction.
Therefore, it seems logical for both Coutinho and FC Barcelona to part ways. The player has been subject to various transfer speculations, the majority of which speculate him going back to the Premier League.
According to numerous sports magazines, such as Givemesprots, various Premier League clubs such as Newcastle, Chelsea, Liverpool, and Tottenham are interested in purchasing the services of Coutinho.
Balague Speaks Newcastle United, Liverpool and Arsenal Transfer
It seems like Newcastle are in the frontrunner in the race to sign him. According to Guillem Balague, a prominent Spanish football journalist, Coutinho is waiting for the Saudi Arab's takeover of Newcastle United to be completed.
Balague also said that Coutinho's representatives believe that the new Newcastle will make an effort to get him in the club.
Further, addressing the rumors that Arsenal were interested in him, Balague said that Arsenal had made no offers to sign him. And he also revealed that there was no truth in the reports saying that Coutinho was going back to Liverpool on loan.
In The Meantime, Chelsea and Everton Are Also Linked
Previously, Coutinho was also linked with Chelsea. However, Chelsea has signed forward Timo Werner recently, and that makes it difficult for the club to pursue Coutinho.
More recently, The Transfer Window Podcast reported that Barcelona had offered Coutinho to Everton. The deal, reportedly, was a one-year loan offer, in which Barcelona planned on paying a third of his wages to make Everton be able to afford him.
What's Next For Coutinho? 
For now, however, Coutinho is yet to complete his loan at Bayern. We will have to wait for any further developments regarding his future. His performances there could affect his future at FC Barcelona or wherever else that he might end up. But, amid all this chaos, one thing is sure is that if Coutinho can regain his form and start playing like when he was in Liverpool, any team in the world will be lucky to have him.