Raheem Mostert Is 'Blessed' to Have a Caring Wife and Lovable Kids
Raheem Mostert might not have gotten where he is today if not for his wife.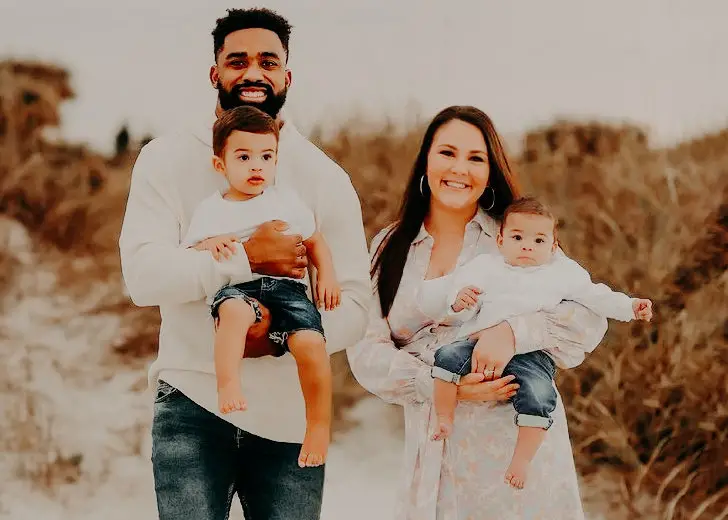 Raheem Mostert counted his blessings this Mother's Day. 
The San Francisco 49ers running back took to Instagram on May 10 to wish his wife, Devon Mostert, a Happy Mother's Day. He shared a photo of him and his wife on the beach, each carrying their sons as they grinned for the camera. In the caption, he thanked his beloved wife. 
Whether appreciating her on Mother's Day or crediting his wife for winning the George Halas Trophy, Mostert fully believes his wife got him where he is today. During his tough time when he has bounced around in six different teams in just 18 months, she stood by his side. 
The running back acknowledged that despite the dark times, he persisted, and his wife ensured he did, and for that, he is grateful. 
His Wife Helped Save His Career
While Mostert finally found a permanent home after signing a three-year contract with the 49ers, the journey to settling down was difficult. He may have given up on football years ago if not for his wife. 
The athlete had a traumatic childhood growing up, but it was far worse when his former father figure (not his biological dad) shot his half-brother four times on Father's Day. His wife had heard the news first and knew that Mostert might seek revenge and possibly ruin his future. 
Mostert was on a plane heading back from the National Track & Field Championships, and sure enough, he confessed he thought about hunting down his father and taking action. Luckily Devon got hold of Purdue's track coach, who kept Raheem from going straight to Florida, where the shooting took place.  
But that was not the only time Devon rescued him. In 2016, Mostert almost ended his football career after the Cleveland Browns cut him. He thought about falling back on his business management degree from Purdue, but his wife urged him not to give up. 
The incessant rejection could have spiraled him deep into depression; nevertheless, his wife continued to believe in him, and four years later, he was in the finals for Super Bowl 2020. 
On Meeting His Wife
Mostert and his wife Devon met at Purdue University during their college days. The NFL star would secretly take glances at Devon, who stood out from the crowd with blue accents in her hair. He shot her a message on Facebook, and eventually, they became best friends. 
Mostert revealed they would study together, and Devon, a genius with nothing below an A-minus in college, refused to do any of her boyfriend's homework or papers or projects. In fact, she did not even let him sit next to her in class because she wanted him to improve academically. 
The couple got engaged in 2015 when Mostert was with the Baltimore Ravens and married in March 2017 and started a family. Currently, they have two kids, sons, 23-month-old Gunnar and 7 months old Neek.